Glamorous diva Daniella Semaan is in a relationship with Cesc Fabregas. Fabregas is a well-renowned football player from Spain. This couple has been in a relationship since 2013.
You might be amazed to know that Semaan was married when she first met Fabregas and got involved in an affair. However, the good thing is that Semaan and Fabregas are still together even after many years.
Daniella Semaan and Cesc Fabregas encounter
It is said that Semaan and Fabregas happened to exchange their numbers after she went up to him to ask an autograph for her son, who appeared to be his huge fan. During that time, the hot beauty Semaan was in a marital relationship with her then-husband.
Image: Daniella Semaan and Cesc Fabregas
Daniella Semaan's failed marriage
Fabregas' girlfriend Semaan is a married and divorced lady. She was previously married to Elie Taktouk for 13 years. She was the long termed wife of Taktouk who is a millionaire businessman. However, this pair's relationship fell apart because of Semaan's affair with Fabregas.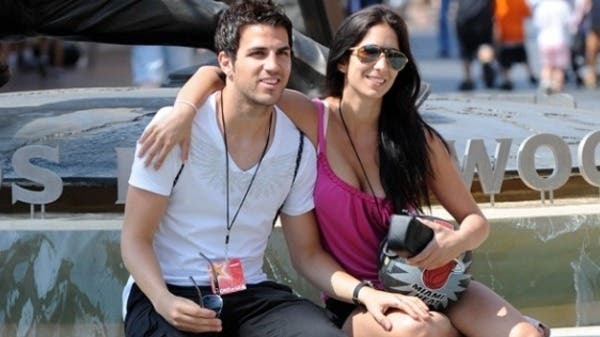 Image: Daniella Semaan and Cesc Fabregas
When Semaan divorced Fabregas, it became a huge issue. This trio got involved in so many controversies related to property and money matters. We don't want to mention all the matters but all we can say now is that Semaan and Fabregas separated with much difficulty.
Is Daniella Semaan tying the knot with Cesc Fabregas?
As of 2016, there is a rumor that Semaan and Fabregas will tie the knot sometime soon. As we all know that this couple is crazily in love even after all the years, we do not see a reason why would they not want to.

Semaan is super-hot and is a mother as well. Thus the one word that describes her is that she is a super-hot mom. She has altogether four kids. Among them, two of her children, Maria (b. 2001) and Joseph (b.2004) are from her first marriage with Taktouk.


However, two of her kids are from her relationship with Chelsea midfielder Fabregas. Lia is their first child who was born on 10th April 2013 and in 2015 Semaan gave birth to their second daughter Capri.
Daniella Semaan is pregnant with Cesc Fabregas' third child
Recently, Fabregas announced that Semaan is expecting their third child. He announced this amazing news through his Instagram. He posted a snap of the sonogram and also revealed that it's a baby boy.

Looks like Fabregas and Semaan have found their soul mate in each other. We hope that soon after their third baby's birth, this couple ties the knot. Do you want the same as well? Please leave your best wishes for this couple in the comment box below.