Daniella Monet Zuvic is an American actress and singer. She is famous for playing various guest roles. Her current age is 28. She is vegan and protests against animal cruelty. She is closely associated with PETA in her effort to support Ariana Grande to stop supporting SeaWorld after Grand saw Blackfish.
She has played in movies such as Follow Your Heart, Simon Says, Nancy Drew, Taking Five, Taking the Band Making Taking 5, Here' the Kicker, A Fairy odd Movie: Grow Up, Timmy Turner!, Fred 2 Night of the Living Fred, Fred 3 Camp Fred, A Fairly Odd Christmas, and Rachel' Returns.
Daniella Monet: A Dive Into Her Professional Life
She starred in the sitcom Victorious as Trina Vega, the older sister of Tori Vega and a flow student of Hollywood Arts but having no Talent described as "weird", "annoying, "sorta cute". Monet also hosts tv show in Nickelodeon called Awesomeness. Her last tv shows in Nickelodeon game show was Paradise Run. She is also the part of the Baby Daddy Season 5 Episode 1.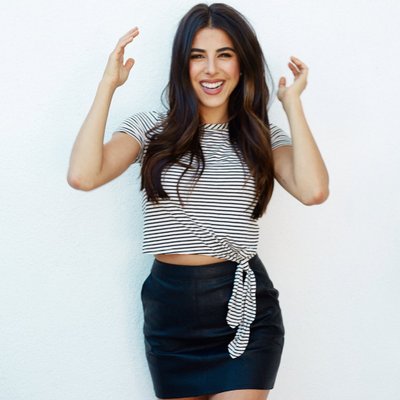 Daniella Monet
Source: Twitter
She has been singing songs such as " I want you back", All I want is Everything, "Lookin' Like Magic", " Don't You ( Forget About Me)", "Shut Up 'N Dance", "Five Fingaz to the Face" and Wishful Thinking.
She is also known as an attractive figure in the media. She is known to flaunt her feet on social media. Also, know about her personal life.
Daniella Monet: Relationships and Dating Life
She previously had affairs with Brain Patrick Kehoe back in July 2008, and they broke up same year after dating for almost 6 months. After three years, she is having an affair with Andrew Gardner for seven years and counting.
Daniella Monet with her boyfriend Andrew Gardner
Source: J-14
Andrew's gorgeous girlfriend rose to fame in 2010 after playing the role of Trina Vega in the TV series Victorious. Her net worth is estimated to be 3 million Dollars. She is famous for movies and tv shows.