Alison Parker on Melrose Place is none other than Courtney Thorne-Smith. You might also remember the talented star as Lyndsey McElroy in Two and a Half Men. Thorne-Smith is married to Roger Fishman. This couple has been together for a long time. But, this is not her first marriage.
Courtney was earlier married to Andrew Conard and had been in a number of relationships. Let's have a closer look at Thorne-Smith's personal life:
Courtney Thorne-Smith' Married Husband Andrew Conrad
Thorne-Smith was previously married to Andrew Conrad. She tied the knot with Conrad, a geneticist by profession, in June 2000. However, their marital relationship lasted only for a short period as they got divorced in January 2001. Thorne-Smith never spoke anything about her relationship with her first husband and their divorce.
Image: American actress Courtney Thorne-Smith with an Actor Andrew Conrad
Source: Pinterest
Besides her relationship with Andrew, she briefly dated Andrew Shue.
Courtney Thorne-Smith dated boyfriend Andrew Shue
She also dated Andrew Shue who was her 'Melrose Place' co-star and was also engaged to Robert Andrews in 2003.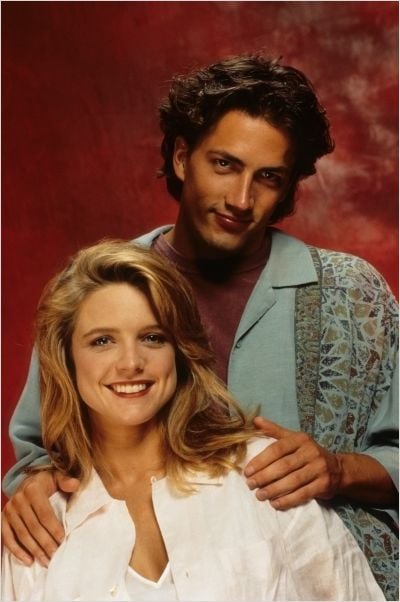 Image: Courtney Thorne-Smith with Andrew Shue Source: Allocine
Courtney Thorne-Smith married husband Roger Fishman
Currently, Thorne-Smith is the wife of Roger Fishman, Zizo Group president and author of 'What I Know'. They got hitched on 1st January 2007 at a wedding ceremony that took place in their own house.
Courtney Thorne-Smith and Roger Fishman has a son
Thorne-Smith and her husband Roger got the privilege of becoming a parent for the first time on 11th January 2008. She gave birth to a baby boy, Jacob 'Jake' Emerson Fishman who weighed 6lbs, 13oz at the time of his birth.
The whole delivery process wasn't easy for Thorne-Smith as her delivery took place two weeks late and she had to pass through 12 hours of labor.
One of Thorne-Smith's close friends said that both Thorne-Smith and Fishman were amazed and delighted after Jake was born. Moreover, Thorne-Smith would have named their child Maya if it was a girl. Jake got his middle name 'Emerson' as it is the name of Thorne-Smith's father.
After the birth of Jake, Thorne-Smith's representative publicly stated that both the mother and dad are excited as the baby is absolutely healthy and gorgeous.
Image: Courtney Thorne-Smith with son Jake Source: Zimbio
Thorne-Smith's son is 11 years old at present. He has got the looks and charm from both his parents. No wonder he is an adorable boy.
Courtney Thorne-Smith and Roger Fishman relationship at present
Thorne-Smith's togetherness with her husband Fishman has already been a decade. The pair seems to be very understanding and supportive. They have been taking care of their son with equal love and affection. Despite the years, it seems like the love between Thorne-Smith and Fishman hasn't got any less.
Beautiful actress Courtney Thorne with husband and child Source: Zimbio
The adorable couple appears to share a very strong bond. Thorne-Smith has been a very loyal and loving wife as she hasn't been linked with any man after her marriage besides her husband. Thus, there are no hints of divorce between the pair.
Image: Courtney Thorne-Smith with Roger Fishman Source: Zimbio
What do you guys think about Courtney Thorne-Smith and Roger Fishman? Please, leave your opinions in the comment box below.
Till then, keep tuning to Frostsnow.