Courtney Laine Mazza, also known as Courtney Lopez after her marriage with her husband, Mario Lopez, is famous for her work as actress and producer of Mario & Courtney's Wedding Fiesta. Mexican television host Mario, who co-hosted The X-Factor with Khloe Kardashian in 2012, and Courtney Laine Mazza are the loving parents of 2 children.
44-year-old Mario, known for cheating in relationships in the past, has made everyone curious about his relationship with Courtney. Is the couple really happy in their married life? Let's know the relationship between Courtney and Mario and also about their 2 children.
Married Life of Courtney and Mario Lopez
The love story of the couple before their marriage came out in 2008 after they starred in the Broadway revival A Chorus Line. Mario was firstly denied by Courtney for an outing. He said that she was not interested in him at all.
She is beautiful, but aside from that , she's extremely talented. But then she ignored me and it made me even more attracted to her!
Later, his persistence made Courtney give in and she went with him for a couple of dates and gradually they fell in love with each other.
Courtney and Mario got engaged in January 2012 after dating for more than 3 years. The couple finally got married on December 1, 2012.
Courtney and Mario Lopez kissing in their wedding
Source: Insideweddings
Well, it has been more than 4 years since their marriage and the love between the two has not abated yet. As of now, the couple is free from rumors and mishaps. Mario seems to have finally given up his cheating habit.
The lovers are enjoying their happily married life in their home in Mexico.
Courtney with her husband Mario on their walk to Central Park
Source: Zimbio
The couple is also proud parents of their two children. Let's move on to know about the children of the couple.
Also read: Married life of Clayton Kershaw with his wife, Ellen Kershaw
Children of Mario and Courtney
Five-feet-eight-inch Mario and Courtney are parents of their daughter, Gia Lopez, and son, Dominic.
Well, you might not know, but Courtney gave birth to Gia before she and Mario were married. The couple first welcomed their daughter, Gia, on September 10, 2011. Gia also appears in the wedding pictures of the couple. Have a look.
Mario and Courtney with their daughter, Gia in their wedding
Source: Pinterest
Well, it was not the full stop to the happiness as the couple again welcomed their second child, a baby boy this time around. Dominic Lopez, their son, was born on September 9, 2013.
Mario and Courtney with their children, Gia and Dominic
Source: Latina
A happy family!
As of now, the couple has not given any hint of wanting a third baby. But, maybe in near future, we will get to hear the good news.
Past affairs of the couple
Moving back to the past, Courtney seems free from any past affairs, a polar opposite to stud Mario.
Before Courtney, Mario married ex-wife actress Ali Landry on April 24, 2004. The relationship was shortlived. The couple got separated only after 2 weeks of marriage and finally divorced on May 12, 2004.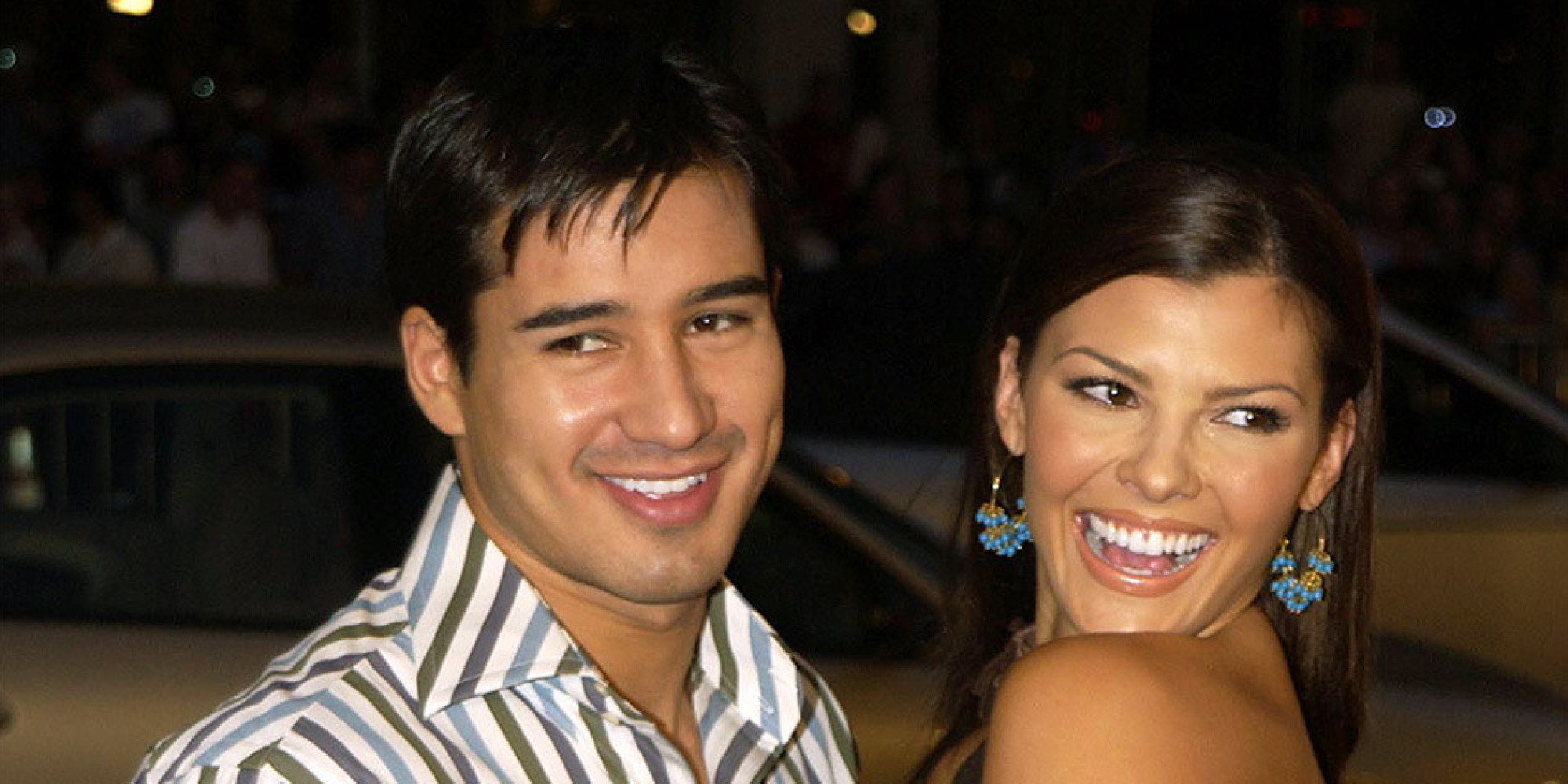 Mario and his ex-wife Ali Landry
Source: Huffington
Mario was accused of cheating on her, which led to the end of their relationship. But wait, it's not over. The handsome hunk also dated professional dancer Karina Smirnoff after that. Karina was his partner on Dancing with the Stars from 2006 to June 2008.
Mario Lopez and Karina Smirnoff
Source: Celebuzz
Apart from these two affairs, Mario is not recorded as having any other past relationships. Soon after the split, he got into a relationship with Courtney and since then they have been together.