The world's renowned mixed martial artist or say UFC champion Conor McGregor will be in the ring against Nate Diaz in a rematch of their first fight, which McGregor lost at UFC 202.
Though Conor has a big team behind him, he also has someone special in his life who is a support for him every time he enters the ring. Well, she is none other than his girlfriend Dee Devlin. You might be familiar with Conor McGegor but what about his love Dee Devlin.
Well, there are many facts about Dee Devlin and her relationship with her beloved boyfriend Conor McGergor but today we have brought to you six major facts about her which will undoubtedly surprise you.
So, let's get started. Just stay with us.
Must read - Floyd Mayweather Officially Out OF Retirement To Fight Conor McGregor In June
1) McGregor Credits Devlin to For His Successful Career
After Conor McGregor was knocked out by Jose Aldo within 13 seconds at UFC featherweight champ during their December showdown, he spoke about his girlfriend, Dee Devlin and her unwavering support in his career. McGregor said without the encouragement of his girlfriend, he wouldn't be where he is today.
Boyfriend and Girlfriend: Conor McGregor and Dee Devlin
Source: independent
Talking to the Irish Mirror, Conor McGregor said;
My girlfriend has been there since the start, She has helped me throughout this career. If it wasn't for her, I probably wouldn't be here today. My girlfriend worked very hard throughout the years and stuck by me when I had essentially nothing.
He further added;
For me to be able to take her out of work, give her everything she's ever wanted and to travel the world with, fills me with pride.
Wow! What a supportive girlfriend!
2) Irish Nightclub: Their First Meeting Place
A native of Walkinstown, Ireland Dee Devlin knew of the UFC fighter for several years and somehow in 2008, they had their first meeting in a nightclub.
During an interview with VIP Magazine, Conor talked about his first meeting with Devlin;
I asked her to come over and we just started chatting. She seemed like a nice girl, and I like good girls.
Devlin then said that her attraction to McGregor was instant and explained the nature of Coner.
He's very funny – he always keeps me entertained and makes me laugh. He was already training when I met him, so I really admired his dedication to that, too.
In addition, Conor McGregor also said her to be one who stood by his side in every ups and down of his life. He once said,
She'd drive me to the gym, and she'd listen to all my dreams. Dee is a lifesaver for me.
Unquestionably, their first meeting was amazing!
3) Nine Years of Togetherness
Dee Devlin is enjoying a romantic love affair with Conor for nine years now and since the beginning of their relationship, she has fully supported her boyfriend for his successful MMA career.
Furthermore, when Conor McGregor won the match against Chad Mendes on 11 July 2015, Devlin paid a tribute to her boyfriend through an Instagram post. Check it out.
Aww! What an emotional moment!
When Dee Devlin was asked if she ever feels second to Conor's rigorous training schedule, she revealed that she "would never consider it like that".
Later she added;
I've actually never really thought of it like that – it's just something that he does. I go to work, he goes to training. His training is more intense and more of an everyday thing, though, whereas I can just shut off from work when I get home. He could be up at 4 a.m., shadow boxing in the bedroom.
Wow! What a strong bonding. We all want this kind of relationship, right?
Also, Read - Floyd Mayweather vs Conor McGregor fight date targeted for Aug. 26
4) Devlin Helps Conor To Manage His UFC Winnings
As revealed by Conor McGregor, his girlfriend now works for him and helps to manage his finances. In 2015, he told MMA Fighting
"She has helped me throughout this career. She does not work anymore, I hired her to the business…she works for me now and collects the checks.
According to celebritynetworth.com, McGregor has an estimated net worth of $14 million. In 2016, the popular magazine Forbes reported that Coner had a whopping $18 million in his bank account.
UFC champion Conor McGregor
Source: googleusercontent
With over three fights a couple of years ago, Coner's earnings received a significant bump. The 28-year-old fighter titled himself as the winner of two of the three best-selling UFC fights ever on pay-per-view.
Video: How Rich Is Conor Mcgregor? Net Worth 2017
You might not know but Conor was in the annual list of the world's highest-paid athletes in June 2016. Conor has also made history by becoming the first MMA fighter and coming in as the 85th highest-paid athlete in the world to be paid $22 million.
5) Devlin Admits She Gets Nervous Watching Coner's Fight
During an interview, Devlin revealed a really interesting fact about herself. She said that she still gets very nervous while she watches Coner fighting. She said;
I find I'm more nervous now – the first time I went to see Conor fight there was 50 people in a room, and I thought 'There's no way you can be more nervous than this' but each time it's just getting that more and more nerve-wracking.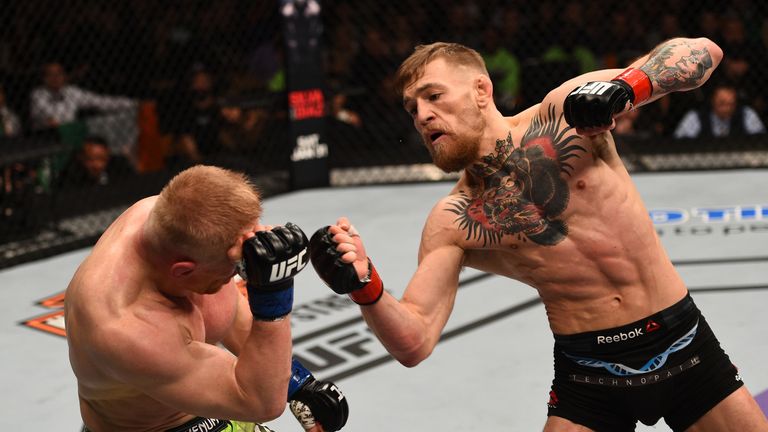 UFC fighter Conor McGregor
Source: skysports
She further added;
Especially watching someone you care about getting in the ring – it definitely gets me in the gut I have to say
6) Parent of A Child
Though the couple is not yet married, on 6 May, they welcomed a baby boy. The couple named him Conor Jack McGregor and was born in the Coombe Maternity Hospital.
Dee Devlin thanked everybody for their support after their son Conor Jack McGregor was born. She shared the news through her Instagram. Check it out.
Now, we hope to see Coner and Devlin as husband and wife soon. We wish all the very best for their future.
Also, Read - Dana White points towards Conor McGregor's Retirement, After McGregor-Mayweather fight
Here's the end of this section. If you want more interesting facts like this, don't forget to visit Frostsnow.