Christian Keyes is an actor and model based in the United States best known for his portrayal of Levi Sterling in TV show Saints & Sinner featuring Vanessa Bell Calloway, Jasmine Burke, and others. Keyes is a very mysterious person when it comes to his personal life. He is rumored to have dated American actress, model, and former adult star Baje Fletcher.
Born on 24th July 1975, his age is 42-year-old and has been active in the entertainment industry since 2005 and has appeared in movies and TV shows like Diary of a Mad Black Women, Moonlight, Family Time and many others. Moreover, he also has an estimated net worth of $1.5 million.
Leaving his professional life aside, here we are going to talk about his rumored relationship with Baje Fletcher, their after breakup romance, and his current relationships status.
Christian Keyes relationship with alleged girlfriend, Baje Fletcher. Know more about their after breakup romance.
Numerous sources claim that Keyes is currently in a relationship with actress and former adult star Baje Fletcher. It is reported that they dated for a few years and decided to call it quits not long after.
Baje Fletcher
Source: setcelebs.com
Despite, all these sources claiming that they previously dated, Keyes opened up that he has nothing to do with the actress. He revealed that they did work together in a film ten years ago and were not even friends let alone being in a long-term relationship.
Likewise, not long ago, rumors hit the market that despite their breakup, they were spotted together on a date. Well, first things first, they never really dated and nothing to do with each other. And their most recent date is also just a rumor, and there is no relationship between them.
Watch Keyes in Saints & Sinner
It is very common for these types of rumors to spread when it comes to celebrities, so it is not a big deal.
Who is Christian Keyes dating at the moment? Is he married?
As of 2018, Keyes is reported to be single. He is neither in any kind of a relationship not is she married. But what raises suspicion among fans is that he has a son named Christian Keyes Jr. He is a young boy, and he has appeared at numerous events with his father.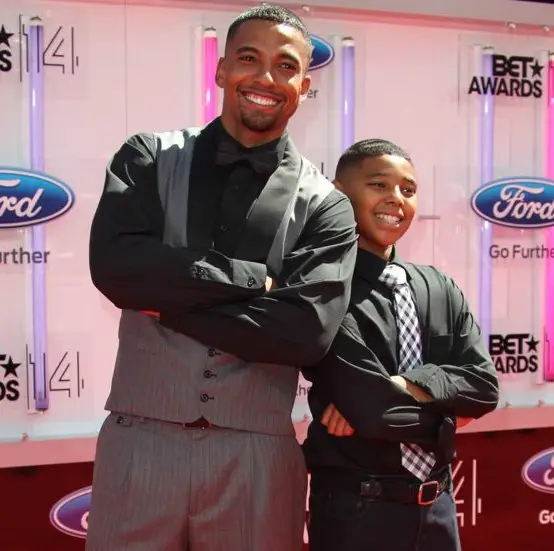 Christian Keyes with son Christian Keyes Jr.
Source: Liverampup
Google is also filled with pictures of the father-son duo. So, who is the mother? This is where things get kind of messed up. Even though Keyes is a father, he has not revealed the name of his son's mother who we assume is not his wife, yet.
He has never been married so, the single father has done a great job and hiding the identity of his son's mother from the public.
Watch Christian Keyes with his son at the 2016 BET Awards
Nonetheless, we are sure that he is having the time of his life with his son whom he seems to love more than anyone. We wish him all the very best in his professional life and his personal life as a single parents.