Congratulations shower on Paris Hilton and her fiancee!
Chris Zylka and the very beautiful Paris Hilton are now ready to walk down the aisle as they got engaged on Jan 1, 2018. According to sources, actor Chris Zylka proposed to his girlfriend model and socialite Paris Hilton during a getaway trip to Aspen, Colorado, which was no less than a fairytale. He went down on his knees in the snow to confess his love to Paris.
Hilton also shared the happy dream moment on her Instagram, have a look.
The massive engagement ring that Chris gave to Paris is worth $2 million. Designed by Michael Greene, it is pear-shaped and has 20 to 22 carat stone in the center.
Have a look at the engagement ring.
Paris Hilton and Chris Zylka after the accepted proposal
Source: Times Now
Talking about the beginning of their relationship, The Leftover star Chris Zylka and the beautiful socialite first met each other eight years ago, in 2010, in the iconic Chateau Marmont, a luxurious hotel in Los Angeles. The couple later started dating in 2016.
The lovely duos are yet to reveal their marriage date, but reportedly they are likely to get married 3 times in different global locations. Hope the good news of their marriage will arrive soon.
Time to take a glimpse of Paris Hilton's previous relationships.
Also read: Paris Hilton's boyfriend Chris Zylka Gets huge tattoo of her name
Paris Hilton's Past Affairs
The 36-year-old model had relationships with many famous people in the past, like Terminator 2 actor Edward Furlong. Hilton also dated millionaire Thomas Gross, whom she met at the Cannes Film Festival.
She also reportedly had an affair with Cristiano Ronaldo. Although they never admitted about their relationship, yet they were photographed partying together in Los Angeles.
Paris Hilton and Cristiano Ronaldo spotted together in a party in LA
Source: Abook
Hilton was also rumored to have had an affair with English crooner James Blunt. However, the rumors of their relationship got cooled down without solid proof. But she did have short-lived relationships with Nick Carter (2003-2004) followed by a one-year affair with Stavros Niarchos.
Also, soon after her break-up with Brody Jenner in 2008, Hilton dated Doug Reinhardt briefly. After having 3 months relationship with DJ Afrojack, she was linked with River Viiperi for 2 years from 2012 to 2014.
Paris Hilton and her former boyfriend River Viiperi
Source: Holly Nolly
But, 2016 proved to be a year of firm relationship as Hilton got her love Chris with whom she got engaged a year later. However, for Hilton, calling off the engagement is not a new thing, as she has done this in the past.
In 2003, Paris Hilton was engaged to Jason Shaw but later they broke it off without any disclosed reason. Hilton also got engaged to Paris Latsis in 2005, who is a Greek shipping heir and socialite, but they never married.
Paris Hilton controversies
The hotel heiress has made herself part of a long list of controversies. Her biggest controversy till date is her sex tape with Rick Salomon that was leaked before the premiere of her reality show The Simple Life. Hilton faced depression after the issue and opened up about it with her statement:
It's really hurtful, because my whole life I really looked up to Princess Diana, all these elegant, amazing women, and I feel like Salomon just took that all away from me. I could have been like that, but because of that tape, I will always be judged and thought of as whatever they say about me because of a private moment between my boyfriend and me
Paris Hilton also faced a huge controversy when she decided to open her store in Mecca. She had to give up the idea following a protest by conservative Muslims who felt it was not right for her to open a store in Islam's holiest site since she had a sex tape leaked.
She also generated a lot of anger after passing a rude comment about gay people, saying gay men would die of AIDS. She later apologized for the statement. But Paris, who herself has suffered from herpes, got in the highlights after she was spotted with a wound on her foot as a result of herpes.
Paris Hilton got in highlights with her herpes memes
Source: Pinterest
The star of the reality television show My New BFF, Hilton has also leaped forward to share the memes of her own on Twitter. Have a look.
Also, Hilton has got her hands on YouTube and can be seen sharing parody videos on her channel. Have a look at her famous video titled NanoDrop.
Well, whatever you do, some memories people never forget and if it's a bad one, then it lives on.
In 2006, Hilton had her driving license suspended when she was found driving under influence. In 2007, the queen of controversies was found speeding under her suspended license and was imprisoned. Not only this, the renowned model was found under influence of cocaine in 2010 for which she was jailed for few hours.
Paris Hilton arrested for speeding under the influence
Source: Freaking News
Paris Hilton created a media frenzy on her birthday bash where she turned beautifully dressed up with all the accessories and big heels but without an underwear in 2014.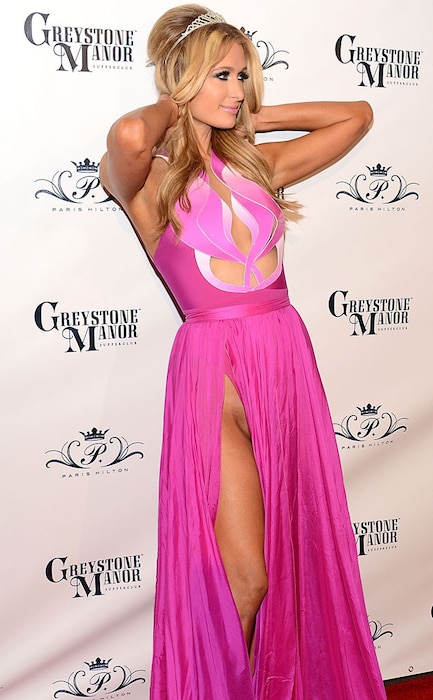 Beautifully dressed Paris Hilton forgets to wear underwear on her birthday bash
Source: Eonline
Hilton's life seems to have finally taken a turn for good. Leaving aside all her past controversies, affairs, broken relationships and one-night stands, the famous socialite of yesteryears has decided to plunge into marriage with the love of her life with Chris Zylka.
Let's wish them the best for further and stay tuned for more updates.