Catherine Ligaya Lowe is a woman with multiple talents. She is not only a graphic designer but also a reality television star. She is the winner of the 17th season of The Bachelor, aired on ABC channel. The American reality star is married to Sean Lowe with whom she has given birth to a child Samuel Thomas Lowe.
Catherine has earned a huge number of fans through her appearance in The Bachelor. She has not only got the fans but also has earned a fair amount of money from her acting career, which adds up to make a very good net worth.
Let's have a closer look at her net worth and career.
Catherine Giudici Net Worth
The very stunning reality star Catherine and Sean Lowe, both are the celebrity with a very good amount of earnings from their acting career. We don't have the actual figure of their net worth, however, we can say that they hold a handsome net worth.
The couple owns a very beautiful house in Dallas where they like to spend most of their times together. They were paid a whopping money of around six figures for the live telecast of their wedding.
Video: Catherine and Sean with their son describing their home
The couple shifted to their contemporary-style Dallas home in April 2016 where they are living happily with their child Samuel. The house features a cozy living room, open concept kitchen, and a living area perfect for entertaining.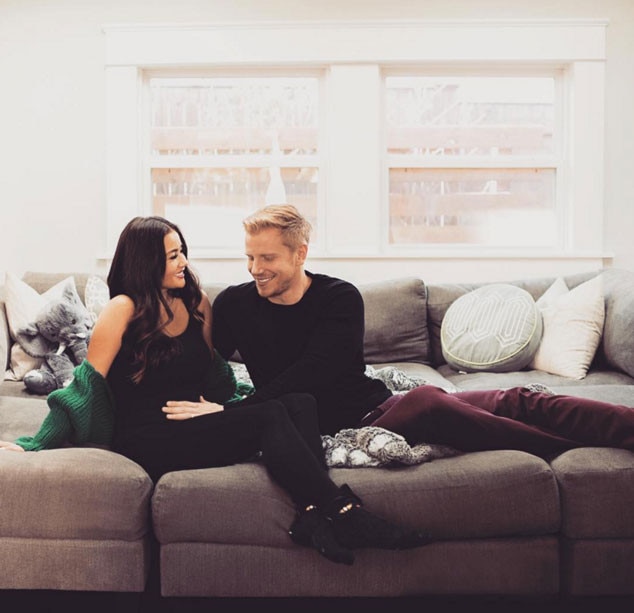 Caption: Catherine and Sean Lowe in their house in Dallas
Source: E Online
Their son Samuel is provided with a custom nursery, which features a chic white and gray color palette and wallpaper designed by Catherine herself. She explained about the wallpaper as
"My favorite part is the wallpaper because I made it especially for baby Samuel".
Sean Revealed He Saved $10 million
Most of the celebrity and stars are showy. They start to splurge their cash as soon as they get fame, but Sean Lowe is not among those stars. Sean revealed to the Fortune in 2016 that he saved his earning from the famous ABC dating shows Bachelorette and The Bachelor and he also invested wisely in a $10 million real estate project in Texas.
He also stated,
When the Bachelor ended, I realized the financial potential of that whole wacky experience. Fame pays, but, I knew it'd be short-lived. If I could save every penny, I could parley it into long-lasting success back home in Dallas.
Catherine and Sean were Paid Six Figures
The well-celebrated couple, Catherine and Sean Lowe got married in 2014. They were paid million dollars for their live TV wedding. ABC channel paid them the six-figure money for the live telecast of their wedding.
Sean told E-News, a couple of months after his proposal to Catherine aired on the season finale of The Bachelor,
I think once we set a date, it'll probably be aired on ABC.
He also told about the live wedding,
We have no problem sharing the actual wedding with everyone who has been with us so far.
Catherine and Sean both are active on Instagram and Twitter. They love to share their photos and videos through the social media. They often post their family photo in the media which clearly indicates they are enjoying their family life.
Catherine is living a very happy life with her husband and son and we hope this continues forever. What do you guys think about this adorable couple? Please, leave your opinions in the comment box below.