As being one of the most renowned American actresses, Megan Hilty has nowdays considerably gained a wide attention and curiosity because she welcomed her second child just a few days back together with her husband Brian Gallagher.
Let's dig deeper the personal life of Megan Hilty and find out all the detail. Just Stay with us.
Megan Hilty gave birth to her second child together with her husband Brian Gallagher
Megan Hilty again becomes a mother? That's right. This married couple has welcomed a baby boy as their second child. We can say Megan Hilty and her husband for four years Gallagher officially became parents to a baby boy. Aged 35, Broadway star Megan named her son Ronan Laine Gallagher a few days back on March 13 in Los Angeles.
Pregnant Megan Hilty with her husband Brian Gallagher
Source: Dailymail
A few months ago when the couple came to know that they are soon going to be the parents of two children, Megan announced her pregnancy in a very clever way.
Last September, the Smash star Megan posted a picture of herself with Brain and they were surrounded by desserts while wearing the T-shirts that read: "Eating for two" and "Drinking for Two" respectively.
We can only imagine how excited Megan and her husband Brian are about expanding their brood. In an interview, Megan expressed a bit of her excitement like;
We are overjoyed with the new addition to our little family, It's incredible how much love you can feel for someone you've just met.
Besides this, let's also talk about Megan Hilty's first child. Just within a year of their marriage, Megan Hilty and Brian Gallagher were blessed with a daughter on 18 September 2014 in New York City, USA. They named her Viola Philomena Gallagher.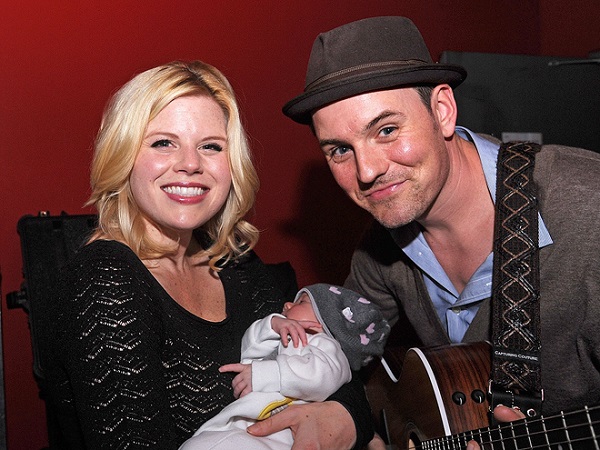 Brian Gallagher with his wife and child; daughter
Source: People
After a few days of the birth of her daughter, Megan revealed about balancing her career with motherhood admitting that she wasn't sure that this would be part of her life's plans at all. She said,
To be honest, separately, neither Brian nor I ever thought we were going to have children," she said. "I had this idea from childhood that there wasn't room for parenting and my career, and I chose my career. Thankfully, I was totally wrong.
Now, let's see how the couple began their amazing relationship which later turned into a beautiful married life.
Marriage between Megan Hilty and Brian Gallagher
Megan Hilty got married to a man with the same profession. Brian Gallagher is also an actor who currently is working on a solo album of original material. He is 33 years of age, two years younger than his wife Megan Hilty.
People.com has exclusively confirmed that Megan and Brian got married in an intimate wedding ceremony at the Venetian chapel in Las Vegas on Saturday night in 2013.
Megan Hilty and her husband Brian Gallagher at their wedding ceremony
Source: usmagazine
The Megan and Gallagher first met at a fitness class while they were both working on Broadway. After a couple of dates, the duo fell in love so deeply that they decided to get married.
In an interview, Megan said a very interesting fact. She said,
We were so excited to be married that we skipped the engagement altogether!
Both Megan and Gallagher might have some love affairs and dating histories in their past but none of them has ever revealed about that. Too low-key in their times as boyfriend and girlfriend.
Now, they are living their life happily as a small family of four members. Parents, Megan and Gallagher love their both children a lot but Megan seems to be too close to her daughter Viola Philomena Gallagher as Megan once said,
Anything that makes me look like an idiot, she'll laugh at, so I spend a lot of my days now looking like an idiot, just dancing around and singing in the worst voice possible' I'm breastfeeding, that I wasn't starving myself so that she could get the best nutrients too.
Furthermore, $2 million net worth's Megan has also sung a song for her daughter Viola in front of tons of her fans. Let's have a look on that.
Video: Megan Hilty and Brian Gallagher sing a song for their daughter
We wish both Megan and Bryan all the very best for their future. To know the progress regarding their married life and as a parent just stay connected with Frostsnow.