Greice Santo is a Brazilian actress and model from the United States and is best known for her portrayal of Blanca in comedy TV series Jane the Virgin where she worked with lead actors like Gina Rodriguez and Andrea Navedo.
The Brazilian actress was recently known for making headlines after a major controversy broke out between herself and Daryl Katz. The article below deals with the married life of Greice Santo and the controversy surrounding her life.
Greice Santo as a Model and Actress
Greice Santo made her debut as an actress back in 2011 through a minor role in popular TV series New Girl alongside actors like Zooey Deschanel, Jake Johnson, and others.
Born on 6th June 1992, the 25-year-old made her debut on the big screen through a minor role of a cocktail actress in 2015 film Wild Car.
Here, we are going to share with you some information about the actress' marital life, past relationships, and her controversy with the Canadian billionaire. Continue reading to find out more.
Greice Santo's Married Life
Greice Santo is currently married to her husband Robert 'RJ' Cipriani, widely known as Robin Hood 702. The man is notoriously known for his gambling addiction and was also banned for casinos worldwide.
Greice Santo with gambler husband Robert 'RJ' Cipriani
Source: The Sun
The details about how the pair met and when they started dating and got married are still unknown. Moreover, in recent days, there have been rumors of the pair getting a divorce and splitting.
The model cum actress, Griec Santo has not uploaded pictures of herself with her husband on her social for quite a while, and it is just fueling the rumors. However, no major source has claimed about it. So, it is safe to say that the couple is still married, but the rumor of their divorce might soon come to light.
Moving on to Greice Santo's past relationships, there are no headlines of her getting indulged in a relationship with a man especially a celebrity beforehand.
Greice Santo with actor John Stamos at Halloween Party
Source: Daily Mail
However, back in 2015, the actress was seen getting very cozy with American actor John Stamos during a Halloween party, which came out as a controversy. They were rumored to be in a relationship but neither of them spoke on the topic.
Greice Santo offered $1.5 Million to sleep with Canadian Billionaire
In 2017, Greice Santo made headlines after she shared the controversial news of a Canadian billionaire Daryl Katz who offered her almost $1.5 million to sleep with him 6 times every month for a year and in return, he would offer her roles in the movies and promised Greice Santo a secure career.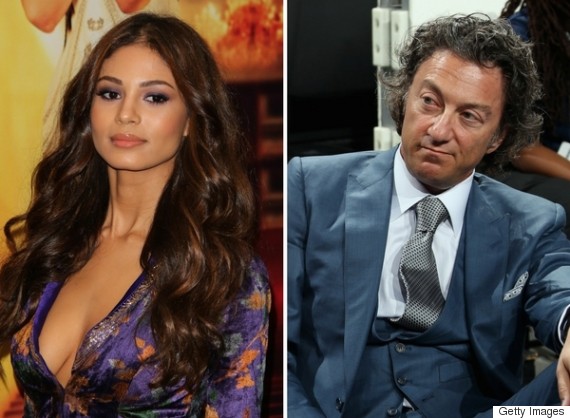 Greice Santo and Canadian Billionaire Daryl Katz
Source: Huffington Post
Santo, on the other hand, denied the offer and said that she was not a prostitute. This did not go well for the other party as the billionaire allegedly threatened her to ruin her career in Hollywood. In a recorded phone call, one of the agents of Katz can be heard saying, 'not work in Hollywood ever again.'
Watch Greice Santo in Jane the Virgin
The news made headlines and the billionaire even claimed the statement to be 'false, malicious and entirely without merit,' after Santo's husband Robert filed a lawsuit against Katz.
Nonetheless, the controversy made the headlines and the topic is still very trending.