Bob Saget, originally known as Robert Lane "Bob" Saget, is an American stand-up comedian. He is an actor as well and has acted on the ABC sitcom Full House and its Netflix sequel Fuller House. Saget also hosted America's Funniest Home Video in 1989. Bob actually was focused to become a doctor, but his Honors teacher Elaine Zimmerman encouraged him to step into acting. In 2014, he was nominated for the Grammy Award in the category Best Comedy Album for his comedy album, That's What I'm Talkin' About.
Besides acting and comedy shows, he also directs and produces movies. Other than being occupied with the show business, he also manages his time for the Scleroderma Research Foundation as a founder. The multi-talented Saget is always under the radar. His overall professional and personal life are constantly documented by the media. Let's know more about what is happening in the life of Bob Saget.
Is Bob Saget engaged to Kelly Rizzo?
The 61-year-old comedian is currently engaged to NBC5 Chicago and VH1 host Kelly Rizzo. The announcement of the engagement was made in November 2017 via a photo on Bob's Instagram page. The post captioned "Love the people in this picture. The most loving and legendary @George_Shapiro Katie Killean & of course my gal Kelly. In case you're wondering, we were celebrating our engagement— and I know George and I will be very happy together." The food and travel blogger flaunted her diamond ring in the photo.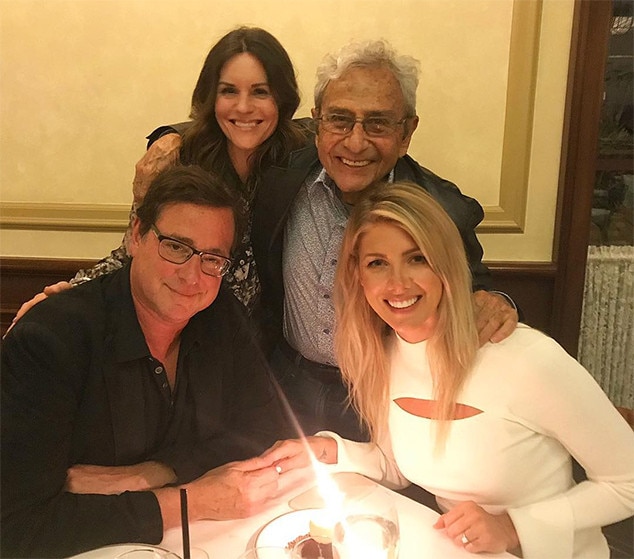 Photo posted by Bob in his Instagram announcing his engagement to Kelly
source: eonline.com
Kelly, 38, hosts Rocking Right Now on a Chicago radio station. Saget and Rizzo met each other in early 2015 as being introduced by a mutual friend in Chicago. The two dated for more than one year before Bob went down on his knees with the ring. The couple loves going on adventure trips together and is constantly posting pictures of their travel in social media. The success of their relationship despite the huge age gap of 23-years is mostly credited to their mutual interest in traveling.
Bob Saget's past relationship
.On the basis of the past records, Bob has been so far in the relationship with four ladies. Usually, he is seen dating women who are much younger than him.
Bob Saget was formerly married to attorney Sherri Kramer in 1982. Sherri was his high-school sweetheart. Eventually, the two got separated in 1997. Bob and Sherri have three daughters together. The twin daughters Aubrey Saget and Lara Melanie Saget were born on October 16, 1989, and the youngest daughter named Jennifer Belle Saget was born on November 18, 1992.
Bob Saget alongside his ex-wife Sherri
source: aazz.info
After the divorce with Sherri, Bob got into a relationship with Hope Dworaczyk in 2010. Hope is an American Playboy model. She is also a reality television personality. Bob dated the hot model for almost a year.
Bob was later rumored to be involved with an American journalist and author Katie Couric. The rumors faded away as Katie Couric married John Molner in 2014.
Bob Saget with arms around his beautiful fiancee
source: Closer Weekly
The failure of past relationships led Bob to assume that he would never find love in his life. But the entry of Kelly Rizzo in Bob's life wrote a completely different story. The couple seems to really enjoy each other's company.?