Chris Jansing (born Christine Ann Kapostasy) is an MSNBC anchor and the host of Jansing and Co., which airs weekdays on MSNBC. She is also NBC news correspondent and anchor.
Jansing joined NBC News in June of 1998. Throughout her career as a reporter, she has had several notable stints. She anchored MSNBC's coverage of the terrorist attacks on 9/11.
She has extensively covered several presidential campaigns and has anchored major breaking stories including Hurricane Katrina in New Orleans and the shooting tragedies in Tucson and Aurora, Colorado. She has hosted a series of prime time reports called "Battleground America."
Chris Jansing Successful Career And Net Worth
Jansing was also in London for the Royal Wedding and Rome for the beatification of Pope John Paul II. She was with Pope John Paul II during his historic visit to Israel and anchored MSNBC's coverage from Rome the election of Pope Benedict. She has been very successful in her career.
This veteran reporter's reporting for NBC Nightly News with Brian Williams and The TODAY Show has included the 2008 presidential campaign, the volcano eruption in Iceland, and the death of Michael Jackson. She has filed reports from various countries abroad like Afghanistan, Bolivia, and Vietnam.
Prior to joining the NBC News team and the network, Jansing co-anchored the nightly news for WNYT-TV Albany. She has been honored with awards for excellence in journalism.
Her awards and achievements include an Emmy for her coverage of the 1996 Olympic bombing in Atlanta and a "Best Documentary" award from the New York State Broadcasters Association for "In The Land of Plenty". It was a report on hunger in New York state. She also received many community service awards for her commitment to children.
Her program "Jansing & Co" launched on October 4, 2010.
Ohio-born Jansing graduated with honors from Otterbein College and holds two honorary doctorates. She currently lives in New York City.
In 1982, she married Robert Jansing, a chemist, who ran an analytical chemistry laboratory. In 1998, when she moved to NBC, she began using her married name- her husband's surname.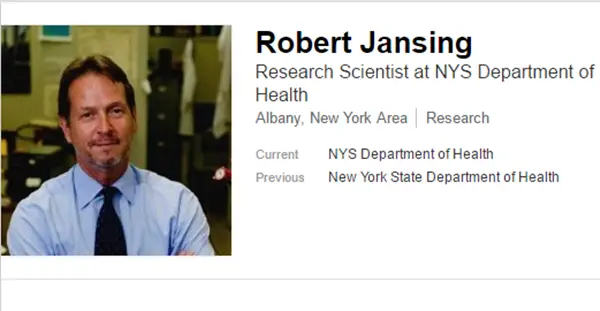 Robert Jansing
She explained the reason was that it was easier for viewers to pronounce rather than having personal reasons. She and her husband divorced, but she has continued to use the name "Chris Jansing" professionally.
With the earning from a successful career for more than three decades, she has a handsome salary and a net worth of approximately $8 million.