Shane Dawson found a new boyfriend in the form of Ryland Adams after he broke up with his girlfriend Lisa Schwartz. What can we make of this YouTube star? That's something even a small kid can answer. It'no other than a case of homosexuality.
We all know that a person who loves or date both a dude and a girl is homosexual. Gay marriages are legal nowadays and why not? When you want someone you love in your life what's the big deal.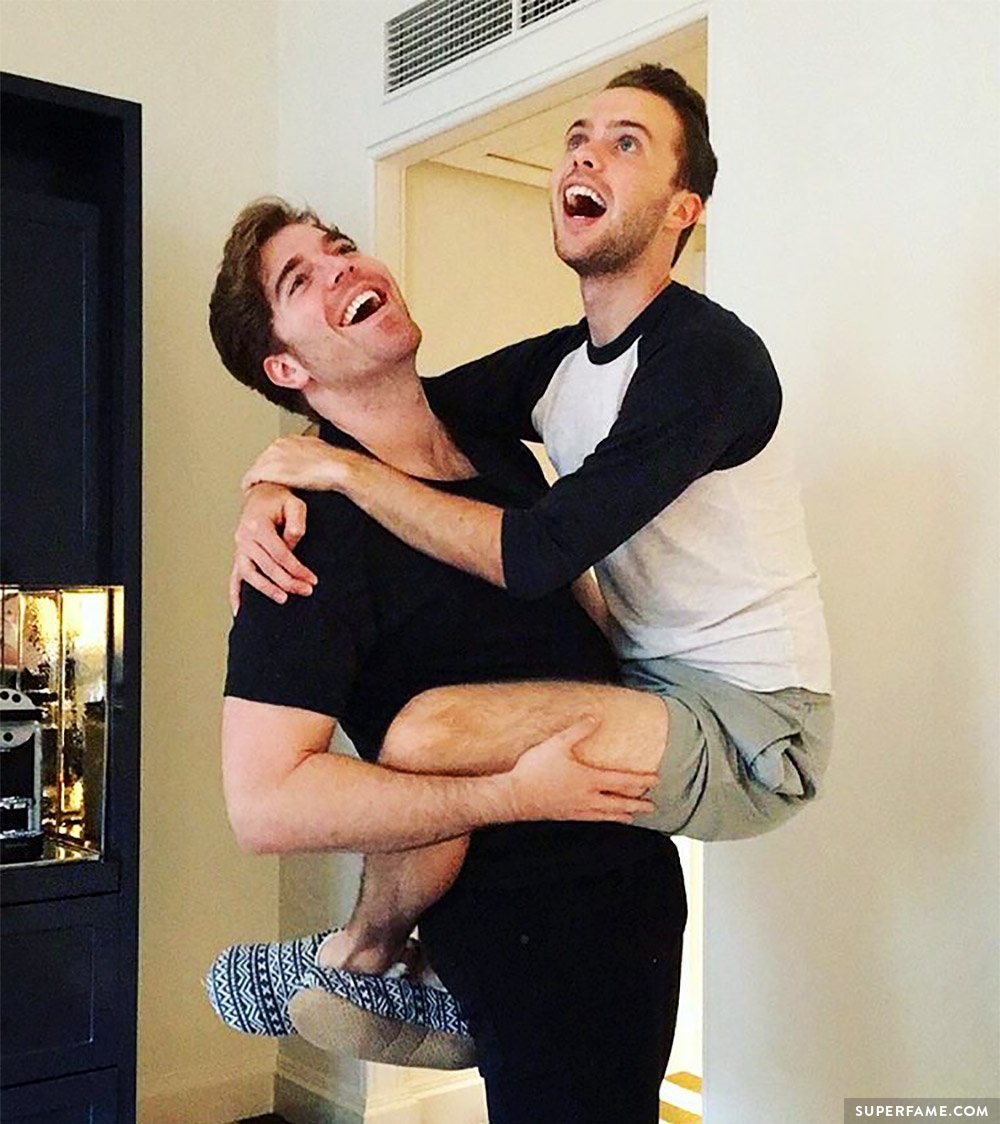 Shane Dawson and Ryland Adams
Source: superfame.com
But today we are not here to talk about gay marriage or anything else but we are here to talk about the relationship of Shane Dawson and Ryland Adams. Let's get to the point.
Must Read: Shane Dawson a star as he approaches 17 million subscribers and more than 3 billion views on Youtube.
Shane Dawson and Ryland Adams Relationship
Till now you all might know that the homosexual youtube star has found a new boyfriend or a new partner Ryland Adams after Dawson broke-up with his girlfriend. If you don't believe that this youtube star is homosexual then you can check his Instagram.
Here's Shane Dawson Instagram post with his homosexual partner.
And another one with his dog Uno.
Here's an Instagram post from Shane's boyfriend Ryland Adma who is saying Just being a dog dad holding the YouTuber's new dog Uno.
We think that you can connect the dots and make sense to all these. How did they meet?
Ryland Adams, Shane Dawson, and his dog Uno
Source: Pinterest
After Shane broke-up with his girlfriend Lisa Schwartz, Shane has managed to become silent about his dating life and love affairs. But after the break-up, he was found spending a lot of time with Rayland Adams. Then, the curiosity of the fans was sure to rise.
Here's a youtube video where you can see this duo having fun together. Don't miss it!!
But whatever people thought about these two came true. And we are not just saying this Shane made it public by posting a photo with his partner saying.
As you guys know i've been pretty private about my personal life for the last couple years. But I also feel like i've been hiding such a huge part of my life recently and I don't want to do that anymore. So here it goes. This is Ryland. He's sweet, caring, and makes me so incredibly happy. He's also my boyfriend.

He's been a really big part of my life and i'm so grateful that i met him. Don't worry, I don't want to exploit this or do "boyfriend tags" or any of that dumb shit. I just don't want to hide this part of my life especially since it makes me happy. Thank you guys for supporting me and for supporting the people in my life that I love. It means the world to me.
Now, you don't even have to join the dots to find the relationship between this homosexual couple. We wish that this couple stays together for a long time with the same love they have till now. And we would like to wish Shane Dawson a very best of luck for his career.