The gorgeous multi-talented personality, Alesha Dixon one of the most renowned television presenter who is widely known for hosting Your Face Sounds Familiar and Text Santa. Besides being a television presenter, she is also a British singer, dancer, rapper, and model as well.
Now, the Britan's Got Talent judge is set to sit in for Nicole Scherzinger as auditions for X-factor take place in Manchester this weekend. Yes, you read that right, guys! The Pussycat Dolls singer has pulled out of judging auditions in Manchester due to a previous 'diary appointment'.
Let's learn more about this story. Here's we will also let you know about the love affair and dating history of this Alesha Dixon. Just stay with us.
Alesha Dixon replaces Nicole Scherzinger for this weekend's X Factor auditions
Nicole Scherzinger is now replaced by Alesha Dixon for this weekend's X Factor auditions after pulling out at the last second.
As per the report, bosses were 'gutted' by the decision, but felt Alesha to be the perfect replacement for the Britan's Got Talent due to her 'wealth of experience.
Alesha Dixon's will soon appear on The X Factor panel
Source: mirror
An X Factor spokesperson told the media:
Alesha is guest-judging for the first day of the Manchester auditions as Nicole is unable to film that day due to a previous diary commitment.
Another source said:
Everyone is gutted that Nicole won't be joining them, but Alesha has a wealth of experience from her role on BGT and her own pop career so will do a great job filling in.
BGT judge Alesha Dixon is replacing Nicole Scherzinger in the X Factor
Source: dailymail
Alesha might be taking the chance to critique the contestants of the X Factor. We think she will not be in a permanent position in the show as she has been very loyal to BGT in the past.
Even she previously told Digital Spy,
I'd be lying if I didn't say that in the past there's been times when I've considered if that would be good for me. But I have to say the vibe of Britain's Got Talent is second to none.
Don't forget to watch Alesha Dixon on the X Factor which will be aired on the screens for its 14th series later this year.
Love Affair And Dating History of Alisha Dixon: Previously Married To Husband MC Harvey
The 38-year-old actress is currently romantically linked with a famous British dancer Azuka Ononye The couple is dating since 2012. The couple even has a daughter Azura Sienna Ononye together.
Despite their strong bond, Alisha once revealed that she used to say "No" whenever her long-term boyfriend proposed her for marriage. What would be the reason?
Boyfriend and girlfriend: Azuka Ononye and Alesha Dixon
Source: Dailymail
Well, the reason might be that she already has gone through a troubled marital relationship. Yes, you read that right. The Fired Up singer was previously married to a renowned British rapper MC Harvey.
The former married couple tied the knot in 2005, however, their relationship didn't last for long and they divorced in 2006, just after a year of their marriage.
Former husband and wife: MC Harvey and Alesha Dixon
Source: dailymail
The reason was mentioned to be Harvey's extramarital affair with another singer Javine Hylton. Besides, Alesha Dixon has a long list of boyfriends including some renowned television faces like Matt Di Angelo, Pharrell Williams, and James Chandler.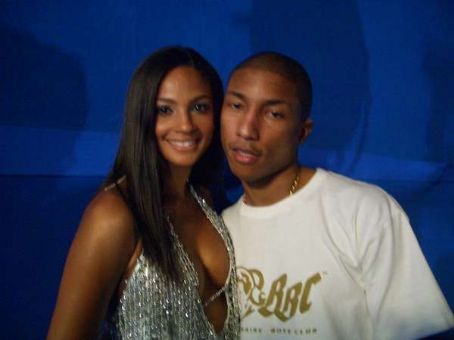 Former boyfriend and girlfriend: Alesha Dixon and Pharrell Williams
Source: whosdatedwho
After a long journey of relationships, Alesha is currently dating Azuka Ononye. We wish all the best for the couple and we hope we will soon hear their wedding bells. For more updates, keep in touch with Frostsnow.