Bethany Meyers and Niko Tortorella got married in a unique wedding ceremony on March 9, where they exchanged vows dressed like ancient Romans decked in silver crowns. Both the bride and the bridegroom appeared at the office of the city clerk in Lower Manhattan on March 9. Fitness and lifestyle entrepreneur Bethany Meyers and actor Niko Tortorella, who is younger than her, had been in a 12-year-long polyamorous relationship prior to their marriage.
Regarding the sexuality of the two, Bethany identifies herself as a lesbian, while Niko is sexually fluid and regards himself a pansexual. After the wedding rituals were over, they both shared their experience of their big day on social media. However, Nico has said that the couple is "not necessarily, completely welcome" at Bethany's family celebrations because of "of certain things that were said".
Bethany Meyers' past affairs
31-year-old fitness and lifestyle entrepreneur Bethany Meyers identifies herself as a lesbian and has said that she has had relationships with many girls. However, we couldn't find out exactly whom she was having affairs before.
Bethany Meyers and Niko Tortorella recently got married
Source: Dailymail
Similar is the case with her husband, Niko, since both the couple have spoken about being polyamorous throughout their long-term relationship. Although he has said that he loves being in relationships with different people, which both of them plan to continue even after their marriage, there is no specific name we can pinpoint.
Bethany Meyers' struggle with anorexia and bulimia
The newly-wed bride Bethany Meyers has opened up about fighting against both anorexia and bulimia in a candid statement that she posted on her Instagram. According to Bethany, it was during her mid 20's that she suffered from eating disorders.
Talking about the problem, she once mentioned that it was because of her hectic workout plans and her desire to gain a fit, lean body that she experienced the traumatic disorder. However, Bethany eventually coped with the situation, finally finding herself a healthy way to live. As soon as she realized her health had deteriorated, she took instant steps to overcome the issue.
She has said about her eating disorder:
I threw away my bathroom scale. I only allowed myself to work out when my reason for doing it didn't involve vanity or losing weight…I found a nice thing to say about my body every day. I stopped reading nutritional labels and started reading ingredients. I said thank you to every piece of food I put into my body—even the ones that contained sugar, dairy and carbs.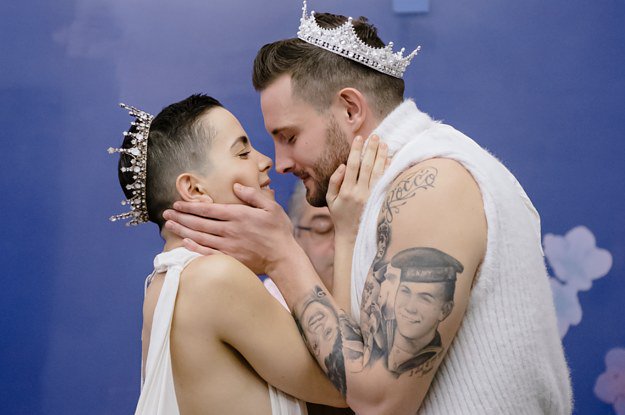 Bethany Meyers and Niko's wedding pic
Source: scoopnest
Despite all the setbacks she has suffered from, Bethany is now hitched with her boyfriend Nicko. Not all the people might feel comfortable by the way Bethany and her husband Niko Tortorella have defined their sexuality and relationship, but that's their private life.