The fifth wife of a bounty hunter Duane Chapman, Beth Smith Chapman is an American reality TV star and producer who is best known for her appearance in an American reality TV series Dog and Beth: On The Hunt with her husband Duane. Recently, the couple was in town for President Donald Trump's inauguration in January.
Like Beth is not the first wife of Duane, did you know that Duane is the second husband of Beth? Yes, Beth is married two times in her life. And she has a child from her first husband and another child from her ex-boyfriend. Including this, there are many other things to know about Beth's marriage, divorce, children and married life.
Brace yourself, we are going to provide you with all the details.
Must Read: What's Barron Trump and Eric Trump relationship with their father Donald Trump?
Must Read: YET ANOTHER CONTROVERSIAL ACT: DONALD TRUMP
Beth and Duane attended President Trump's Inauguration
Beth and Duane both are supported US President Trump in 2016 presidential election and also donated to his opponent, Hillary Clinton. On 20th January 2017, Beth along with her spouse was in town for Trump's inauguration.
Video: Dog the Bounty Hunter and his fifth wife Beth Spotted at Trump Inauguration
Beth recently tweeted,
Must Read: Donald John Trump is the new President of USA.
Must Read: Jedediah Bila not supporting Hilary Clinton due to the countries that have donated to her foundation
Beth and her past relationships
Beth was married to her first husband, Keith A. Barmore on 26th August 1991. By that time she was a mother of her first child Dominic Davis who was born in the 1980s. Davis was the child of Beth's ex-boyfriend.
After two years of successful marriage, Beth and Keith welcomed their first child together. The child was named Cecily Barmore who now lived with Duane. After few months together, the couple announced their separation in 2000's.
Beautiful daughter of Beth Cecily Barmore
Source: Pinterest
Beth and her second husband Duane Chapman
After the divorce, Beth got romantically involved in the love relationship with an American bounty hunter and a former bail bondsman, Duane "Dog" Chapman. The dog had just separated from his fourth wife Tawny Marie and was already the father of 10 children from his past marriages.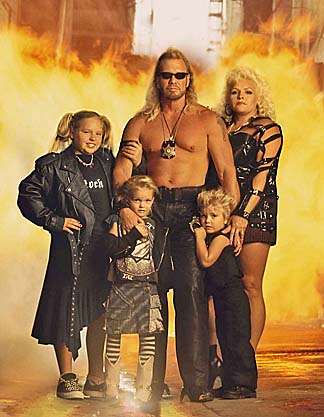 Duane Chapman with three of his 12 children and his companion, Beth Smith.
Source: Archives Starbulletin
Beth and Dog were known to each other since 1986 when Beth was 19. It is believed that the couple had on-and-off kind of relationship in 80's, but the relationship did not last long. And later, Beth got married to Keith who was the high school's best friend of Duane.
Beth and her husband Duane
Source: Facebook
Beth and Duane again met when both of them were divorced and single parents of their children from previous marriages.
On 20th May 2006, Beth and Dog happily got married at Hilton hotel at Waikoloa Village in Hawaii. Dog adopted Cecily Barmore and the couple gave birth to two other beautiful children, Bonnie Joanne Chapman and Garry Chapman.
Beth tweeted birthday wish to her loving husband Dog,
Though Beth did not get the custody of her first child as she was too young, Dominic rejoined the family as an adult and all the family lives together.
Beth was not the first wife of Dog and neither Dog was the first husband, but the couple's perfect chemistry shows that they are made for each other. We wish for Beth and Duane a successful future ahead.