Best known as the host on the popular TV show, The Ellen DeGeneres Show, Ellen DeGeneres is a comedian, actress, TV host, writer, and producer based in the United States. She is one of the most well-known people in the world, and she is recognized for all the right reasons. She is a very humble person, and she aims to help people who are in need. The lesbian comedian who is an idol for the LGBT community received the Presidential Medal of Freedom back in 2016 from former US President Barack Obama. Moreover, Ellen has numerous other awards for all the charitable work she has done, and let's also not forget about her outstanding sense of humor.
Born on 26th Jan 1959, the 60-year-old came out as a gay on The Oprah Winfrey Show back in April of 1997. At the time, it was still a taboo subject, and the step of her's can be considered a heroic one.
Ellen Degeneres with wife Portia de Rossi
Source: People
As an openly lesbian, Ellen is currently married to her wife Portia de Rossi, who is an Australian-American model and actress. The duo together is an inspiration not only to the LGBT community but everyone.
Here, we are going to talk about the moments when Ellen and Portia were ultimate couple goals. Continue reading to find out more.
Ellen and Portia got married in their house
Ellen got married to her wife Portia back in August of 2008. Ellen was already a big celebrity at the time, and many would assume that their wedding was massive with hundreds of guests and it almost looked like a carnival.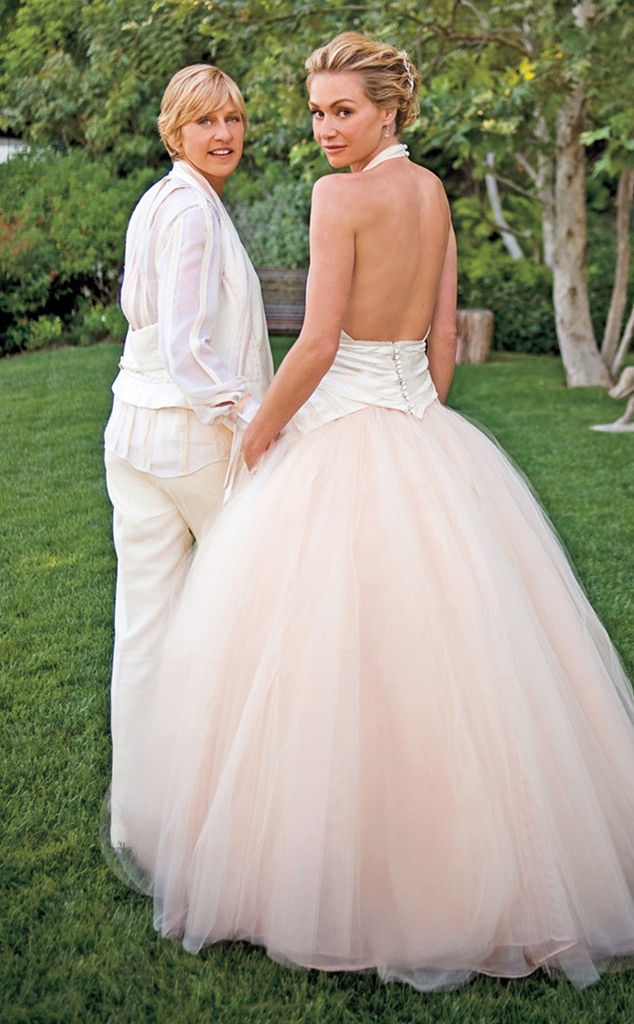 Ellen Degeneres with wife Portia de Rossi at their wedding
Source: E News
However, it is not it, the pair got married in their Beverly Hills, California based home. Only 17 guests and their mothers were present to witness the wedding. The reason their wedding took place in a very simple way might be because California was in the verse of banning same-sex marriage, and the pair got married just two months before the ban was officiated.
However, not everything in the wedding was simple as Ellen proposed the love of her life with a blinding three-carat diamond ring.
Watch glimpse of their wedding
Initially, the wedding was kept a secret, but later on, the pair shared a video featuring their simple yet intimate wedding ceremony.
The fact that the couple cared more about being with each other rather than just the big things in life makes this moment noteworthy. They have been together for the past decade, and their love for each other seems as fresh as ever.
Portia has always been there for Ellen's big moments
When you are in a relationship, you expect your significant other to always be by your side during ups and downs. And Portia has done the same for Ellen. She has been there for Ellen at her highest and lowest points cheering her up and motivating her.
In 2017, Ellen celebrated the 20th Anniversary of her 'Coming Out' on her show. The people who helped and supported her to do so were present there to share their experience which also resulted in a lot of backlashes. Portia was also thereas well, and she stayed in the audience section listening to their story.
Watch the video here
Likewise, Portia has been there for Ellen while she received her Presidential Medal of Freedom and several other occasions. The fact that she is not even intimidated by all the attention Ellen gets and is rather happy for her is what makes them the perfect couple.
Ellen got the surprise of her life from Portia on her 60th Birthday
Normal people have a very hard time choosing something special for their partner on occasions. And talking about Ellen, she has almost everything that money can buy, however, she too faces difficulty choosing a gift for her.
Ellen Degeneres with wife Portia de Rossi
Source: People
But Portia had the perfect gift for Ellen which she had never expected was coming. During Ellen's 60th Birthday special on her show attended by celebrities like Michael Jordan, Michelle Obama, Jennifer Aniston, Kevin Hart and others, Portia shared that she established The Ellen DeGeneres Campus of The Dian Fossey Gorilla Fund in Rwanda.
Portia revealed that Ellen is a huge fan of Dian Fossey and the gift made sure that she was always close to her hero.
Watch the video here
Ellen broke into tears when she heard about it and said that it was the best gift ever. Ellen said:
When we got married, Portia's line was, 'It's good to be loved. It's profound to be understood.' She understands me because that is the best gift that anybody could have given me.
What do you think about the couple? Comment down below and share your opinions.