Ashley Harlan is the wife of talented Pittsburgh Steelers Quarterback Ben Roethlisberger. Ben has quite a fame as a player outside of his profession as well. There are many beautiful girls lining to be his girlfriend but he chose Ashley in the form of his ultimate life partner.
Ben and Ashlyn have been married since 2011 and their love story is rather cute. Their relationship is going well as they are living happily with their three children. Marriage relations nowadays are short lived and the divorce rate is increasing each year. Considering Ashley's relationship with Ben, we don't think that they will ever separate.
Let's find out more about the couple:
Ashley Harlan and Ben Roethlisberger marriage
Ashlyn and her beau's first encounter took place in 2005, that is six years before they got hitched. Their dating life was quite on and off until they exchanged their vows. After knowing each other for six years the couple decided to marry. They tied the knot on 23rd July 2011 in Pittsburgh, PA.
Although we know a lot of couple move in together before getting married, Ben and Ashlyn did not do so due to their religious beliefs.
Ben Roethlisberger with wife Ashley Harlan on their wedding
Source: Heavy
We often hear about celebrities spending million of dollars on their wedding, but what Ashlyn and her groom did on their wedding is quite praiseworthy. They requested the 500 guests who attended their big day to make a donation to a foundation they initiated who aided to the Ronald McDonald House and Children's Hospital of Pittsburgh, UPMC.
A nice thought!!
Ashley Harlan and Ben Roethlisberger have three kids together
Within four months of getting married, Ashley got pregnant with the couple's first child. On 21st November 2012, they welcomed their first child, a son who was later named Benjamin Todd Roethlisberger, Jr.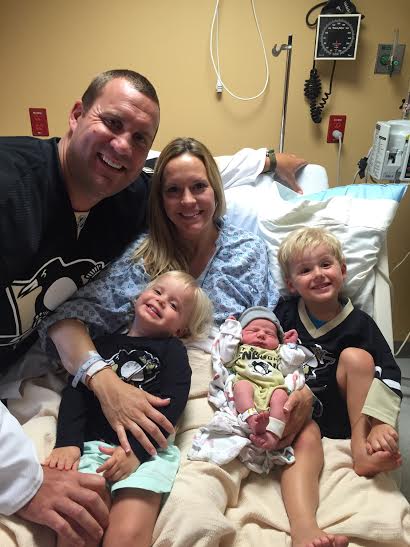 Ben Roethlisberger with wife Ashley Harlan with kids
Source: Ben Roethlisberger's Twitter
Ashley gave birth to the pair's second child in the form of a daughter on 19th March 2014. They named her Baylee Marie Roethlisberger.
Eventually, their youngest child came to this world on 26th May 2016 as the couple's second son, Bodie Roethlisberger. After the birth of Bodie, Ben had Tweeted that the newest member of the family was ready to watch the 1st Penguins playoff game.
Ben Roethlisberger talks about being a Dad
Even though Ben is a responsible guy, being a father made him more responsible. He revealed his thoughts about being a father when he appeared in an interview with WDVE Radio. He said that it puts things into perspective and it makes him think what is more important. He further said:
You don't really know love until you have a child and it's pretty cool. I got up early and he was awake so we were playing this morning before I left to go to practice. The changes you see every day are just awesome!
Ben Roethlisberger and Ashley Harlan Wedding:
Despite being married for six years, Ben and his wife's relationship is pretty amazing. They have been going strong without any divorce rumors. It feels good to see families living together happily, isn't it? We hope it stays the same for Ben Roethlisberger and his wife Ashley Harlan.
For updates about the couple keep in touch with Frostsnow.