Louise Lear, a very popular BBC Weather presenter is a Britain-born journalist. The 49-year-old Louise Lear has a Bachelor of Arts degree in Music and Drama. She also developed some skills like playing the piano and clarinet during her days in college.
Louise started her career at the Central television in 1992 where she worked as a weather presenter. Later, she started working with BBC in April 1998 where she gained what she wanted with her career.
She is married to husband Ian Lear and also has two children with him. Want to know more about her married life and children? If you do, stay with us, we are here for you.
Louise Lear married life with husband Ian Lear
Who is Louise Lear married to? Yes, of course, Ian Lear (we were checking how many of you remembered). You know, Louise Lear is very secretive about her personal life affairs so, she doesn't like to disclose anything related to this but, we have something to tell you about her.
Louise Lear's husband Ian Lear is an Architect who is working as a Design and Development manager at Patisserie Holdings Ltd in London. He has been associated with the company for about 7 years, which he began in January 2010. Before working with Patisserie Ltd, he was a manager at Retail Store Development.
Caption: Louise Lear with Ian Lear in her Bungalow
Source: ashleymorrisonphotography.wordpress.com
It is not disclosed when Louise got married to Ian but, it is pretty clear that they have been in a married relation for a long time. With no rumors about their dispute or divorce, we can guess this lovely couple are having a great time in their life and are living happily together.
Louise Lear Children with husband Ian
Like we previously said Louise Lear and her husband Ian are very a happily married couple. Once Gena Lee Nolin said, "My children are the reason I laugh, smile and want to get up every morning" and just like this we guess every parent feels the same for their child.
The couple is blessed with two children, a couple of sons named Jamie and Miles Lear.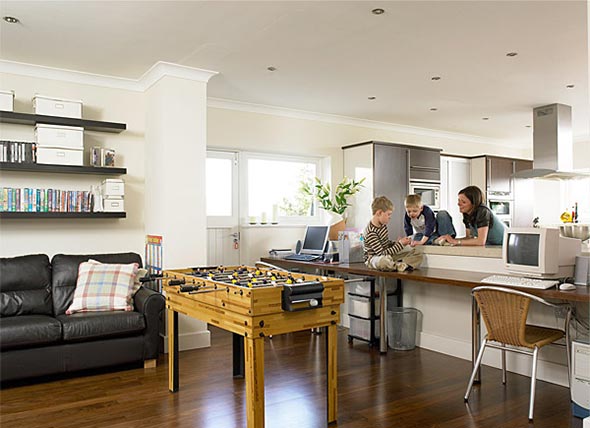 Caption: Louise Lear with her children
Currently, Louise Lear is no more active on social sites and rarely makes an appearance in public with her family. What did we say, she is a very private woman.
Louise Couldn't Control Her Laughter During a Live Program
Have you ever been in the condition where you couldn't control your laughter? The famous BBC Weather presenter Louise Lear was in the same situation.
It was in August 2016, when newsreader Simon Mccoy launched her into the forecast but, she was unable to do so due to her uncontrollable giggles.
Simon gave her the second chance but, call it a bad luck or something else, she was probably in the worst time of her life as she went on continuously laughing. We don't know what made her laugh so much that she couldn't control her laughter. Point to note, she did this in the live show.
Here's a video from the same live show. Enjoy!!!
What do you guys think of this couple? Please, leave your opinions in the comment box below.
Quick facts about Lousie Lear:
Who is Lousie Lear's husband?
Ian Lear is Lousie Lear's husband.
When did Lousie Lear and Ian Lear get married?
Ian Lear and Lousie Lear wedding date are not revealed.
How many kids do Ian Lear and Lousie Lear have?
Lousie Lear and Ian Lear have two sons; Jamie Lear and Miles Lear.
For more gossips on Lousie Lear visit frostsnow.