Elena Delle Donne, born on September 5, 1989, is an American professional basketball player, who currently plays for the Washington Mystics in the Women's National Basketball Association (WNBA). Donne, the WNBA Peak Performer 2015 is also famous for her incredible gameplay and is recently in the highlights because of her love life.
Well, Donne is openly a lesbian. She is married to her long-time girlfriend Amanda Cliffton. There are a lot interested to know about her married life and relationship. So, do they have children? Let's know the details about her relationship with Amanda, their married life, and past affairs.
Elena Delle Donne is Married To Girlfriend Amanda Cliffton
Elena, who had been keeping her love life away from the media, revealed about her relationship with Amanda in an interview with Vogue magazine in 2016. However, the 28-years old basketballer has not opened up on how their relationship began, but it is reported that they met through a mutual friend in 2012.
Amanda, the founder of Delle Donne Academy, recalled the moment when she fell in love with Elle Donne saying:
I knew I fell in love when there was a weekend I was supposed to be going home to see my family and I literally could not get myself to leave Elena's house. I kept stalling and making up reasons to wait a little bit longer before I left. I had never felt that feeling of not wanting to leave someone so badly!
And after 4 years of dating, they got engaged on June 2, 2016. Delle Donne, who believes that heterosexual relationship should also work the same way as other relationship said:
If a guy wants to be asked, he should be asked. And with proposals it doesn't matter if they're male or female. It was always a dream for someone to ask us, which made both of our proposals so special.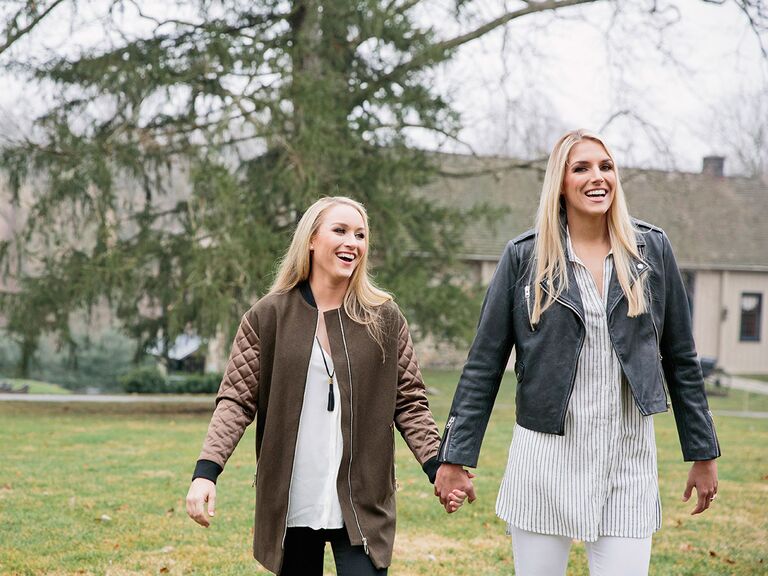 Elena Delle Donne(right) and her love, Amanda Clifton
Source: The Knot
Elena and Amanda, who were planning for their marriage were named The Knot's Dream Wedding couple by The Knot in 2017. Every year, 'The Knot' throws a bash wedding plan for the deserving couple and in 2017, it knocked the door of Elena and Amanda.
The lovely couple got married on November 3, 2017, in front of their loved ones and friends. The wedding was planned by a renowned wedding planner and designer, Jove Meyer. The wedding ceremony was held in the gorgeous garden castle ceremony in Sands Point, New York.
The venue was overlaid with floral arrangements including 7000 white roses, white delphinium, camellia branches and wisteria vines, which suited their classic romantic gowns.
Let's also take a look at their wedding day.
Elena and Amanda kissing each other in their wedding
Source: Daily Mail
Well, many of you might not know but instead of registering for the gifts, the couple set up a charity registry to donate Elena Delle Donne Charitable Foundation, which supports Special Olympics and victims of Lyme disease.
Applause to this generous couple!
We do also have a video of their wedding, have a look.
Probably you are curious about their married life, right? Scroll down to know.
Also read: Know about the engagement of Star Trek star, Zachary Quinto and his boyfriend Miles McMillan and their relationship
Married life of Elena and Amanda
Elena and Amanda, the newlywed couple seems to be enjoying a lot. The lovebirds cutting through the narrow perception of same-sex marriage are deeply and madly in love with each other.
Elena and Amanda shortly after her marriage went on for their honeymoon on Moorea Island. The couple shared some lovely moments on their social media.
Although she is busy in her game, Elena manages time to visit Amanda and enjoy lovely dates.
Also, unlike other basketballers, Elena who cares about her family, rather than going overseas in her off-season, comes home to care her sister who is blind, deaf and has cerebral palsy.
Now, Elena has got a helping hand and her life partner, Amanda. The couple reportedly is free from the rumors of separation and divorce, and no records of past affairs are reported.
Both are supportive of each other and their relationship seems to be strengthening with passing time.
And it's time to know about their children.
Children of Amanda and Elena
Well, the couple is yet to share parenthood, but they do have plans to have children in near future. Amanda shared her excitement about being a parent as:
The only significant change will be having kids, which we're very excited to do! I'm thinking having children will just bring us closer together.
But, they have not given any news about being parents anytime soon. Well, let's wait for the day and wish them best of luck.
Also read: Know the married life of Australian politician Penny Wong, an openly lesbian, and her children
Stay tuned for updates!