The gorgeous Rachel Lindsay is busy with filming for ABC dating series, 'The Bachelorette'. In order to see her on the 'Bachelorette', all the fans have to wait for few more months. But don't you worry, we have brought you some mind blowing news that will make you aware of what's going on.
The season 13 star went on a group date. Yes, that's true. All the boys got drenched in sweat. They were also joined by NBA legend Kareem Abdul-Jabbar. We bet this makes your wait for the show even harder.
Read the full story:
Rachel Lindsay went on a date with 10 men
US magazine reported that 10 men including Chris Harrison got lucky as they played a basketball game with the sizzling Lindsay. The game took place at a high school in Sothern California on 20th March.
They were not just alone as NBA superstar Kareem Abdul-Jabbar also joined them. They played the game in front of a huge crowd that was cheering most of the time. Sorry for killing your surprise guys!
Rachel Lindsay
Source: The hollywood gossip
Abdul-Jabber gifted Mike Fleiss
When Mike Fleiss, the executive producer of 'The Bachelor' revealed a gift he got from Abdul-Jabber, everyone was confused. However, all the confusion has finally found its address as bringing Abdul-Jabber's gift in context out of nowhere finally, makes sense.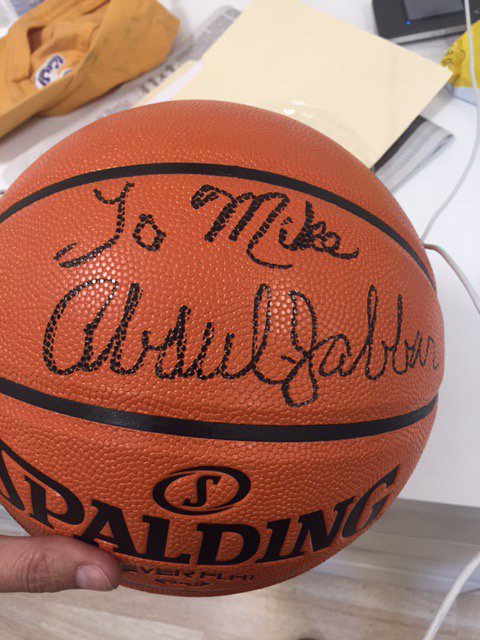 Mike Fleiss gift from Abdul-Jabbar
Source: Twitter
Mike Fleiss gave hint of upcoming season of 'The Bachelorette'
Besides, Fleiss also gave some other hints from the 2017 season. He showed the cameras that are fitted around the mansion and few photos of Lindsay's date with the men. Fleiss showed his Twitter followers some glimpses from the first shooting night.
On the pictures, the boys were seen leaving the limo while Lindsay was seen waiting for them. Another photo showed an Abdul-Jabbar signed basketball. This has made all the wait even tougher, but there's nothing we can do rather than wait for the season to officially come out.
Watch Rachel Lindsay in the Bachelorette's new season
The filming of the season 13 Bachelorette began on 16th March 2017. The first rose ceremony took place on the same night. According to US magazine, Corinne Olympios and Raven Gates visited the mansion on 14th March.
Considering all the sources' reports and the hints given by the franchise creator Fleiss, we know that the 2017 season is going to be a spicy one that will blow everyone's mind. Until the show comes out, we hope Fleiss keeps us updated with what's coming ahead.
Follow Frostsnow for more updates.