Best known as the husband of actress Mila Kunis, actor Ashton Kutcher has an estimated net worth of $200 million as of 2018. Also an investor, Kutcher has also appeared as one of the investors on popular TV show Shark Tank.
Know more about their children.
Moreover, as an actor, he has appeared in some popular TV shows and films like Two and a Half Men, The Bachelorette, The Man Who Saved the World, Down To You, and many others.
Here, we are going to share some details about the actor's net worth, earnings and much more.
Ashton Kutcher Net Worth And Earnings
As we have already mentioned above, Kutcher has an estimated net worth of $200 million as of 2018. Just four years back in 2014, his net worth was $140 million. In the year, his earning was $29 million.
He is among one of the most renowned faces in the entertainment industry and is also widely known as a venture capitalist. Likewise, in the year, he was also was listed as one of the highest paid TV actors of the year, and it was the third time, he appeared on the list.
Back in 2014, he along with other participants invested a massive $40 million on an AI company called Vicarious. Likewise, in the year alone, he also invested another $8.6 million on Secret along with other people.
Apart from his acting career which paid him around $750,000 per episode during his days in Two and a Half Men which is nothing close to the former lead actor Charlie Sheen's, he is also earning a massive sum just by investing on companies and receiving a percentage of profit from them.
Moreover, when he was first cast as the lead character in the series, his contract was reported to be of around $20 million.
When someone searches for Kutcher's earnings, the first thing that pops up is his investments in companies, and he has helped numerous companies like Bitpay, The Hunt, Balanced, etc.
Watch Kutcher on Shark Tank.
In 2016, Forbes shared an article about Ashton Kutcher, and Guy Oseary were able to build a $250 million portfolio just by investing in startup companies like Uber.
Keeping his career as an investor aside, according to the number, he has appeared in 8 leading roles to date, and in total, the movies made $813.67 million worldwide. Similarly, the three films in which he appeared as a supportive character were able to make $184 million at the box office.
The actor seems to have a golden touch as he was able to make $2 million through http://www.crunchbase.com/person/ashton-kutcher.
Also, let's not forget about his wife Mila Kunis who is one of the most well-known actresses in the industry. She alone was reported to have an estimated net worth of $45 million back in 2017, and her net worth as of 2018 is under review.
Ashton Kutcher Properties And Assets
Well frankly saying, Ashton's biggest asset is his investment in different companies and the shares he owns. However, as we have already talked little about it above, here we are going to focus on the physical assets like cars and house exclusively.
The actor's first big purchase was reported in 2004 when he bought a home in Beverly Hills for $1 million. However, as of the now, the actor is going big.
In 2017, he along with his wife Kunis were reported to have bought a beach house in Santa Barbara for a whopping $10 million. Located in the area housed by fellow stars like Ellen Degeneres and Natalie Portman, the mansion covers 3,100 sq ft and features six bedroom and six baths.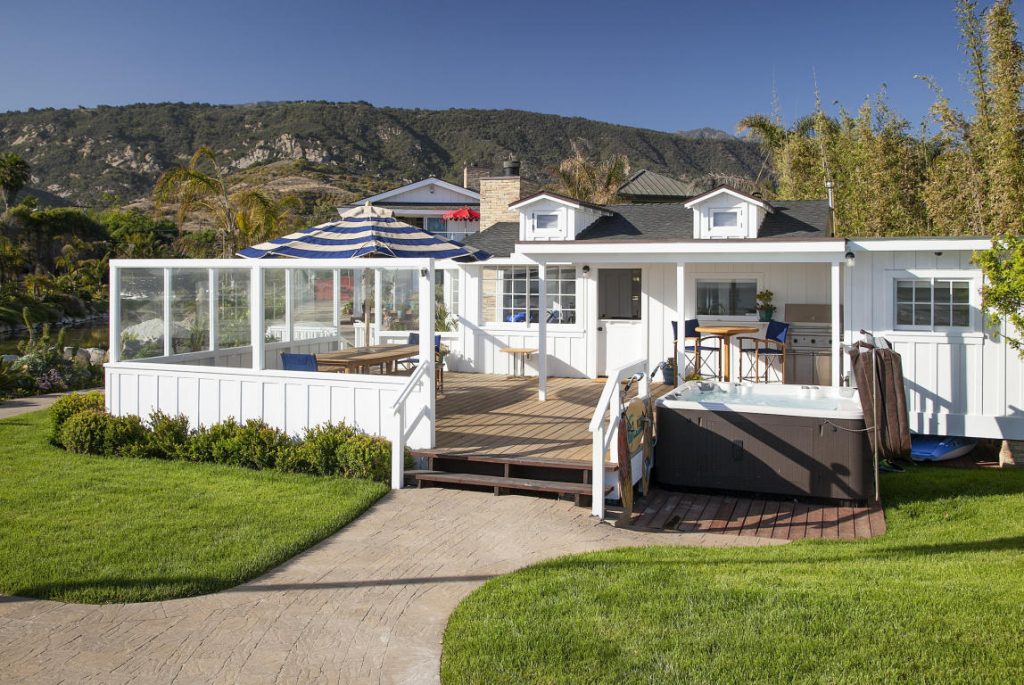 Ashton Kutcher's Santa Barbara Mansion
Source: Trulia
Likewise, in 2012 he bought a mansion in Hollywood Hills for $8.455 million which, according to reports, Justin Bieber was trying to buy for himself. The villa which covers 9,385 sq ft is more like a sanctuary rather than a home, with a beautiful view of the lake, swimming pool, and spa.
Ashton Kutcher's Hollywood Hills Mansion
Source: Pinterest
However, the actor later sold the house in 2014 for almost $10 million.
Moving on from houses, let's talk about his cars now. With millions of dollars in his account, Kutcher indeed loves to splurge on super expensive cars. Throughout the years, he has been spotted driving around in some luxurious cars.
One of the fantastic cars he owns is a Fisker Karma, which alone has a price tag of $100,00.
Ashton Kutcher's Fisker Karma
Source: Celebrity Cars Blog
Likewise, he has also been spotted driving a Ferrari California worth $202,700, CXT Navi Star worth $90,000, and Lexus LS Hybrid which has a price tag ranging over $75,000.
Ashton Kutcher's Ferrari California
Source: Pinterest
He is also a motorcycle guy, and he owns a Harley Davidson worth $15,000.
Ashton Kutcher's Harley Davidson
Source: Daily Mail
Now, let's combine both house and cars as the actor also owns a Mobile Mansion-house which is worth $2 million.
Ashton Kutcher's Mobile Mansion-house
Source: Pricey Pads
Ashtin career indeed explains that hard work pays off. From a small modeling gig to a multi-millionaire, he is an inspiration.