A shower of congratulations to Anna Kooiman and her baby boy! Yeah, the former American news anchor television panelist who currently works on Australia's Network Ten, 33-years-old Anna Kooiman is now a lovely mother sharing a son with her lovely husband Tim Stuckey.
Anna is married to her long-time boyfriend Tim. Her husband Tim is originally from Australia and currently works as Rates Broking AUD/NZD Derivatives at Tullett Prebon.
Pregnant Anna Kooiman and her lovely husband Tim Stuckey
Source: Answer
Let's know all about Anna Kooiman's married life, relationship and about her newborn baby in this section.
Anna Kooiman and Tim Stuckey are lovely parents
Soon after her marriage, Anna moved to Australia with her husband Tim in September 2016, resigning from her work at Fox News. Later, Anna announced that she was pregnant back in September 2017, on Morning TV Chat Show in Australia.
Have a look at the video
Anna even shared the news of her pregnancy and her excitement about the birthplace of her unborn baby in her tweet. Take a look.
Anna even shared the photo of her baby bump on her Instagram.
Later, the special day arrived at the door of the couple as they welcomed their son on January 24, 2018. Even though the news of the childbirth has not surfaced on the internet, Anna made the announcement of her son's birth via her Instagram.
The couple named their son Brooks Kooiman Stuckey. Anna even has a nickname for her newborn baby boy. She has decided to call him Koala. Not only the couple's attachment with the new baby is high, also his grandparents are very happy welcoming baby Brooks. Have a look.
So adorable.
Also, have a look at this irresistible video of the newborn baby Brooks.
Well, the couple is busy babysitting their son and has not given any news about baptizing the baby. Hope it will appear soon in the news. Till then, best wishes and a huge congratulation.
Anna Kooiman and Tim Stuckey's married life and relationship
Anna and Tim are longtime lovers, the couple met back in 2012 in New York during Superstorm Sandy while Tim came all the way from London to meet his friend. The couple has not opened up much about their relationship. But, it seems, it was a love at first sight for the couple.
Soon after getting close, the couple started seeing each other often and later, in February 2015, the couple got engaged. Tim proposed to Anna in Australia while watching the sunrise over the Sydney Harbor and she said yes.
The lovely couple, only after 4 months of their engagement, took their relationship to a new level. Yeah, the couple got married on July 31, 2015, at Manhattan's Central Park Loeb Boathouse in New York.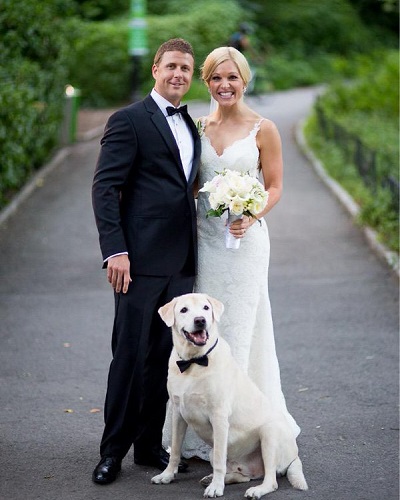 Tim Stuckey and Anna Kooiman in their wedding
Source: Married Biography
Anna even revealed the news of her marriage on Twitter, sharing the lovely wedding moments.
It's been nearly 3 years since their marriage, but the couple is still going strong and healthy in their relationship.
Well, talking about the past relationship, the lovely couple is reported to be free from past affairs and rumors. None of them has been linked with any name so far. The couple can be seen sharing some lovely moments along with their cute son on their Instagram. Have a look.
Let's wish the happy moments to these lovers and happy family.
Stay tuned for more updates.
Also read: Anna Kooiman's Net worth, salary, and career