After being referenced by Kathy Griffin, Anderson Cooper finally broke his silence and addressed the whole issue regarding Kathy-Trump publicized dispute.It was clear from the beginning that he was not satisfied with the whole drama.
President Donald Trump and Kathy Griffin's dispute later ended up in pointing fingers at one another, Kathy at first apologized for her actions and even shaded tears in a press conference, but the allegations kept going from both sides.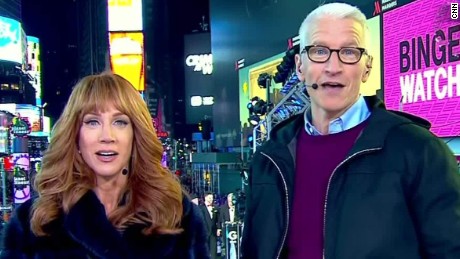 After she posed holding a fake Donald Trump's blooded picture, people pointed fingers at her. Especially the president's family did it. The first lady even called her a lunatic and she was kicked out of some of the biggest show that she had.
Also See: Does Kathy Griffin have a Boyfriend?
Here is the Glimpse of CNN's new year show
Other than that, she had to give up on the CNN's new year's show that she hosted alongside star reporter Anderson Cooper. After celebrity comedians such as Alec Baldwin and Kevin Hart started talking on the issue, he finally said but the CNN anchor said that he really hopes his longtime friend can make a comeback after the recent distress.
He cleared the air regarding the tweet which he posted a week ago. He said that people were assuming that he may be involved in the whole scandal so he had to tweet regarding the whole issue.
The tweet made it clear that he was not involved in the controversial photo shoot in anyways but he made it look like he was not sympathetic to Kelly as well.
According to U.S Today, Cooper on his Friday appearance at Arizona's Comerica Theatre alongside Andy Cohen said
CNN made the decision not to bring her back, I had nothing to do with it, but I certainly understand why they made that decision.
So, this finally cleared all the air between the two long-term friends or not, is yet to be revealed but Cooper surely showed his sympathetic side to his long term friend.