April Michelle Bowlby is an American actress who is so sexy and hot that it is out of the question to believe that she is already 38 years old. April spent her childhood days in Vallejo, California. She is mostly known as a television series actress and is famous for her role in Two and a Half Men and How I Met Your Mother.
April Bowlby played the role of Meg in the famous 'How I Met Your Mother.' She was the obsessed ex-girlfriend of Barney Stinson.
April Michelle is already 38, but she is not married yet. She has always been able to maintain her personal life and keep it secret. However, she couldn't stop us from finding out that she was dating musician Josh Groban. The couple dated in 2009 however, the love affair lasted for only about four months. Once she was also rumored to be pregnant, but later on, she denied it.
April Bowlby Dating and Break-up Rumors with Josh Groban
Josh Groban is an American actor, singer, and songwriter whose first four solos were certified to be multi-platinum. Josh Groban and April Bowlby dated each other for a few months. The couple first met each other in November 2009 and dated each other for a while.
They were spending a very good time together and were a great relationship until they broke up in March 2010. The pair has not revealed the exact reason behind their separation.
Caption: The handsome Josh Groban at an award function Source: famous hookups
April and Josh were in the relationship for four months, but they were rarely seen together in media and any other social sites. Both April and Josh are single right now.
April Bowlby' Past Affairs and Relationships
April Bowlby has not been much rumored with any other boys besides Josh Groban. After breaking up with Josh, there are no rumors about her other affairs. April is too secretive about her personal life, and maybe that's the only reason we do not know about her affairs.
Caption: April Bowlby in "How I Met Your Mother" with Neil Patrick Harris Source: Pinterest
April has always mentioned herself as single and is never keen to share her private life stories with the media. She is a very career-oriented person, and it seems like she is not yet ready to take a huge step in her life (we are talking about her marriage if you understand).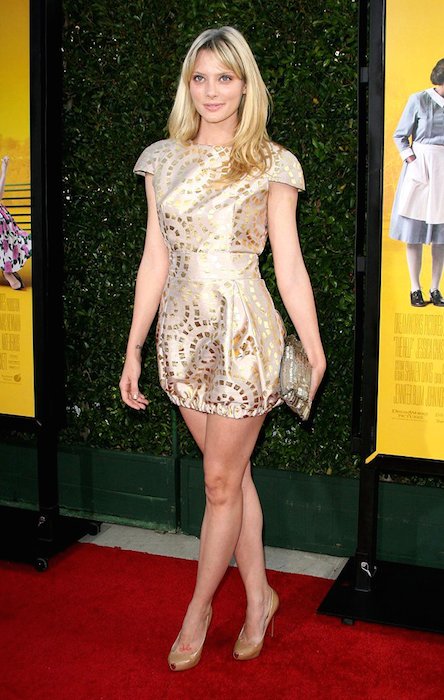 Caption: April Bowlby Source: healthy celeb
It's quite surprising to know that April was once rumored to be pregnant. This was a surprise not only for her fans but even for April herself. April denied the rumor and said it's just fake news and nothing is true about it. Whoever is making this false rumors should get a life.
We wish this hard-working, gorgeous, and sexy actress all the best for her future and hope she gets her dream man very soon.
We share with you a video of April; Enjoy!
Want to wish her too? Please, leave your comments below.