From her rebellious character as a teenage sensation to her massive mental breakdown that went viral, we love Britney Spears no matter what. The American singer, actress, dancer, and songwriter is one of the biggest names in Hollywood. Spears, who started her career through Disney's Mickey Mouse Club alongside Justin Timberlake, Christina Aguilera, and Ryan Gosling, took the world by storm after her first album Baby One More Time was released.
Born on 2nd December 1981, the 36-year-old is considered a queen by many of her fans. The sexy mama of two has won a total of 310 awards to date, which includes MTV Video Music Awards, Grammy Award, and many others. She also holds multiple world records. Between 2000 and 2011, her name came up 7 times in the Guinness Book of World Record.
Britney is one of the most popular pop singers in the industry. Here we are going to talk about her massive net worth and also know more about her endorsements and properties.
Britney's net worth is $215 million, Her endorsement and charity works
The estimated net worth of 36-year-old pop sensation Britney Spears is $215 million. According to Forbes, her earning as of 2017 alone is $34 million. Back in 2015, her annual income was $15 million which rose to $20 million in 2016.
Britney's main source of income is through her career as a singer. Her album Britney Jean earned a massive $2.1 million, followed by the deluxe version of the album which made an additional $2.6 million. The majority of her albums have collected millions of dollars individually.
Her income from just a few of her popular albums, including the ones mentioned above and others like The Essential Britney Spears, Femme Fatale (not to forget its deluxe version) and B in the Mix: The Remixes Vol. 2 is almost $10 million.
According to the information disclosed by Caesars Entertainment, which owns the Planet Hollywood Resort & Casino where Britney performs, Britney Spears' Piece Of Me show has garnered over $100 million in terms of revenue over three years. Moreover, she is also an actress and has appeared in numerous films and TV shows like How I Met Your Mother.
Watch Britney on How I Met Your Mother
Apart from her career as an entertainer, Britney has many endorsement deals and sponsorships. Back in 2000, she released a line of glasses called Shades of Britney. The glasses were limited edition pieces, and a year later, she also signed deals with Skechers.
In the same year, she also signed a promotional deal worth $7-8 million with Pepsi. Back in the day, this was the biggest deal for the company. She has appeared in numerous advertisements of Pepsi, but the most memorable one is where she appears with fellow singer Beyonce, Pink and Enrique Iglesias in a Gladiators themed commercial.
Watch the commercial
Throughout the years, she has endorsed and promoted numerous companies and products which include her video game, Candie's where she designed her line and many other.
Coming closer to the current date, in 2011, she was paid $500 thousand only for placing Sony, Make Up For Ever and PlentyofFish products in her music video for Hold It Against Me.
Britney has also brought out many perfumes; she released her first perfume called Curious in 2004 in collaboration with Elizabeth Arden. In just 2009, she released seven fragrances, and they all were the best-selling celebrity fragrances of the year. Moreover, in 2011, Britney sold a million bottles of her Radiance fragrance worth $1.5 billion. On 17th June 2016, she released her latest fragrance called Private Show.
Britney Spears Hidden Fantasy fragrance
Source: Universe
Britney earns a massive amount of money from different sources. But she does not just keep all the cash in her bank account. She is a very charitable person and has collaborated with numerous other celebrities like Selene Gomez, Kim Kardashian, Hilary Duff, Kelly Osbourne to raise money for different causes.
She is also the founder of The Britney Spears Foundation which focuses on helping children in need. She has also worked with Bono and other artists to release awareness about AIDS. Together, they released a song titled 'What's Going On.' In 2015, she donated a massive $120 thousand to the Nevada Childhood Cancer Foundation.
Britney Spears properties
Spears being a pop icon, she certainly likes to live big and lavish. Many claims that she just can not say no when it comes to real estate. Back in 2007, she bought a mansion located in Mulholland Drive, Beverly Hills worth more than $6 million. She tried to sell the house in 2008 and 2010, but she was not able to find any buyer. At the moment, the house is off the market.
In 2009, shortly after the 2008 emotional breakdown, she fled to Calabasas. There she leased an estate covering an acre. She hid in the estate for almost two years, and throughout the years, she spent a massive $700 thousand to upgrade it, Later, she sold the house during an auction.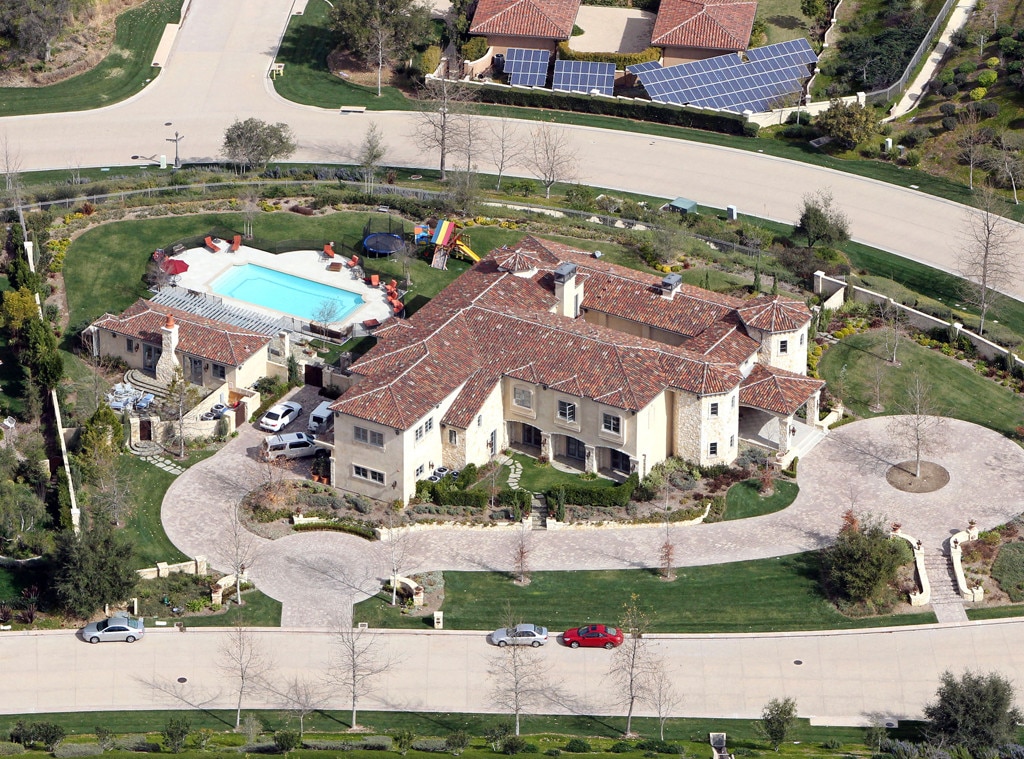 Britney Spears' Calabasas mansion
Source: E! Online
She also owns a mansion in Hidden Hills which is worth $20 million. The house features a spa, free-form pool, arcade and paddling pool to keep her two sons busy. She also owns a mansion in Ventura County, California. The house features a swimming pool and is worth $8.5 million.
Britney Spears Jaguar XK
Source: Celebrity Cars Blogs
Talking about her big machines, she owns an SLR McLaren by Mercedes Benz worth $218,658. She has also been spotted driving a Maserati GranTurismo worth around $134 thousand, a Jaguar XK worth $98,425 and a mini cooper which ranges from $24 to $32 thousand.
Moreover, Britney is weak on her knees when it comes to designer clothing items. It is obvious that she spends tons of her net worth to buy all the bling and glam outfits she sports during the red carpet events. Also, let's not forget about her two boys whom she loves to splurge on more than herself.