Billy Joel and his wife Alexis Roderick welcomed baby no.2, Remy Anne. The pair could barely hold their happiness when they revealed the big news. Both Alexis and her baby Remy are doing good after the delivery. Isn't it a happy news?
Well, read the full article to get the details about Billy Joel's newborn baby and his previous children and wives:
Billy Joel's Second Daughter with wife Alexis Roderick
Billy Joel and his wife Alexis Roderick announced the birth of a baby girl, their second daughter, Remy Anne. Billy became a father at the age 68 for the third time.
Singer-Songwriter Billy and his wife Alexis welcomed their second daughter, Remy Anne, on October 22nd. Baby Remy weighed around seven pounds and 3oz at New York University Hospital in New York City at the time of birth.

Keep reading to know more about his wife and his daughters.
Billy Joel's Marriage, Girlfriends, and Daughters
Billy and Alexis were in a relationship since 2009. However, they got married only on 4th of July, 2015. The couple got married in a ceremony during their annual party on 4th of July in front of their family and close friends. The ceremony took place in Joel's Long Island estate where they exchanged their vows.
Singer Billy Joel and Alexis Roderick after taking vows
source: People
Shortly after their marriage, the couple had their first baby daughter, Della Rose Joel, on 12th August 2015. She also weighed around 7 pounds and was healthy. They made this announcement on Joel's official website in a statement.
Joel happily stated Glenn Gamboa of Newsday that "I was thinking about that. I'm probably going to be able to spend more time with this kid than most people are able to spend with their children because I don't have a regular job. I could be a stay-at-home dad for as long as I can stay alive."?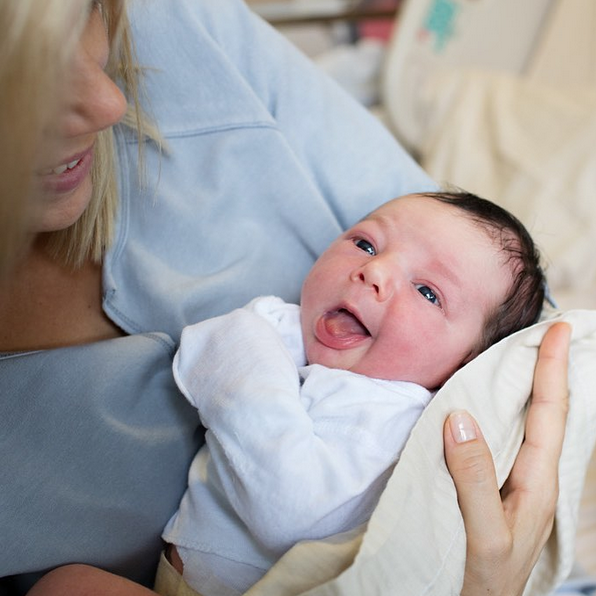 Alexis holding their first daughter Della Rose Joel
Source: Smooth
His net worth is 160 million dollars. The couple together is more than happy for their children.
Billy Joel's Previous Marriage
If you thought that Alexis is his first wife, then you are wrong. The list of his wives is quite long. Billy's first wife was Elizabeth Webber Small. She had an affair with Billy even when she was married to Billy's music partner Jon Small. Billy and Elizabeth tied the knot on September 5th, 1973.
Video: "Piano Man" inspired by Billy's first wife Elizabeth
Some of the music from Billy's album such as "She's Always a Woman" and "Piano Man" was inspired by her. However, the couple sadly got divorced on July 20, 1982.
Billy Joel and his First Wife Elizabeth
Source: Daily Express
Besides, Billy was married to Christie Brinkley in March of 1985. They also had a daughter Alexa Ray Joel who was born on December 29, 1985. However even this marriage failed, and they got divorced on August 26, 1994.
Billy with his second wife Christie and daughter Alexa
Source: Heavy Editorial
Joel married his third wife Katie Lee on October 2, 2004, where his first daughter Alexa served as a maid-of-honor. This marriage also lasted for about half a decade and ended on June 17th, 2009.
Billy with his Third wife Katie
Source: NY daily

With all this Ups and Downs in Billy's life, currently, he is living happily with his present wife Alexis Roderick and his adorable daughters. We would like to congratulate the pair for the arrival of their baby girl.
Also, read Chloe Delevingne welcomes baby home with her husband. Is Chloe's husband dating with someone?