Billy Blanks who is a very well-known American fitness guru has already been married twice. He ended up his around thirty years long married life with first wife Gayle Godfrey and then got married again. After the divorce, Billy Blanks got married to Tomoko who was a Japanese interpreter when they met.
Billy Blanks and Gayle Godfrey together had two children; a son of their own and a daughter who is adopted. Now as he is married to Tomoko, they have three daughters and two of them were adopted later after their marriage. Billy's children are involved in the fitness field as their father.
Billy Blanks married and divorced rumors with Gayle Godfrey
To begin; Billy Blanks and Gayle Godfrey met during the martial arts training. After dating for a certain period of time, they eventually got married in 1975. This ex-married couple before having their own children adopted a baby girl who was born on 13 October 1973.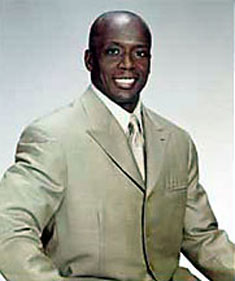 Caption: Image of Billy Blanks
Their first baby girl whom they adopted was named Shellie Blanks, and later she became a martial artist who has been featured in almost every father Billy's Tae Bo Videos. Following father's path, she has become a fitness expert and has recently produced her own video 'Tae Bo Postnatal Power.'
Billy Blanks and Gayle Godfrey together had another son, Billy Blanks Jr. Their son is a dancer, singer, and fitness instructor. Like his father Billy Blanks and sister Shellie Blanks, he has been making many fitness DVDs which includes Cardioke and Fat Burning Hip Hop Mix and have also been featured in many music videos.
Married in 1975, Billy Blanks and Gayle Godfrey staying as a husband and wife for 33 years got divorced in the year 2008. Billy' extra-marital became the reason behind their separation.
Billy Blanks married Tomoko after divorcing wife Gayle Godfrey
Billy Blanks, the famous fitness guru, actor, and martial artist after ending his 33 years of long marital relationship with Gayle Godfrey married Tomoko Sato who is a hair artist now.
Caption: Billy Blanks and Tomoko Sato
Before Billy and Tomoko got married, they already had a child. Tomoko gave birth to a daughter named Angelika. Angelika was born in November 2008.
Even though Billy and his ex-wife Gayle Godfrey got divorced in 2008, Billy was already in a relationship with Tomoko. Billy left Gayle to marry his new girlfriend Tomoko as they were in a relationship since 2007. This pair finally registered their marriage in January 2009 and tied the knot on 20 June 2009.
Like Billy Blanks and Gayle Godfrey, Billy and Tomoko have also adopted children although they have of their own. Billy with Tomoko adopted two daughters whom they named Marriett and Erika Peterson.