Stanley Martin Lieber, who is better known as Stan Lee, is an American comic-book writer for Marvel comics who co-created Spiderman, Doctor Strange, Iron Man, Hulk, Daredevil, Thor, Ant-man and many other Marvel comic character. Stan Lee, who also runs the show Stan Lee Superhumans with Daniel Browning Smith, is 95 years old and has a net worth of over $100 million in 2018. He was the one of the Forbes The Most Influential Celebrities in 2014 and has his own foundation for the promotion of arts and literacy that he started in 2010.
Stan Lee played an important role in the transformation of Marvel into a huge cinematic universe as he worked for over 65 years for the corporation. He was also the president and chairman of Marvel Comics and received the National Medal of Arts in 2008.
Stan Lee
Source: Parade
In the year 1960, Lee almost left his career in the comic book industry as the sales of comics were going down. But later Martin Goodman who was the publisher gave him a new task of creating a new superhero team and taking his wife's advice of exploring his best comic book characters, he created the Fantastic Four.
Stan Lee's Net Worth
After a decade of gaining success from the creation of the superhero team Fantastic Four, Stan Lee began to create some the most iconic superhero characters like Thor, Hulk, Daredevil, Doctor Strange and much more.
Stan Lee's earnings started increasing astronomically after the creation of the characters. Stanley's net worth was $50 million according to the data of 2016. It has doubled to $100 million in 2018. Lee also owns a contract with Marvel that pays him over $1 million as an annual salary for life.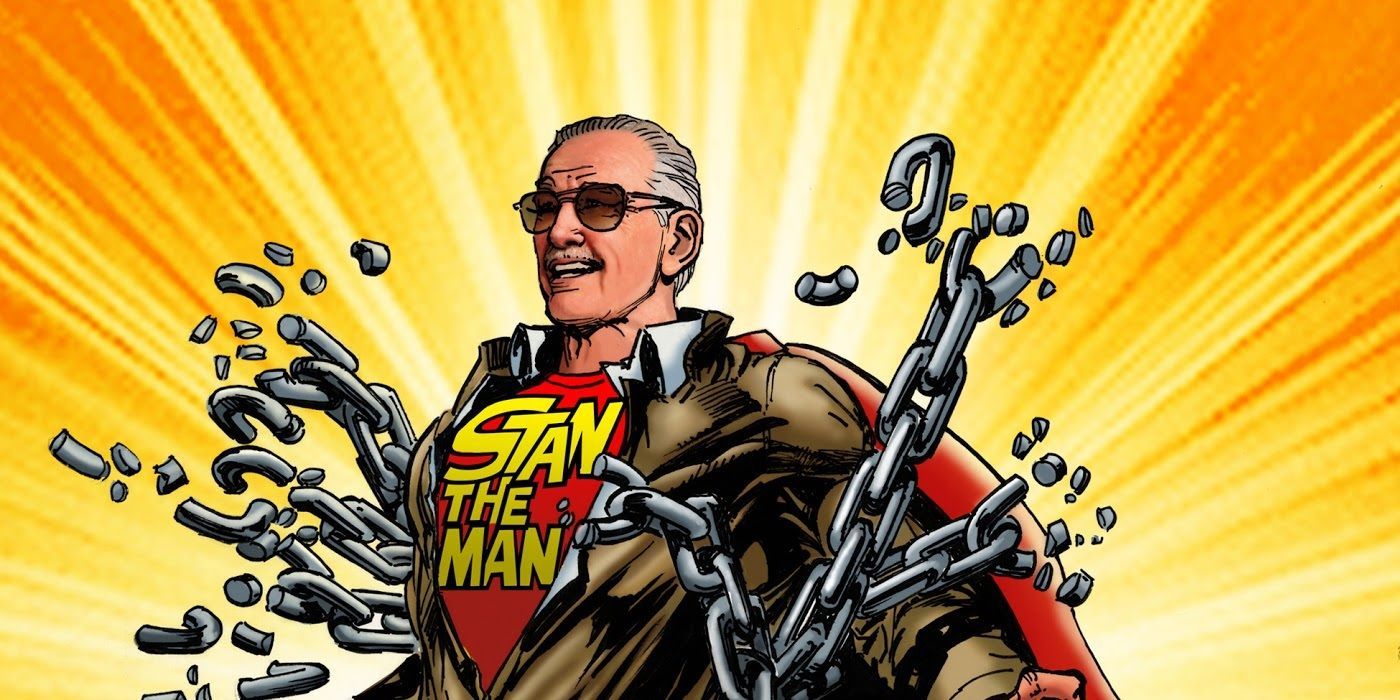 Stan the Man
Source: Screen Rant
In 2002, Lee got a deal from Marvel stating that he would get 10 percent from all the Spider-Man profits and from the other characters he created as well. However, he was later paid $10 million without any rights to claim as he doesn't have any profit participation for Marvel films.
Back in 2014, Lee was interviewed by Playboy about his income and net worth and he replied,
"My daughter was looking at the internet the other day and read that Stan Lee has an estimated $250 million," Lee said. "I mean, that's ridiculous! I don't have $200 million. I don't have $150 million. I don't have $100 million or anywhere near that."
He mentioned that he was paid the highest among all the writer and was really happy to get a nice paycheck. He also bought a house in Long Island and was satisfied at whatever he was doing and getting in return. Lee seems really versatile as he told that he never dreamt of being a multi-millionaire and the main thing was he enjoyed what he was doing. Although he didn't dream of having a net worth in millions, he has more than he wanted.
Video: Stan Lee's life
Lee's most iconic character Spiderman was one of the most successful creations of his career. From the first Spider-Man movie, released on May 3, 2002, to its most recent iteration, released in July 2017, the franchise has earned a gross amount of more than $4 billion.
Stan Lee meets The Amazing Spiderman
Source: Comicvine
The Avengers was yet another of his successful creation in Marvel Comics' history. It was later adapted into several movies and made a huge success in the box office with $1 billion dollars in earnings. Lee, in an interview with CNN, shared that although the Marvel Studios are making a lot of income from the comic book adaptation, he doesn't share the profits from the movies.
You can buy Marvel's comic book on StanLeeBox.com which are only for $19.95 per month subscription.
Lee was also the producer of animated TV shows including Captain America, Fantastic Four, Iron Man, X-Men, The Incredible Hulk, Silver Surfer and much more. As we have said before, Lee receives a million dollars a year as his salary from the publisher Marvel.
Also Read: American Music Executive Barry Weiss's Net Worth: His Salary and Career
Stan Lee: House, Car, Properties
In 2006 Lee bought a mansion in West Hollywood for $3.6 million. The house consists of four bedrooms and six bathrooms. It was later sold at a loss for $2.8 million. The house, which is on a cul-de-sac, is spread in an area of 2,458 square foot and has a swimming pool. It was originally listed for $3.7 million, according to the Los Angeles Times.
Stan Lee's house in Sunset Strip
Source: NWbro
In his 92nd birthday in 2014, Lee purchased a $4.4 million mansion in Sunset Strip after he sold his old pad for $2.8 million. The new house of Lee included four bedrooms, seven bathrooms a kitchen, a dining room and an in-home movie theater. The house also has a swimming pool and spa.
Stan Lee and his Mercedes
Source: MBworld
Stan Lee used to own a 1987 Mercedes 420 SEL which was on eBay a couple of years before. Cars of same model and year cost $3,500.
Stan Lee's Charity: Stan Lee Foundation
Lee started a charity, the Stan Lee Foundation, in 2010. It focuses on literacy and arts and has as its main goal to promote culture, arts and national literacy.
The foundation provides guidance, leadership, resources and exposure to a new generation of writers thinkers, philanthropists and innovators.
Also Read: American Basketball Player Derrick Rose Salary, Net Worth, Properties
Stan Lee: Career Before Marvel
In his youth, Stan Lee worked for the National Tuberculosis Center. He also moonlighted as a salesman of the New York Herald Tribune. After graduating from high school, he joined the WPA Federal Theatre Project.
Stan Lee then started working as an assistant at the new Timely Comics that later evolved into Marvel Comics. Captain America Foils the Traitor's Revenge, part of the Captain America series of comics, was his first comic book debut, published in May 1941. In the same year, Stan Lee co-created his first superhero, The Destroyer, and also the fictional character Jack Frost.
Stan Lee in U.S. Army
Source: Indie Wire
After a year, in 1942, Stan started was working for the U.S. Army where he served as a technician in the Signal Corps and used to repair telegraph poles and maintain communication channels. Later he got transferred to the Training Film Division. Later, in 1945, Lee was also a part of the World War II military service.
Stan Lee: Career in Marvel Revolution
The year 1950 was the time when DC comics got its success with the updated version of The Flash and Justice League of America. Lee was at the most sensitive point of his career as he was planning to find an alternate job to support his life. Then Marvel's publisher Martin Goodman appointed Lee to create a new superhero team for Marvel.
Lee came up with an idea of giving his superheroes a imperfect humanity and later working with Jack Kirby, Lee created the famous superhero team Fantastic Four, which became an instant best seller.
Marvel Characters
Source: MetroUK2
In his career, Lee created a number of superheroes for Marvel comics. Jack Kirby also had a huge influence on the creation of these characters as Lee and Kirby created the characters together. Later, they created a group of superheroes and formed a team named The Avengers that also included the popular 1940s character Captain America.
Silver Surfer: The Ultimate Cosmic Experience was Jack Kirby's last collaboration with Lee. It was published in 1978 and was Marvel's first graphic novel.
In the1960's, comic book critic Peter Sanderson said:
Marvel was pioneering new methods of comics storytelling and characterization, addressing more serious themes, and in the process keeping and attracting readers in their teens and beyond. Moreover, among this new generation of readers were people who wanted to write or draw comics themselves, within the new style that Marvel had pioneered, and push the creative envelope still further.
Later, in the 1970's, Lee became the public face of Marvel Comics and started appearing in Comic-cons around America.
Silver Surfer
Source: Demiurge Studios
Lee later started a new Internet-based, superhero-creation studio Stan Lee Media with Peter Paul in 1998. But in the year 2000, Paul was accused of illegal stock manipulation and pleaded guilty to violating SEC Rule 10b-5.
Lee sold Stan Lee Media to Jim Nesfield in 2007. Later, the company sued Marvel Entertainment for $5 billion, claiming rights to several Marvel characters.
Lee has spent over 75 years of his journey in Marvel. He is celebrated as the creative tour de force behind Marvel's Silver Age as he has created some of the most popular character in the history of comics.