Frostsnow
https://frostsnow.com/
American Basketball Player Derrick Rose Salary, Net Worth, Properties
Updated On

01 Nov, 2018
Published On
28 Jan, 2018
Derrick Rose is an American professional basketball player who currently plays for Cleveland Cavaliers, which has seen players like Tristan Thompson and Tyus Jones, since 2017. Derrick started his professional career in 2008 and was the youngest player to win the NBA Most Valuable Player Award in 2011 when he was 22 years old. His net worth as of 2018 hovers around $50 million. Nearly a year back, when Forbes magazine released the details of his net worth is said that he was worth around $34.3 million.
Derrick Rose
Source: NBA
Derrick played for Chicago Bulls for 7 seasons at the start of his career back in 2008 NBA draft. Later, in 2016, he signed a contract with New York Knicks. After a year he got into his current team Cleveland Cavaliers in 2017. Rose had an average of 18 points while playing for Knicks in the last season which was the highest scoring average after the 2011-12 campaign.
Derrick Rose while playing for Chicago Bulls
Source: CDN VOX
Apart from the salary and bonus he receives from the club, the 29 years old player has also seen his net worth increase due to the income of around $15 million a year from the 13-year deal he signed with Adidas in 2012. There is no doubt that a professional basketball player who plays in NBA makes a pretty handsome amount.
Derrick Rose Net worth, Income, Salary
As we have mentioned earlier, Derrick's current net worth is more than $50 million. He completed a five-year contract with NY Knicks which was worth $94 million. A year after the contract with Adidas, Adidas sold $40 million worth of shoes produced under his name.
Las Vegas, catch me and the rest of my @adidasHoops fam hanging at #LVL3 today. See you there. pic.twitter.com/jmpV1oAtmU

— Derrick Rose (@drose) July 28, 2017
Derrick Rose in Adidas shoes
Source: Blacksports
Derrick Rose signed the contract with Cleveland for less amount than he wanted, totaling $30 million in salary over five seasons.
Derrick Rose's house, car collection
No wonder the NBA star who earns a huge amount money has a luxurious lifestyle. Rose has his childhood home in Chicago that he has renovated to match his needs and status. He also owns a luxurious condo in Trump Tower, Chicago, where the price of a luxury condo can go as high as $10 million.
Also, see: Rappers Drake and Future Sued by a Woman who was Raped at their concert
We know that most of the celebrities and athletes have a huge collection of expensive cars which is not a new thing. Similarly, Derrick owns a Ferrari, Rolls Royce Ghost, Oldsmobile Cutlass, Dodge Challenger and a Bentley Continental. He was also planning to buy a Lamborgini but whether he bought it or not isn't known.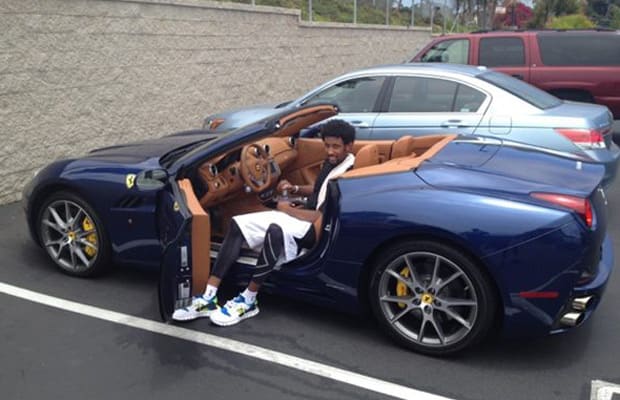 Derrick Rose in his Ferrari
Source: Complex
Video: Derrick Rose Test Drives Lamborghini Aventador Roadster, Continental GT Speed
Derrick's Bentley Continental car, which is very expensive, is worth over $200,000. It reaches over 60 mph in 5 seconds with 600hp. The Rolls Royce Ghost he owns is even more expensive with the sticker price of more than $ 291,000.
Also Read: Justin Bieber's Father Jeremy Bieber's Net worth: Know In Detail About His Career and Awards