One of the most beautiful actresses from the United States, Dominique Swain is famous for her attractive personality and glamorous looks. She never fails to amaze people with her acting abilities and well-toned body. The gorgeous actress is known for her roles in various Award winning movies including Lolita and Face/Off.
These days, the 36-year-old actress has been a center of attraction for million and everyone is wondering about her personal life and wants to know if this stunning beauty is currently dating someone. Well, the answer is "Yes". She is enjoying a romantic love affair with her long-term boyfriend Marc Clebanoff since 2012.
Let's learn Dominique Swain's love affair and dating life in detail. Just stay with us.
Dominique Swain Current Relationship Status: Dating A New Boyfriend Marc Clebanoff
Besides being an actress, Dominique Swain is also a model and she has appeared on the cover of many renowned magazines like Stuff and Cocktail.
Marc Clebanoff is undoubtedly a lucky man to be dating one of the most beautiful ladies on this planet, Dominique Swain. Marc is a popular American screenwriter who has directed and written many renowned Hollywood movies including The Pink Conspiracy, Break, and The Mourning.
Boyfriend and girlfriend: Marc Clebanoff and Dominique Swain
Source: amazon
It's still a question exactly when and how the couple first met but they are reportedly dating each other since 2012. The couple usually spends quality time together and are often spotted together at various parties and events.
However, they initially didn't confirm that they were dating but later the couple announced their love affair in public.
Boyfriend and girlfriend: Marc Clebanoff and Dominique
Source: contactmusic
They immensely enjoy each others company and looking at their strongly bonded relationship, it looks like they will definitely get married in future.
Dominique Swain's Past Affairs And List of Boyfriends
Prior to getting engaged with Marc, Dominique dated many men. Here're the details of her love affairs.
Relationship With Charlie Bambrook
As per the report, Dominique first dated a young guy Charlie Bambrook. They began dating in 1997 and just after a year of dating they split.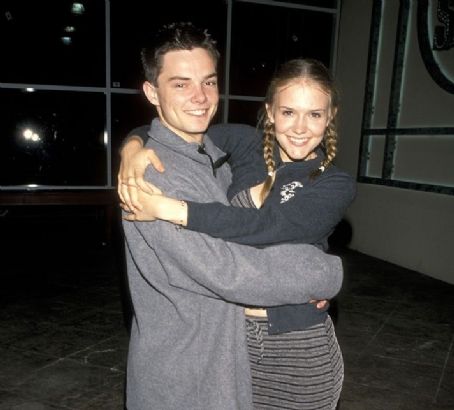 Dominique Swain and her ex-boyfriend Charlie Bambrook
Source: whosdatedwho
She then went on to date Dean Paraskevopoulos, an actor. The couple dated for two years and eventually broke up in 2003.
Former boyfriend and girlfriend: Dean Paraskevopoulos and Dominique Swain
Source: gettyimages
After three years of break of with Dean, Dominique started an affair with Justin Stroke in 2006 but their relationship didn't last more than a year and the couple split in 2007.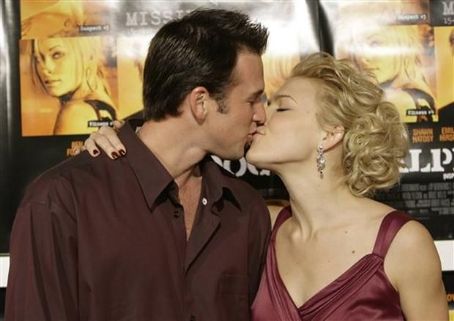 Dominique Swain and her ex-boyfriend Justin Stroke sharing their kisses
Source: whosdatedwho
Besides, Dominique even was once engaged to her ex-fiancee, Andrew Bennett. They got engaged in 2008 but they eventually called off their engagement, after two years of togetherness.
After moving on from one relationship to another, the actress is currently romantically engaged with Marc. Will her relatonship with Marc last long or will she again face failure? Drop your views in the comment box below.
For more updates, stay connected with Frostsnow.