Life does not give what you want, in fact, it gives what you deserve. And George Clooney really deserves this beautiful lady Amal Alamuddi isn't it?
Following the high profile wedding ceremony, George and Amal formally became husband and wife on 27 September 2014. After two and half years of their marriage, George and Amal announced in February that they will be expecting twins.
After the birth of their twins, recently George and Amal step out for a romantic dinner in Italy. They showed no sign of exhaustion, which they might have got after the birth of their newborn baby, as they stepped out for dinner near Lake Como in Italy.
Let's find out more about George and Amal's romantic dinner and about their married life
George and Amal romantic dinner in Italy
The gleaming parents, George and Amal were together for dinner in Italy. They were seen at the same restaurant before the announcement of Amal's pregnancy.
Everyone was so excited when George and Amal were there. Amal with her smiling face looked gorgeous and happy.
George and Amal stepped out for dinner in Paris
The adorable couple squeezed in a modish dinner date at Parisian restaurant Laperouse in honor for their first visit to the city as a couple.
After George and Amal were inside the restaurant, they two enjoyed some quality time together in one of the private dining salons, as reported by People. The owner of the restaurant, Gregory Lentz said to People that
"They're completely fully in love," "He's happier than I've ever seen him."
As per the statement of the owner, the couple enjoyed their moment together. Now, let's find out when George and Amal first meet and know how they married.
How did George and Amal fell in love?
Reportedly, the couple first met in Italy through a mutual friend in September 2013 at a charity fundraiser. It was not difficult for George to identify his first love and in April 2014, he proposed to Amal over a romantic home cooked meal.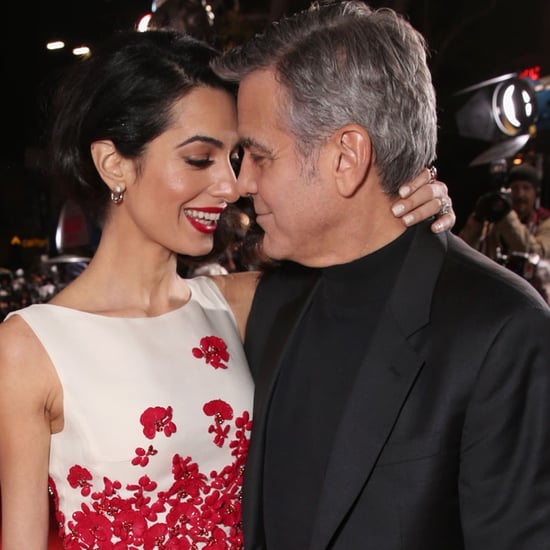 Amal and George
Source: Pinterest
They later planned for their wedding where they first met. They tied the knot on Sept 27, 2014, in Venice in front of around 100 guests, including Cindy Crawford, Matt Damon, Emily Blunt, and Bono.
George and Amal tying the knot
Source: Pinterest
George says in Golden Globes in 2015
"It's a humbling thing when you find someone to love, Even better if you've been waiting your whole life."
George and Amal are living happily with each other. There is no any rumor of their divorce and we hope they will be a loving couple forever.
For more updates be in touch with Frostsnow.