An American actress, producer, and television personality Torrei Hart is a popular name of the entertainment world. Torrie Hart is a very energetic and enthusiastic media personality who has earned huge popularity and a number of fans through her works. The North Philadelphia- born actress Torrei made her career in acting after gaining a formal knowledge and skill of acting from Community College of Philadelphia.
During her study at Philadelphia, she met her then boyfriend Kevin Hart. Kevin Hart is a present day's reputed actor and comedian. After few meetings their friendship bond strengthened and later they got married. Torrei Hart's relation with Kevin hart didn't go well during the late 2000s and finally got divorced with him. To know more details about Torrei's married life, relation, and children, stay with us.
Caption: Actress and comedian Torrei Hart
Source: sirkenayo.com
Torrei Hart Married to her boyfriend Kevin Hart
As Torrei Hart met Kevin Hart in Community College of Philadelphia, she bonded a strong friendship with Kevin. The two college sweethearts started their love life during their college days. They both were passionate about acting and comedy, and they both were searching for an opportunity to Hollywood so, they together dropped out of college and pursued their career in entertainment. They both found their strong feelings towards each other so they decided to tie the knot. The couple got married in 2003 and started their married life.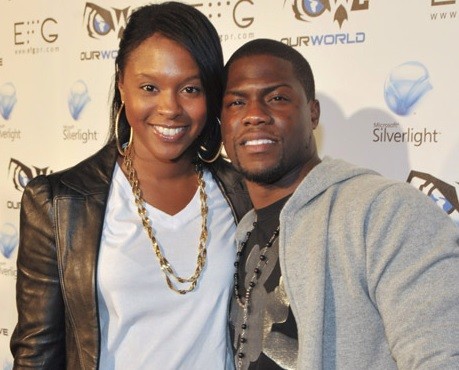 Caption: Torrei Hart with her husband Kevin Hart
Source: ibtimes.co.uk
Torrei Hart's Children with her Husband Kevin Hart
Torrie Hart, after getting married to her boyfriend Kevin Hart, started her married life in Los Angeles. They were living in Los Angeles to make an easier entrance to Hollywood. Torrei Hart gave birth to two children with her husband Kevin. She gave birth to her first child; a daughter Heaven in 2005, while her son was born in 2008.
Caption: Torrei Hart with her husband Kevin and Children
Source: dailymail.co.uk
Torrei Hart Divorce with husband Kevin Hart
Torrei Hart spent about 7 years with her husband Kevin Hart as a married woman. During her married life she gave birth to two children, however, something bitter started in their relation since the starting of the year 2010. Their mutual misunderstanding finally led them to end their relation. In February 2010, they filed for divorce, while their divorce finalized in 2011. Torrei currently lives in Los Angeles with her two children.
Caption: Torrei Hart's Divorce with husband Kevin Hart
Source: xpensivesociety.blogspot.com
The couple, however, seems to be a strange couple as they are still in good friendship and Kevin still presents Torrei with gifts so as the couple is tagged as the Hollywood's friendliest exes.
Torrei Hart Other Works and Net Worth
Torrei Hart, a 38-year-old American comedian actress and comedian is currently the member cast of the new VH1 reality show, "Atlanta Exes". She has also governed her own comedy-based YouTube channel PrettyFunnyFish since late 2012 while she, as an entrepreneur, launched her non-profit organization S.O.A.R. in 2013. Being involved in all these activities and being a well-known actress and comedian, Torrei Hart holds a net worth of 3 million Dollars as of 2016.
What do you think about Torrei Hart? Please, leave your comments below.