Robin Tunney, the daughter of Cathy Tunney and Patrick Tunney, is an American actress born on June 19, 1972, in Chicago, Illinois, United States. Tunney was most notably known for her role as Veronica Donovon in the television serial drama Prison Break and as Teresa Lisbon on the police procedural television series "The Mentalist" and the troubled teen Debra in the 1995 film Empire Records.
Robin Tunney is currently engaged to interior designer Nicky Marmet and the couple recently welcomed their first child. However, Nicky Marmet isn't Tunney's first boyfriend. Do you want to know who it was? Then bear with us. We are here to provide you some information about Robin Tunney's love story, affairs, engagement, marriage, divorce, and children.
Robin Tunney marriage with Bob Gosse
The well-known film producer and director Bob Gosse, who produced the Oscar-nominated Sling Blade was the first husband of actress Robin Tunney. The beautiful actress met boyfriend turned husband Gosse while working together for movie Niagara. Previously, Gosse was linked with actress Parker Posey whom he dated in the early 1990s.
After working together in the movie Niagara, Robin Tunney married boyfriend Bob Gosse on 4th October 1997. The famed couple soon parted ways in 2002 and were eventually divorced in 2006.
It was rumored that Tunney was pregnant with her husband Bob Goose but later on it turned out to be only a hoax. The couple together does not have any children together.
Robin Tunney Love Affairs
The sexy and talented actress Tunney was previously married to producer and director Bob Goose. The couple dated for some time before tying the knot on 4th October 1997. The marriage came to an early end when the pair filed for divorce in 2002 and later on in 2006 they were divorced.
The Empire Records actress, after her failed marriage with the first husband Bob Goose, soon started dating Australian writer and director Andrew Dominik. Tunney and Dominik were soon engaged in 2009 but the couple called off their engagement later in August 2010.
Image: Robin Tunney and Andrew Dominik
Robin Tunney, after her breakup with Killing them Softly director Andrew Dominik, started an affair with American artist Page Hamilton - the frontman of alternative metal band Helmet. Tunney relationship with boyfriend Hamilton started in 2010 and ended in 2012.
Image: Robin Tunney with husband Nicky Marmet, son Oscar Holly Marmet and dog Rufus
The Vertical Limit actress then in 2012 started dating interior designer Nicky Marmet. Their affair came to notice when the couple started going out together in the year 2012. The loveable boyfriend Nicky Marmet proposed Tunney on the Christmas Day of 2012 and, on the same day, on 25th December 2012 while on vacation in Rio de Janerio they got engaged. The pair is seen totally into each other and loves spending time together. The 44-year-old actress and her boyfriend turned fiancé welcomed their first child, a baby boy, Oscar Holly Marmet (June 23, 2016).
Robin Tunney Children
Robin Tunney was spotted taking lunch at E Baldi restaurant. The actress growing belly could be easily seen under her dress and soon it was all over the news. The news of her pregnancy got out, though she tried to stay as quiet as possible. However, this time, her fans believed the story, as it wasn't a hoax like Robin Tunney's previous pregnancy hoax.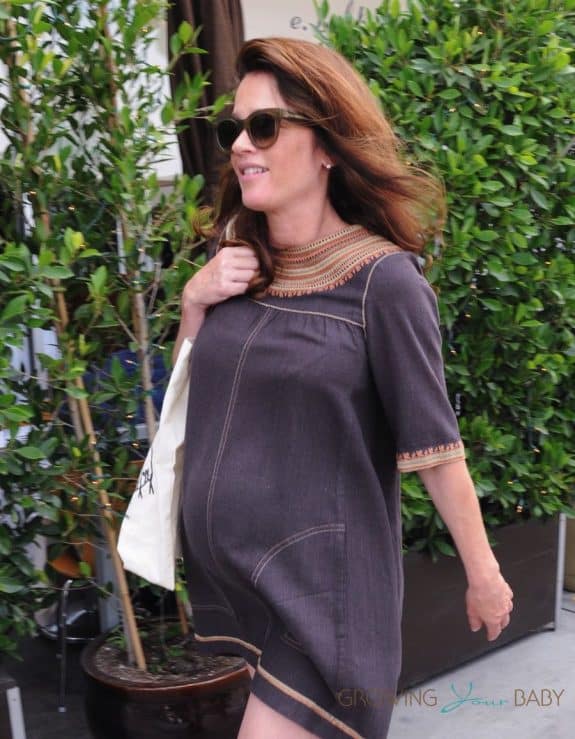 Image: Robin Tunney with her big belly during pregnancy
The Craft actress Robin Tunney gave birth to her first child, Oscar Holly Marmet on June 23, 2016. Robin announced the news on Instagram that she had recently given birth to a baby boy that was put inside her by her fiancé Nicky Marmet. Tunney shared photos of her adored newborn on Instagram, alongside an apology for keeping her pregnancy under wraps. Robin Tunney and her fiancé Nicky Marmet are glad at the birth of their son and we think their marriage is on the cards.
Robin Tunney does not bear any child from the previous relationship with Bob Gosse, Andrew Dominik, and Page Hamilton. We hope all the best for Robin Tunney's new relationship with Nicky Marmet and we are eager to hear the good news of their marriage.
Please leave your comments below.