The celebrity couple Shia LaBeouf and Mia Goth are these days the talk of the town. Despite a lot of conflicts in the relationship, after a few years of dating, the pair finally got married in 2016, and people are now wondering about their love affair and married life.
Shia LaBeouf is a famous American actor, performance artist, and filmmaker who rose to fame after his appearance in the Disney Channel series Even Stevens for which he received a Young Artist Award nomination in 2001 and won a Daytime Emmy Award in 2003.
His wife, Mia Goth, meanwhile is a British actress and model who gave her recurring roles to various renowned movies including A Cure for Wellness, The Survivalist and Nymphomaniac, and in the series The Tunnel. In 2014, she appeared in the Future Unlimited's music video for Haunted Love which was directed by her now husband Shia LaBeouf.
Let's get into the personal lives of the couple and dig out all the details. Just stay with us.
Shia LeBeouf And Mia Goth Are officially Husband And Wife Since 2016- Their Married Life
Let's start from the beginning. The 31-year-old actor Shia LeBeouf met the 23-year-old actress on the set of their controversial movie Nymphomaniac: Volume II in 2013, and after several encounters, the pair eventually fell in love and despite the age difference of eight years started an affair.
Happily married husband and wife: Shia LeBeouf and Mia Goth
Source: people
After four years of dating, the couple finally tied the knot on 10 October 2016, and they held their wedding ceremony lavishly, spending over $700 for the ceremony. TMZ live-streamed and captured their fantastic wedding.
Happily married husband and wife: Shia LeBeouf and Mia Goth at their wedding ceremony
Source: hollywoodlife
We can see the couple dancing and enjoying on their big day in their wedding videos and pictures. Both the actors looked elegant at their commitment ceremony.
Video: Shia LaBeouf Hitched In Vegas By Elvis [Mia Before The Wedding
At the premiere of Man Down, Shia talked about his married life with Mia, revealing that his perspective on marriage has changed after getting married. He said:
It's better on the other side, I've been lied to my whole life. You always hear these people who are all cynical, like, 'Ah, man, once you get married everything changes. But for the better though!
Mia meanwhile told;
I'm incredibly proud of him, and I have great respect for him.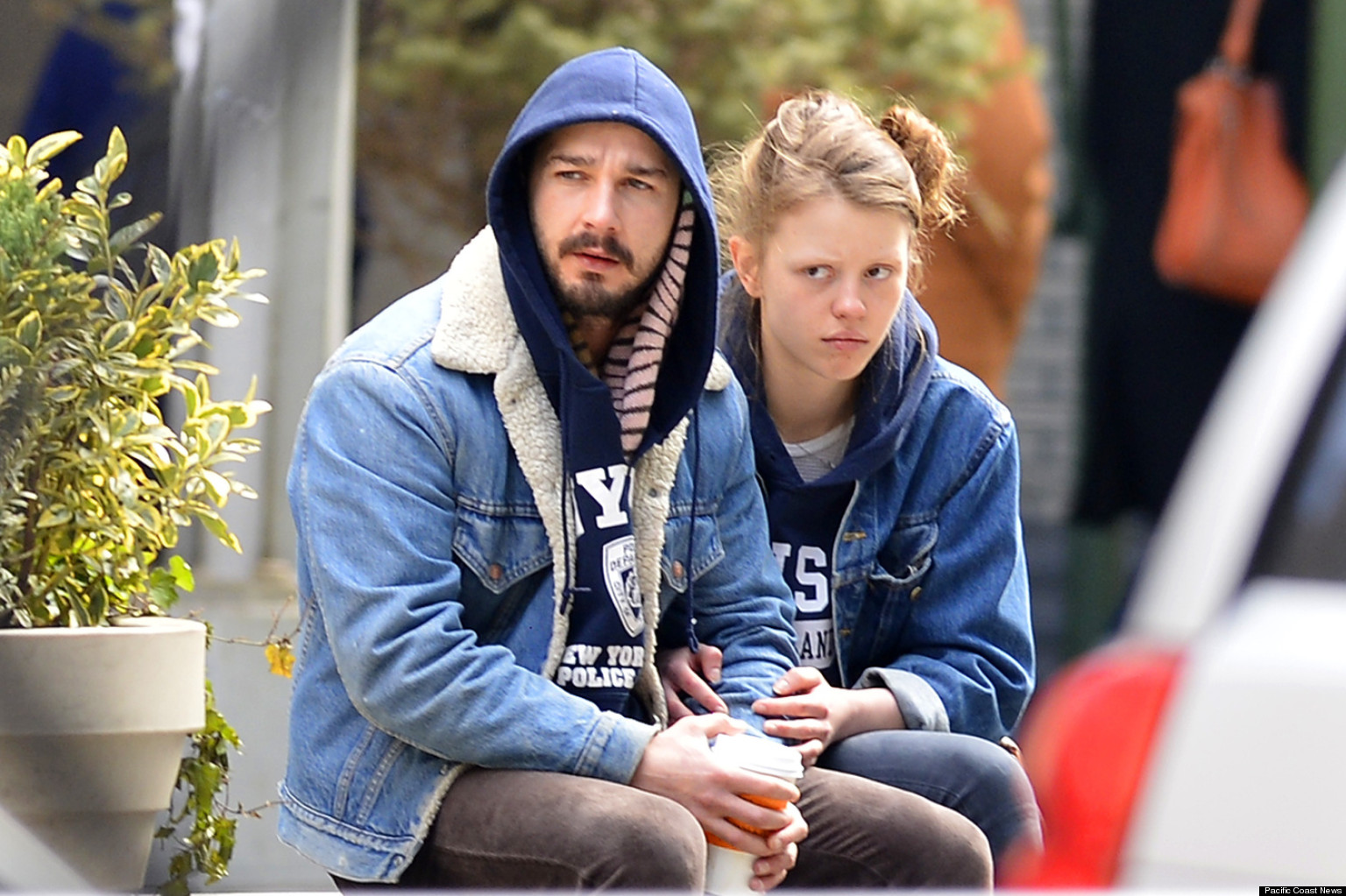 Happily married husband and wife: Shia LeBeouf and Mia Goth
Source: huffpost
They are married for a year now, and their love and passion for each other are rapidly increasing every passing day!! We wish them all the very best for their future.
The Shocking Video of Shia and Mia Fighting Went Viral Before They Got Married
Before getting married, Shia and Mia were captured fighting by the Entertainment Tonight in Germany, and the video went viral in a short period.
In the video, we can see Shia trying to leave for the airport and Mia taking his backpack in a bid to get him to stay.
Then boyfriend and girlfriend: Shia LeBeouf and Mia Goth sharing their kisses
Source: dailymail
Shia threatens to kill his girlfriend Mia, but he later said;
I don't want to touch a woman, I don't want to hit a woman
Here's that exclusive video, guys, check it yourself!!
After a couple of months of that incident, the pair sorted out their problems and reunited!!
Shia reportedly is the first love of Mia, but Shia has been in a relationship with a lot of women in the past including Carey Mulligan, China Brezner, Isabel Lucas, Adrian Grenier, and Megan Fox.
Must Read - Brian Austin Green's Wife Megan Fox Shocking Transformation After Plastic Surgery: See Pics
For more updates, stay tuned with Frostsnow.