Melissa Ivy Raunch, a.k.a. Melissa Rauch is an actress, voice actress and comedian based in the United States. She is best known for her portrayal of Bernadette Rostenkowski-Wolowitz in popular sitcom series The Big Bang Theory. In the show, she appears alongside some of the biggest and the most well-paid actors like Jim Parsons, Johnny Galecki, Kaley Cuoco, Mayim Bialik, Kunal Nayyar and Simon Helberg. The mother of one has been active in the film industry since 2006 and has appeared in numerous films and TV shows.
Melissa, born on 23rd June 1980, is 37-years-old and lately has been contributing more as a voice actress in films. Some of her most recent voice acting roles are in Blaze and the Monster Machines, Sofia the First, Star vs. the Forces of Evil and many other. Moreover, the actress has an estimated net worth of $6 million as of 2018.
Here, we are going to share with you some information about the actress' net worth, salary, endorsements, and career.
Melissa Rauch net worth and salary
As mentioned above, Melissa has an estimated net worth of $6 million as of 2018. Furthermore, she is being paid a salary of $60,000 for each episode of The Big Bang Theory. According to the reports, her salary per episode will be reaching $100,000 by the end of her contract.
However, sources also claim that she along with Mayim Bialik are looking forward to a salary parity and their salary will be reaching $500,000 per episode for the upcoming seasons.
Moreover, her salary is not only limited to The Big Bang Theory. Back in 2015, she portrayed the role of the lead character Hope Annabelle Greggory in The Bronze and through the film, she scored the salary of $1.3 million. Some of her earnings from other films like True Blood, Are You Here and Flock of Dudes are $554,324, $649,351 and $1.13 million respectively.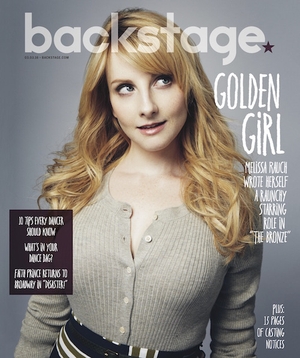 Melissa Rauch on the cover of Backstage
Source: Backstage
Her major source of income is through her acting career, but the actress also earns around $200,000 by endorsement deals. She has also appeared on covers of numerous magazines.
Melissa Rauch's Lexus 450h Hybrid
Source: Vroom Girls
Moving on, the actress owns a Lexus 450h Hybrid which ranges over $45,000. Similarly, the details about the actress' houses and other personal information are not available.
Melissa Rauch career and awards
Melissa first appeared as an actress back in 2006 through the role of Megan in film Delirious. In the following years, she appeared in films and TV series like 12 Miles of Bad Road, Kath & Kim and I Love You, Man.
But it was not until 2009, she made a breakthrough with the role of Bernadette Rostenkowski-Wolowitz in TV series The Big Bang Theory. Initially, she was only a recurring character but because of demand and all the craze, she became a regular in the series by the next season.
Watch Melissa In Trailer For The Big Bang Theory
Rauch gained a lot of exposure from the show and she was offered with a flood of roles. After her exposure from the TV series, she has appeared in numerous TV shows like True Blood, Wright vs. Wrong, Teenage Fairytale Dropouts. Moreover, in 2015, she also appeared as the lead character in the film The Bronze which she also wrote.
Watch Melissa In Trailer For The Bronze
Moving on to late 2000, she has been focusing more on voice acting and provided her voice to characters like Harley Quinn in 2017 film Batman and Harley Quinn, Light Thief in Blaze and the Monster Machines and many others.
Talking about her achievements, she has not won an award to date but she has been nominated for numerous awards like OFTA Television Award, Critics' Choice TV Award and others.
Is she happy with her career?
On the topic, we cannot be precise as it is her opinion and she has not spoken on it. But, it is safe to assume that she is quite satisfied with her career as she at the peak of her career than ever before. And she is also the team member of one of the most popular TV series in the world working with very talented people. She is very active and has appeared in numerous films and TV show.
Watch The Best of Bernadette In The Big Bang Theory
However, she might not be happy with the salary she gets from the series. Her co-stars, the lead characters of the show Parsons, Galecki and Cuoco have their salary in millions. Moreover, as mentioned above, she and Bialik are looking forward to a salary parity. If she was satisfied with the salary, she would never expect it.
Nonetheless, the actress is doing great with her career and let's not forget that she gave birth to her first child, a baby girl back on 5th December of 2017. We wish her all our very best for her career and a new journey of parenthood.
Find out about her pregnancy announcement and miscarriage