Margot Robbie is an Australian actress born to physiotherapist mother Sarie Kessler. Margot Robbie, the smoking hot actress, is popularly known for her films such as About Time, The Wolf of Wall Street, Focus, and Suicide Squad. She was ranked #22 on Maxim's "Hot 100" of 2014 list. The hot and talented actress has been constantly linked with many well-known celebrities throughout her career. So, here we bring to you Margot Robbie's affairs, boyfriends, marriage, children and much more.
Margot Robbie Love Affairs
The Pursuit of Happiness star Will Smith made wrong highlights when he was linked with Australian actress Margot Robbie. The two featured together in the comedy-drama movie Focus. The rumor was soon washed off by both the actors.
In 2014, Margot Robbie and Orlando Bloom were linked together and it started a whole new love affair rumor. They reportedly hooked up at the Golden Globes in January 2014 and sources claimed that Orlando Bloom wanted Margot Robbie to make the news official.
There were rumors about Margot Robbie dating co-star of Suicide Squad Ben Affleck. This rumor is considered as the cause of Ben Affleck and Jennifer Garner's divorce. A source claims that Ben developed feelings for Margot when he met her on the set of Suicide Squad. They have denied about the rumor.
Image: Margot Robbie (Left), Ben Affleck and his Wife Jennifer Garner (Right)
Margot Robbie was rumored dating Legend of Tarzan co-star Alexander Skarsgard. The rumor broke out when Margot and True Blood star Skarsgard were spotted making out at a party at the Sundance Film Festival.
Margot Robbie is currently dating her long-time boyfriend Tom Ackerley. These two love birds are dating since 2013 after they met on the set of Suite Française. Let's explore their love life from the very beginning.
Margot Robbie and Boyfriend Tom Ackerley
The blonde bombshell Margot Robbie and assistant director Tom Ackerley met in June 2013 on the set of World War II drama Suite Française in France where Ackerley served as the third assistant director. The couple started dating immediately after the movie.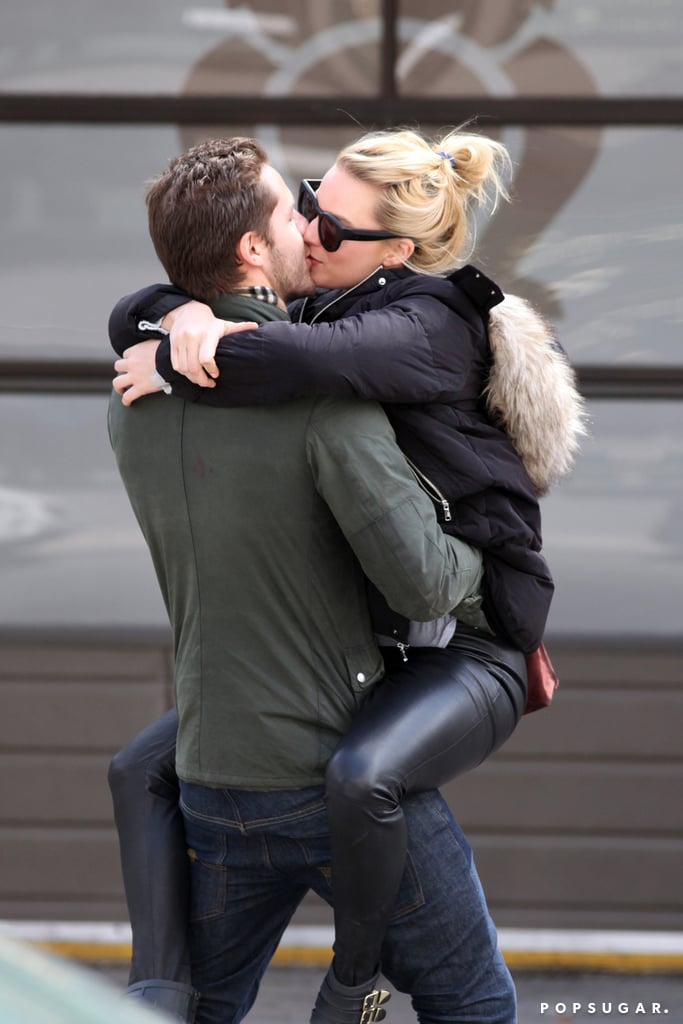 Image: Margot Robbie and her boyfriend Tom Ackerley kissing in public
Margot Robbie says on dating Tom Ackerley, 'I was the ultimate single gal. The idea of relationships made me want to vomit. And then this crept up on me. We were friends for so long. I was always in love with him, but I thought, Oh, he would never love me back. Don't make it weird, Margot. Don't be stupid and tell him that you like him. And then it happened, and I was like, of course, we're together. This makes so much sense, the way nothing has ever made sense before.
Image: Margot Robbie and Tom Ackerley kissing while in vacation in Hawaii.
It's extraordinary to see that Robbie and Ackerley aren't only committed to each other as boyfriend and girlfriend, but also as business partners. Robbie started a production company with her boyfriend, Tom Ackerley, Josey McNamara, and her childhood friend Sophia Kerr called Lucky Chap. Kerr also serves as her personal assistant.
Margot Robbie and Tom Ackerley are often seen embracing each other in public. Margot Robbie was seen making out with her long-time boyfriend Tom Ackerley in Hawaii. Have a look at the video.
Margot Robbie and boyfriend Tom Ackerley married?
The couple was seen wearing matching gold bands while Margot filmed Suicide Squad in Toronto in June 2015, triggering rumors of a secret marriage. Margot hit back at rumors that she and Tom had tied the knot in secret. The rumor circulated that Robbie had secretly wed her boyfriend, Tom Ackerley, among a small circle of friends and family in her Australian homeland.
Image: Tom Ackerly spotted with a ring on his engaged finger.
Margot Robbie may have recently dismissed claims about her secret marriage with boyfriend British film director Tom Ackerley. But according to Woman's Day, a friend insists: 'It is well known within their friendship group that they got married - people refer to them as husband and wife. Their own friends talk about it to other people. They did it on the down-low, without many people around them.'
Margot Robbie Children
The rumors about Margot Robbie and Tom Ackerley may not be true but the Suicide Squad actress has always expressed her desire for children. Speaking to Australia's Sunday Style she said, 'I want tons of children. Well, maybe not too many. I grew up in a family of four kids, so that sounds like a good number.'