The American actress Kate McKinnon, 34, is also a comedian and impressionist. She is most famous for her role as Dr. Jillian Holtzmann, who had the similar personality as of her, in the Ghostbusters. Her impression of Justin Bieber, Ellen DeGeneres, Hillary Clinton, Kellyanne Conway, Elizabeth Warren, Betsy DeVos, Ruth Bader Ginsburg, and Jeff Sessions is most popular.
The lesbian actress's estimated net worth as of 2018 is around $2 million but her annual salary is still under review.
Most of her income is generated through her films and television shows like Saturday Night Live and The Big Gay Sketch Show.
Hillary Clinton embracing Kate portraying as Clinton on Saturday Night Live
source: Public Radio East
The actress and comedian, Kate McKinnon is loved by all. The media is always active to find out more information about Kate's personal and professional life. Let's know more about her net worth, her earnings, and properties owned by her.
Net worth of Kate McKinnon in 2018
The Outstanding Supporting Actress in a Comedy Series of 2016 and 2017, baggs huge amount of money through her numerous films and TV shows. The net worth of Kate as of 2016 was estimated to be around $2 million. But unfortunately, her net worth in 2018 still remains the same.
Considering her increased appearances on TV shows, her yearly income must have shown some increment. Her latest animated movie Ferdinand in which Kate had given voice to Lupe made the box office collection of $191.1 million. Likewise, the other animated musical movie Leap! in which Kate was the voice actress of two characters in its American version made the box office collection of $106.1 million.
Other than the movies, McKinnon gets $24,000 per show of Saturday Night Live. The current season of the show has 21 episodes meaning that Kate earns more than $500,000 as the annual salary.
Kate's endorsements of Mastercard's Ma and Fiji water also adds up tons of cash to her bank account.
McKinnon lived at 10 Leland Lane in Southampton. The rental house known as Canterbury Mews has a market price of $1.04 million.
Early life and career of Kate McKinnon
Kate McKinnon's childhood was spent in the Long Island town of Sea Cliff, New York. During childhood, she played many musical instruments and is skilled in playing the cello, piano, and guitar. She attended the North Shore High School and graduated from Columbia University in 2006 with theater as major.
Kate career in show business took off in 2007 as the original cast of Logo TV's The Big Gay Sketch Show. She has been performing live sketch comedy regularly at the Upright Citizens Brigade Theatre in New York City since 2008 on a regular basis.
The cast of The Big Gay Sketch Show
source: Imgrum
On April 7, 2012, Kate debuted on Saturday Night Live and is the longest-serving female cast member. In 2017, she was nominated for People's Choice Awards for Favorite Comedic Collaboration and won Primetime Emmy Award for Outstanding Supporting Actress in a Comedy Series.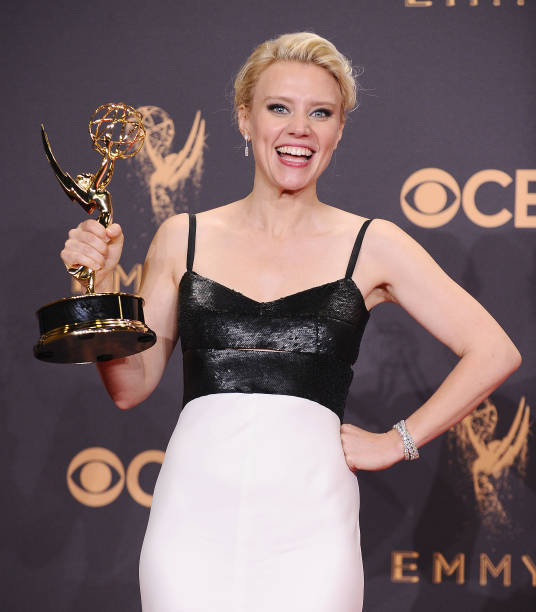 Kate receiving award for Outstanding Supporting Actress on Primetime Emmy Award
source: Getty Images
Kate is also a voice-over actress and has lent her voice to several characters in animated television series as well as in movies. In early days, she voiced the characters of series The Venture Bros., Robotomy, and Ugly Americans. She had also given voice to Hettie in The Simpsons, Karen in Family Guy, Stan's fish wife in movie Finding Dory, Stella in The Angry Birds Movie and Lupe in Ferdinand.
The upcoming movies of Kate, The Spy Who Dumped Me and Irreplaceable You are in post-production. The former movie is due to release this year. At present, she voices the main character Fiona Felicity Frizzle of the Netflix reboot The Magic School Bus Rides Again.
Watch Kate McKinnon's movie Rough Night trailer
Kate McKinnon made her first appearance with her new girlfriend Jackie Abbott at the 2017 Emmy Awards and is happy in her current relationship. We wish her success in her personal life and even greater success in her professional life.