The day when you fall in love with someone is unquestionably one of the beautiful moments that you will come across. And when you get married to the same person, you are on the seventh heaven. Will you forget that day, we bet not.
Here we are talking about the celebrity couple Kate Mara and Jamie Bell. Mara and her long-term boyfriend Jamie Bell are all set to get married as they recently announced their engagement.
Let's know about the story.
Kate Mera is all set to get married to long-time boyfriend, Jamie Bell
During the show Watch What Happens Live with Andy Cohen on 22 May 2017, when someone asked Kate about how did she first met her beloved fiancee Jamie Bell, she replied the answer with gigs. The smile on her face clearly showed how successful their love life is. She said:
We didn't meet in Fantastic Four. We met like 10 years before. We did a screen test together and we had to kiss and it was very — I had to kiss many guys that day for the screen test." (Spoiler: Neither star landed the job!)
Here's that video. Check it out.
It means they met each other ten years back, but at that time they were not sparking any romance. While working together for the movie Fantastic Four, the couple fell in love with each other and started dating.
The pair's dating rumors spread when they were spotted holding hands at the Met Gala in May 2015. In the following year, in September, they were again spotted getting cozy on a beach in Malibu. A month later, these two lovebirds were witnessed kissing on a street corner in New York City.
Kate Mara kissing her boyfriend, Jamie Bell
Source: justjared
Later their relationship was announced by Mara through a Twitter post. Check it out.
And now, after spending a couple of years in a romantic love affair, the couple are now engaged. Their engagement was confirmed by E! News, as in January 2017 Kate was caught wearing a ring. An engagement ring!! Check this out.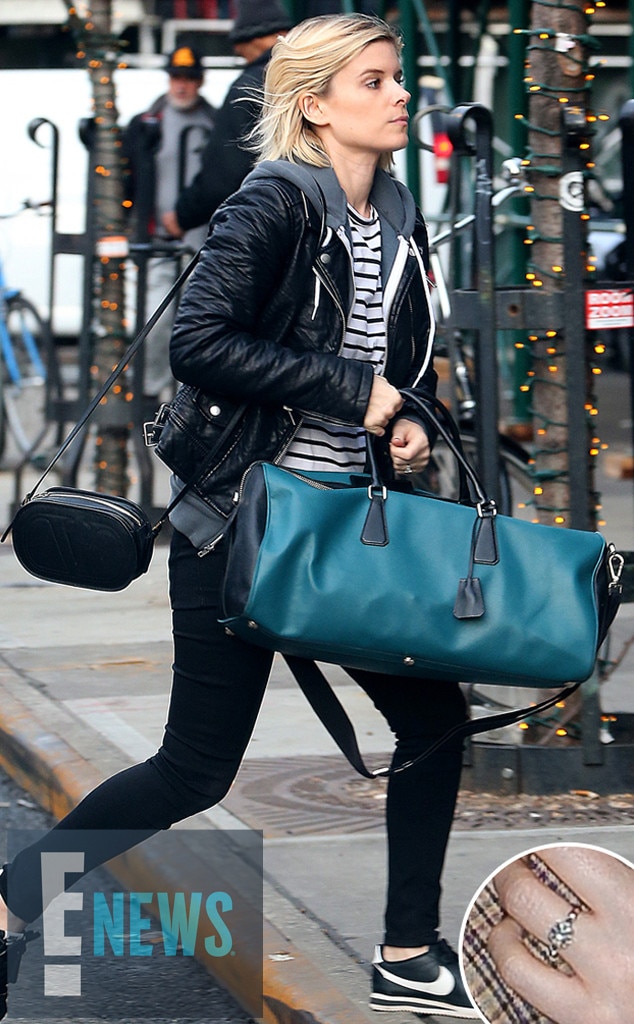 Fantastic Four actress Kate Mara caught with an engagement ring
Source: eonline
Wow! Finally, we could see them getting married. This marriage is Kate's first marriage whereas Jamie is going to be the groom for the second time.
Yes! You read that right. Jamie Bell was previously married to Evan Rachel. Bell had a bright start with his wife after they married in 2012; however, their marital relationship didn't last for more than a couple of years, and they got divorced back in 2014.
Jamie Bell with his ex-wife Evan Rachel
Source: Gazettelive
Jamie also has a child together with his ex-wife; born on July 2013 is his son who is now in the custody of Jamie after the divorce.
We wish all the very best for their future. For more updates, stay tuned to Frostsnow.