These days having a perfect partner is as difficult as chewing an iron nail. However, we see people who give themselves a second chance after a troubled relationship.
Same is the case with an American actor Emmy Rossum. She gave herself another chance and got married to her long-time boyfriend, Sam Esmail after getting a divorce with her first husband, Justin Siegel.
Let's learn more about their love affair and relationship. Just stay with us.
Emmy Rossum is now married to Sam Esmail after the divorce with first husband, Justin Siegel
A few days back, popular American movie Shameless star Emmy Rossum tied the knot with Sam Esmail and officially became man and wife in an intimate ceremony at the east 55th street Conservative Synagogue in New York City on May 28.
Newly married husband and wife couple: Sam Esmail and Emmy Rossum at their wedding ceremony
Source: Dailymail
Their wedding ceremony was attended by many celebrity guests including Robert Downey Jr, Rami Malek, William H. Macy, Charly Chaikin, Christian Slater and Hilary Swank.
In the wedding, Rossum wore an off-the-shoulder white gown and a long white veil while Esmail wore a black suit.
Check this out.
Wow! They look so beautiful together. What do you think?
Now, let's learn their personal life from the beginning. So, Emmy and Sam had their first meeting on the set of the 2014 movie Cornet, which Sam directed and Emmy starred in. Subsequently, the pair fell in love with each other and began dating.
They had a romantic love affair for more than a year, and the couple got engaged back in September 2015. Their engagement was confirmed when the beautiful actress flaunted a shining diamond ring while walking around the city.
Have a look.
Beautiful, stunning actress Emmy Rossum flaunting her engagement ring
Source: Dailymail
And after a couple of years of their commitment, Emmy Rossum and Sam Esmail finally became husband and wife officially.
This marriage was the first for Sam Esmail whereas Emmy became someone's wife for the second time. Yes! You read that right. Emmy Rossum was previously married to her first husband, Justin Siegel back in 2008.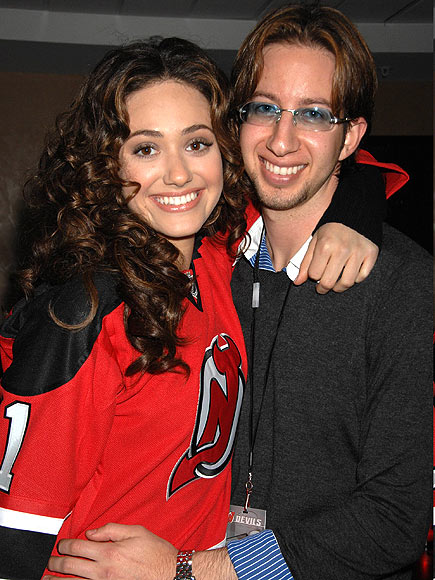 Former husband and wife couple: Justin Siegel and Emmy Rossum
However, their marital relationship didn't last for more than a year and they got divorced in the September of 2009. When the couple was asked to reveal the reason behind their separation, none of them spoke even a single word regarding their split.
However, according to some source, "irreconcilable differences" is believed to be the reason.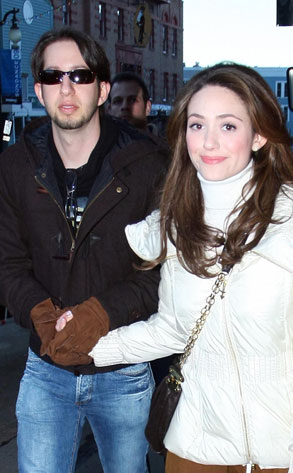 Emmy Rossum ended her marriage with her husband, Justin Siegel
Source: E! Online
After facing a troubled marital relationship, Emmy Rossum seems to be happily married to her current husband, Sam Esmail. We wish them all the very best for their future, and we hope they soon welcome a child into their family. For more updates, stay tuned with Frostsnow.