Sabrina Carpenter and actor Corey Fogelmanis have been on the news tabloids firstly for their cute relationship and secondly for the split between them that made their fans distressed over the news. As of now, however, the actress has taken to Instagram to declare her love for her beau, and Corey has done the same.
It seems that they have finally realized their love for each other and are making an attempt through social media to get back together.
Sabrina Carpenter and Corey Fogelmanis; Is the Pair still Dating?
Corey and Sabrina met when they were included as the Girl Meets World cast. The series very much helped them to spark their love and they started dating shortly afterward. Corey portrays the role of Farkle Minkus on the show while he's on and off girlfriend portrays the character of Maya Hart.
Sabrina Carpenter and Corey Fogelmanis
Source: Latest Posts
The couple, who had been in a deep and cute relationship with each other, made fans sizzle with warmth after announcing their relationship and declaring their love to each other. The relationships which sizzled down a few months later has finally risen high up in flame and it seems that the couple is getting back together soon and their Instagram posts hint towards their reconciliation.
On September 8, 2017, Corey shared their picture via his Instagram with the caption,
"The carpenters were in town for a day,
photos by: @dontshakethepolaroid".
Also, check out this,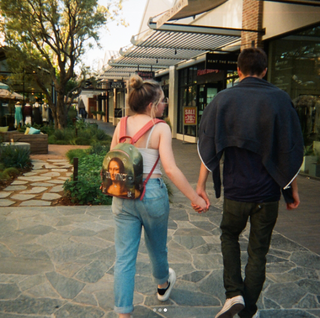 Pair on a stroll; Sabrina Carpenter and Corey Fogelmanis
Source: Seventeen
Oh! Your hand's on mine.
It seems as if the pair is back in the same lane, however, their relationship is officially revealed.
Both of them have been widely searched by their fans across the world. Their popularity has even made their fans search the details of their bio and career details as well as their phone number on social networking sites such as the wiki. Moreover, with the affair of the pair making it to the highlights, the show had become even more popular.
Sabrina Carpenter and Corey Fogelmanis
Source: M Magazine
Sabrina, who is known for her grace, beauty and singing skills, seems to be trying in an attempt to get back together with her former flame. So is the case with the handsome Corey Fogelmanis. It can be hoped that the couple makes it back into the depths of love and stays together for a long time to come.
For more updates keep on visiting Frostsnow.