Earlier this year, ABC correspondent Dan Harris made the news when he was announced to be taking over the responsibility of hosting the network's highly rated game show '500 Questions'. The show was previously hosted by CNN journalist Richard Quest. The season 1 of the show premiered on May 20, 2015. Because of its high gross ratings and popularity among the US audiences and abroad, the show was renewed for a second run on October 1, 2015. The second season hosted by ABC's Nightline host Dan Harris premiered on May 26, 2016. The show aired five episodes, which ran over a seven night period.
Image: Dan Harris in Nightline
The show '500 Questions' is an innovative event game show from Mark Burnett and Mike Darnell.
The show is a game show that features contestants who try to answer 500 questions without getting three wrong in a row. Almost getting as high ratings as the other similar game show "Who Wants to be a Millionnaire?", this show of creators Mark Burnett and Mike Darnell became popular within a short period of time and seasons. The popularity of the show was said to be also due to the previous host, Richard Quest.
Richard Quest was much credited for '500 questions' popularity.
Image: Richard Quest in season 1 of 500 questions
The gay anchor with a British accent, Richard Quest, had hosted the first season of the show. His jolly presentation and natural entertainer spark were loved by many. He was considered to be crucial in uplifting the ratings of the show. Quest, 54, was not available for questioning after the announcement was made that he was being replaced by ABC. But this 'Quest means Business' host does not seem too saddened with his departure from the show. He has been consistently a charming and intellectual journalist as always.
Dan Harris's hosting was much loved as well as criticized.
It is true that the viewers of the show subsequently declined in the second season. But the viewers had divided opinion on the hosting of Harris.
Harris, 45, has accumulated quite a large fan base in his almost two-decade long career in journalism. But the viewers of the show were not quite sure the 'Good Morning America' co-host had done a great job in comparison to the previous host Quest.
Even though there were criticisms, his net worth spiked millions more after the show.
Dan has had some troubles in his personal life.
In March 2014, Dan published a book based on his true life stories titled '10% Happier: How I Tamed the Voice in my Head, Reduced stress Without Losing My Edge, and Found Self-Help That Really Works - A True Story. This book was prompted by the incident on June 2004 when Dan had an on-air panic attack.
In the book, Dan has recounted how he overcame drug addiction. He used to use cocaine and Ecstasy. He found his way back with the help of mental health professionals, religious leaders, self-help gurus, and news industry mentors. He has mentioned how he discovered the benefits of meditation and resolved the apparent conflict between meditation induces equanimity and the aggressive competitiveness required for success as a TV news journalist.
And with full recovery from his bad phase in life with strong will power, Dan made his way back to the top in his industry.
He is a married man.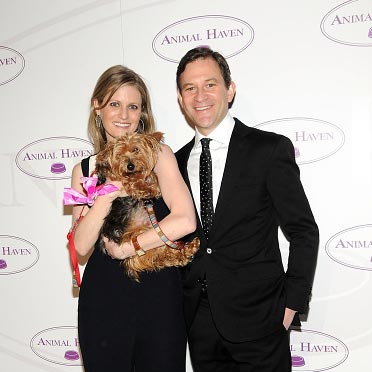 Image: Dan with his wife Bianca
The famed journalist is not only a married man but he also has a small and happy family. His wife is Dr. Bianca Harris. They have a son named Alexander, born in 2014. The family is complete with three cats.
What did you think of Dan Harris in 500 questions' season two? Do you think Richard Quest was better? Share us your views in the comment section below.