There's no denying that Teen Wolf's lead actor Tyler Posey is one of the hottest hunks. Well, for sure, Tyler has been in steamy affairs in his life. He is, in fact, the first guy to kiss Hollywood's pop star, Miley Cyrus. So, obviously, it can be speculated that Tyler has a long list of girls and his love life is pretty interesting.
Tyler Posey is an American actor who is recognized as Scott McCall in the MTV television series Teen Wolf. Besides, the 25-years-old is also a musician, producer, and director and is currently residing in California.
He is said to be single at the moment. Quite surprising to believe the fact but he is in fact not dating anyone currently as reported by several sources. Well, maybe you want to know about his past affairs an relationship, come join us.
Also Read: Baxter Neal Helson: ex-husband of Tish Cyrus and stepfather of Miley Cyrus
Tyler Posey Was The First To Kiss Miley Cyrus
You people may not believe this but it's the truth. These two cuties; Tyler and Miley really had shared a kiss.
They were quite young during the time and it all happened before Miley got transformed from Disney star to Hollywood pop star. The report says she was 9 years old while she had her first kiss with Tyler.
No wonder Tyler has all the charm any girls would want for in her boyfriend. And Tyler good look was pretty enough to have Miley fall for him even as a child.
Tyler Posey dated Miley Cyrus in 2000
Source: Wetpaint
According to the sources, their affair lasted for two years before the couple drifted apart.
Also Read: Miley Cyrus Posts a shocking Picture and What She Says About it
Actor Tyler Posey Dated Mackenzie Rosman in 2002
Same year Tyler broke up with Miley, he got linked with another cute American actress Mackenzie Rosman.
Mackenzie is an American actress who is known for her role as Ruthie Camden on The WB Television Networks' long-running show 7th Heaven.
Tyler Posey dated Mackenzie Posey in 2002
Source: Bartcop
Unfortunately, the love story of this cute couple couldn't last long and eventually, they broke up after a one-year-long relationship.
Also Read: Is Actress Mackenzie Rosman Single or Married? Know about her Affairs and Relationship
Tyler Posey's Childhood Friendship With Seana Gorlick Turned Into love Affair
Tyler was a good friend with Seana Gorlick right from his childhood. After he got separated from Mackenzie, he found his love in his long-time friend Seana who is an American Makeup artist.
These middle-school lovebirds apparently started dating in the year 2013. They became pretty serious with their relationship that they decided to go official about it and finally revealed it to the world.
Tyler Posey and his ex fiance Seana Gorlick
Source: Just Jared
Yes, people, the couple got engaged in 2014. But soon after their engagement, their relation came crashing down finally making the couple called it off.
Tyler reported to the media that he could not balance his acting career and relationship and was bound to call it off. The couple officially separated in October 2014.
Tyler Posey's romantic relationship with Bella Thorne in 2016
Bella Thorne came into Tyler's life after he separated from his fiance Seana.
Bella is an American actress and singer who is best known as Ruthy Spivey on her television series My Worst Own Enemy.
Also Read: Bella Thorne openly bisexual, wishes Kristen Stewart to be her first girl date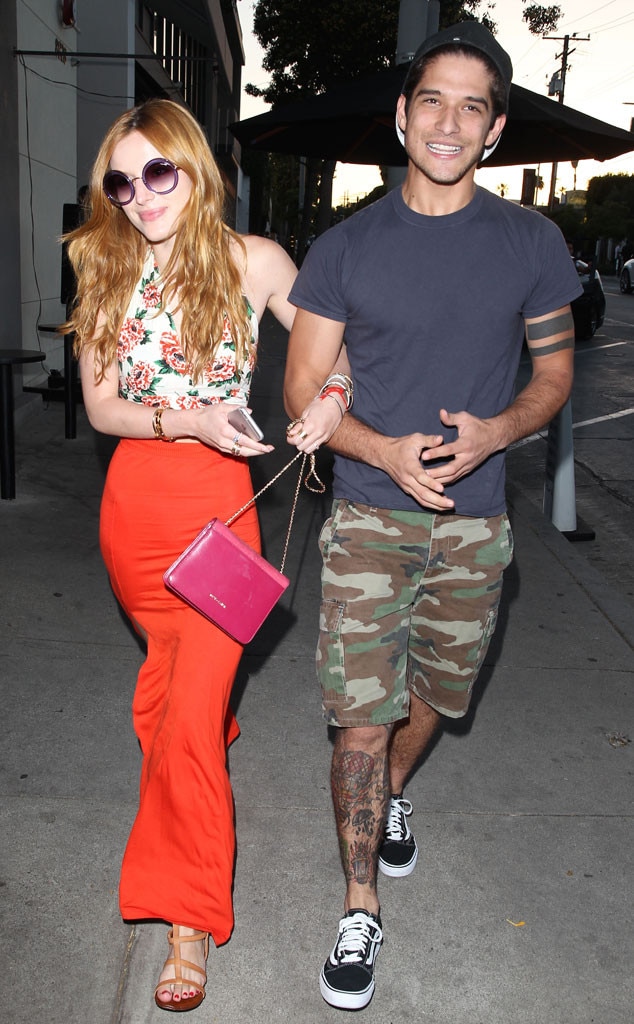 Tyler posey with his ex girlfriend Bella Thorne
Source: E! Online
Their love story that began in early 2016 and following that both Bella and Tyler were spotted together in several public places hand-in-hand.
But Tyler failed to keep this relationship stable and they eventually separated.
Also Read: Kourtney Kardashian Ex "Sex Addict" Scott Disick Spends A Night With Bella Thorne, Dinner Date
Apart from Tyler's love life, his professional life is going all smooth. He is being recognized and loved by millions of people for his magnificent work whether acting or music.
He is also the lead guitarist of the band named Disappearing Jamie. He became co-producer of the fifth season of Teen Wolf and also directed the sixth season of Teen Wolf.
We wish Tyler good luck with his love life and hope she soon finds the right girl he would like to have in his life.