We all know Nicole Johnson as 2010's Miss California USA and Michael Phelps as a talented swimmer. Phelps and Johnson's relationship is no secret, but their wedding was definitely a big secret. The only reason behind the mystery of Phelps's secret wedding is for the sake of the pair's baby boy, Boomer. But, there's nothing to worry about it as the pair has revealed their wedding photos that are more than amazing.
So how did the pair met and fell in love? Let's find out more about Phelps and his wife's big day.
Nicole Johnson relationship with Michael Phelps
After dating for many years, Phelps proposed Johnson on 21st February 2015 and she said 'yes'. Despite some break ups and patch ups, Phelps says to USA today that his relationship with Johnson is eight years long. Phelps gives the whole credit of growing positive change as a couple to Johnson as they have been through a lot.
Source: Heavy
Nicole Johnson married Michael Phelps
The pair tied the knot on 13th June 2016 in a private wedding ceremony in their backyard among their closest friends and family. Phelps talked about his wedding and said,
"We wanted to try to make it as smooth as we could for them (his wife and son) to travel. It was small. It was our closest friends and family there. It was perfect."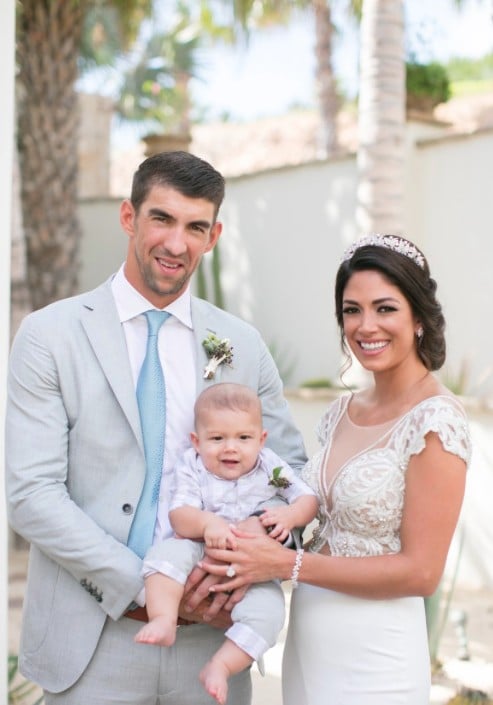 Source: Pop sugar
Read more about Nicole Johnson and Michael Phelp's marriage.
Among the small size of guests, Johnson and Phelps' son was also present. Baby Bommer watched his parents exchange their vows from the arms of Allison Schmidtt, one of the bridesmaid.
Source: Daily mail
Johnson looked more than gorgeous in a daring white gown which was designed by Julie Vino. Similarly, Phelps also looked radiant in a matching colored suit.
Nicole Johnson and Michael Phelp's first meeting
If you are wondering how it all did begin, then here's the answer. The pro swimmer and the beauty queen's first encounter took place during the 2007's ESPY Awards. They started dating only in 2009. But, they were in an on-and-off relationship.
The pair split some time before the 2012's Summer Olympics. Later, they solved the misunderstanding and patched up in 2014. After that, Phelps and Johnson didn't face any problem that we know of in their love life.
It feels really great to see couples, who are dating, transform their relationship into a marriage. We hope Phelps and his wife Johnson finds success in each step of their marital togetherness. We believe that they won't separate in a sad divorce.
Best of luck to this power couple!!