Barack Hussein Obama II, popularly known as Barack Obama, is the 44th president of the United States and the first American-African president of the country. He served in the position from 2009 to 2017. Before making his debut as a president, he also served as a senator from the state of Illinois. The Columbia University graduate contributed a lot to the nation alongside first lady Michelle Obama during his presidential years.
Born on 4th August 1961, the 56-year-old along with his family moved out of the White House in January 2017 after handing over the duties to his successor Donald Trump. His estimated net worth as of 2018 is $40 million.
Here we are going to share with you some information about the former U.S. president's net worth, salary, earnings and about the new mansion based in Kalorama, Washington D.C.
Barack Obama net worth, salary, and earnings
The estimated net worth of former president Barack Obama is $40 million as of 2018. Back in 2016, he had an estimated net worth of $9 million.
During his days as a president, Obama was provided with an annual salary of $400,000. Additionally, he was granted $50,000 for yearly expenses followed by $100,000 nontaxable travel account and $19,000 for entertainment.
However, since he has already left the White House and his days as president are long over, many are questioning how he is making his living.
First and foremost, Obama receives a pension of $207,800 every year, amounting half of his presidential salary, every year. After he moved out of the White House, he was also provided transition services for seven months. Obama also receives secret service protection for travel and communications as well as healthcare benefits. These privileges, when included, add up and increase his pension drastically.
Apart from all the money from the government, Obama has published numerous books till date. In 2009 alone, Obama earned an income of $5.1 million through the sales of his books.
Barack Obama's Book The Audacity of Hope
Source: Amazon
Not long ago, he shared that he wanted to continue writing. If his future books turn out to be as good as his former books, his contract per book would be between $12 to $30 million.
Moreover, Obama is also an excellent and very influential public speaker. The former US president will most probably continue speaking for money in the future, a good income source for him. Hillary and Bill Clinton are paid $500,000 for each engagement and have built an empire through it. We can expect the same from Obama too.
Listen to Obama's Farewell Speech
Barack Obama's new mansion in Kalorama, Washington
After the Obama's moved out of the White House, they decided to stick around in Washington as their youngest daughter, Sasha Obama, was still in high school and they want her to complete her high school there before moving to another state.
Barack Obama's $8.1 million mansion in Kalorama, Washington
Source: Time Magazine
Barack, along with his wife Michelle, bought the house in May 2017 for a jaw-dropping $8.1 million. The 1920's brick house covers 8,200 sq ft and features nine bedrooms, 8 and a half bathrooms, an oversized terrace, basement with rooms, two-car garage, formal gardens and other amenities.
The house sounds like a dream, but former President Obama seems to be not satisfied with it. During Ellen Degeneres' 60th birthday special of Ellen Show, Michelle Obama appeared to wish her for her birthday and spilled some details about how life was for them after the presidency.
Watch Michelle on the Ellen Show
Michelle stated that she was very happy and said a very wise thing as she always does, "Home is where we make it." But right after it, she got on to joke about how her husband was unhappy that he did not have enough space. She said, "He doesn't have enough closet space. Sorry."
She also shared that he got the smallest room in the house for his office whereas their daughter Sasha got a two-suite room, with both a bedroom and a living room, that she decorated herself. And Barack was not happy about it.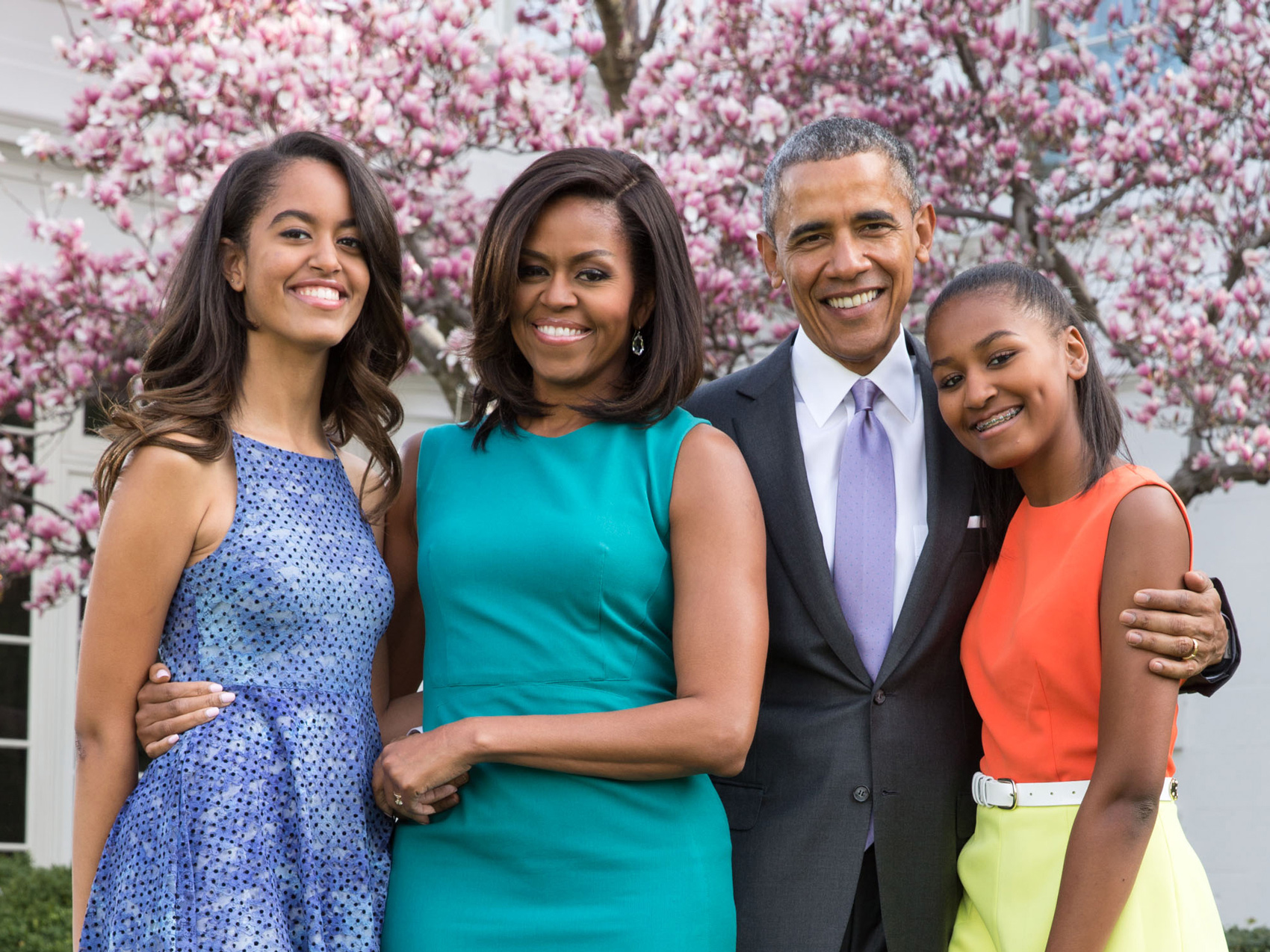 The Obama family
Source: Study Breaks Magazine
She said, 'Sasha killed in this house. She has like this two-room suite; it's all decked out. She's got a living room area and bedroom, and she designed it, so he's really hating on her.'
And when asked about Malia Obama, she shared that there was no reason to waste room for college kids.
Nonetheless, the Obamas are living a happy life outside the White House, and we wish them all our very best for their future.