It doesn't surprise us when we hear politicians dating actresses as we hear such news very often. Today, we have brought similar dating story to you guys, but it's not about any normal politician. It's about the current US Secretary of the Treasury and his love affair.
We are talking about none other than politician Steven Mnuchin who works under the Trump Administration. Mnuchin who had been dating actress Louise Linton for some time has engaged to her. At present, Linton is not just Mnuchin's girlfriend but also his fiancé. However, Linton will not be Mnuchin's first wife as he has been married and divorced twice in the past.
Steven Mnuchin engaged to girlfriend Louise Linton
Mnuchin and Linton have been engaged since November 2015. They chose Beverly Hills Hotel's flower-filled Crystal Ballroom to celebrate their November 2015 engagement with champagne and caviar.
Mnuchin's fiancé Linton is a successful actress who has worked with amazing actors such as Tom Cruise and Robert Redford. Linton gained a lot of fame after her book about her volunteering trip to Zambia as an 18-year-old was published. Her experience mentioned in the book was disapproved and was even said to be fake by Zambians.
Image: Steven Mnuchin and Louise Linton
Source: Daily mail
Steven Mnuchin and Louise Linton wedding
Even though Mnuchin and Linton have been engaged for more than a year, they haven't shown any hints of tying the knot. But that doesn't mean that there are any relationship issues between the pair. They seem to be going great in their relationship.
According to The Hollywood Reporter, Linton and Mnuchin are often spotted spending a romantic moment at Sunset Boulevard eatery Tower Bar.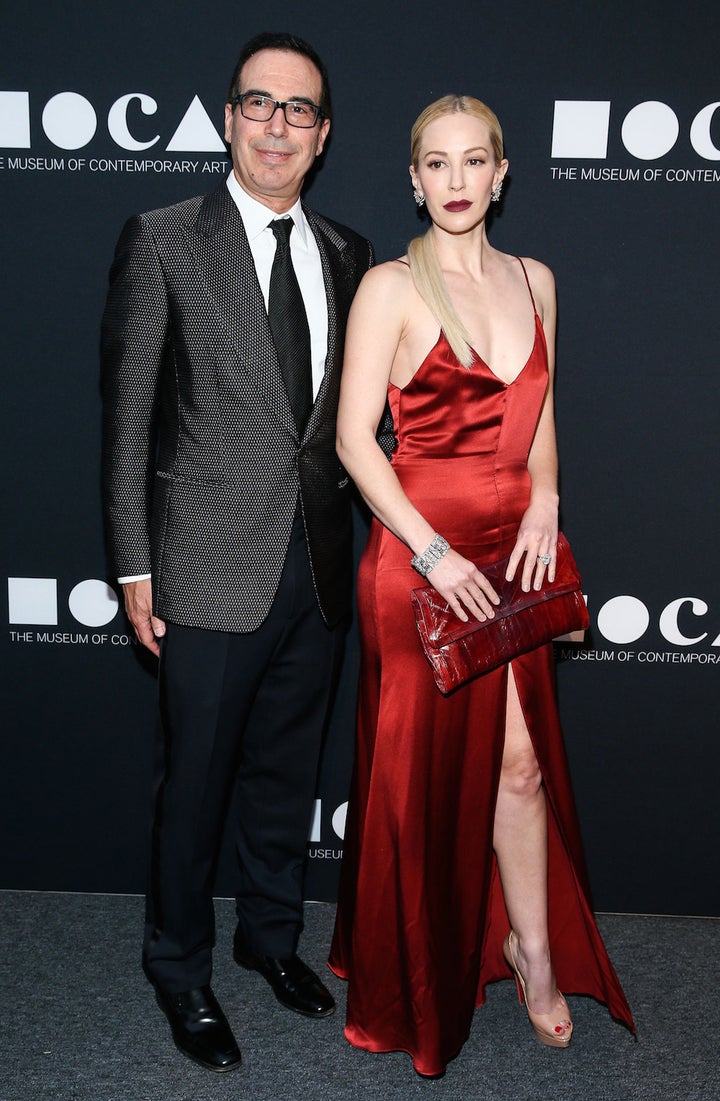 Image: Steven Mnuchin and Louise Linton
Source: Buzz feed
However, Linton is sometimes suspicious about Mnuchin as she revealed in an interview that if she was invisible for a day, she would follow him to know about his day and know whether he talks about her or not.
Louise Linton's previous relationship
Mnuchin's first wife is mysterious but his second wife is Heather deForest Crosby with whom he tied the knot in 1999. The pair is a parent to three children.
They bought a 740 Park Avenue apartment in New York City for $10.5 million in 2000. After that, they bought a mansion in Bel Air, Los Angeles for $26.5 million. However, their marriage dissolved in 2014. Mnuchin never spoke about the reason behind the divorce with his second wife.
Video: Steven Mnuchin's hot fiance
We hope Mnuchin's third relationship doesn't have a sad ending. We convey our best wishes to the couple.