Who is immortalHD's Girlfriend? Know the Details about his Affairs and Relationships
---
ImmortalHD, aka Aleks, is not a new face for YouTube gaming videos lovers. Although he might not be as popular as LDShadowLady, the young star has already garnered a decent fan following with the videos of his Counter-Strike series: Global Offensive and earned more than 1.2 millions subscribers on his YouTube channel.
Despite his fame, he rarely reveals about his personal life. So everyone's curious to know if he is dating someone after his split with his girlfriend SJ back in March 2017. So let's know about the current relationship status and past affairs of ImmortalHD.
ImmortalHD's past relationships
ImmortalHD, who true name is Aleksandr Vitalyevich Tchernev-Marchant, has a mysterious love story. Everyone's is aware of the news of his split with SJ. But prior to SJ, he was in a relationship with another beauty.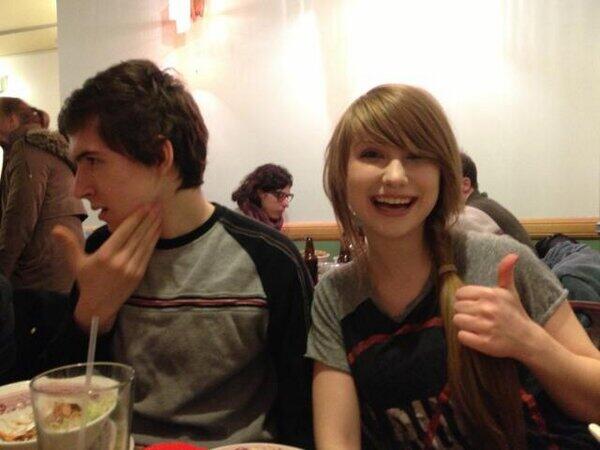 ImmortalHD with his former girlfriend Tiffany
Source: Twitter
She was none other than Tiffany Kudrikow, a fellow YouTuber. Besides working on her YouTube channel, she is said to be a dental assistant. However, the details about their breakup are yet to emerge.
Sources had speculated that the couple split in June 2013, when they stopped mentioning each other in their respective Twitter feeds.
But, for ImmortalHD, love was not over yet. Soon, in late 2014, he gave hints about being in a relationship with his new girl Dominica Baczek through his tweet. Here is the tweet:
@dominikabaczek my small smurf

— Aleks (@ImmortalHD) September 22, 2014
The couple even posted a video, Valentine's Day Opening Case Opening, on YouTube together.
However, not even this relationship could last long, and ImmortalHD and Dominica separated in late 2015. The reason for the split has not been given by either of them. It was after this that the gamer found love with SJ, popular on Twitter as Vindictive. ImmortalHD himself posted a video on his channel, on April 2, 2017, explaining about the separation.
ImmortalHD and SJ
Source: Pictame.com
In the video, he revealed that he was moving to California after the split. He even said that he had no bad feelings for her.
Ouch, that hurts! Leaving hometown with a broken heart.
ImmortalHD's recent dating history
ImmortalHD has not been linked with any girl after his relocation. Well, maybe he is still getting used to his new hometown. He also seems a little inactive on his YouTube channel these days. Surfing through his social media accounts, he seems to be enjoying his time with friends.
Also Read, The relationship of Lauren Riihimaki with Alex Wasabi.
Or maybe the gamer is hiding his new love in broad daylight and expect others not to see her. If that is the case, then we can assure you that she won't remain a secret for long.