US-Bangla Airlines' Plane Crashes at TIA in Kathmandu, Nepal: At Least 27 Dead Out of 67 Passengers
---
An US-Bangla Airlines' plane traveling from Dhaka to Kathmandu has crashed and caught fire while landing at Tribhuvan International Airport, Kathmandu, Nepal at 2:20 PM local time (08:35 GMT) on Monday, March 12.
Firefighters were quick to extinguish the burning wreckage. According to reports obtained from the AFP news agency, at least 27 people have been killed.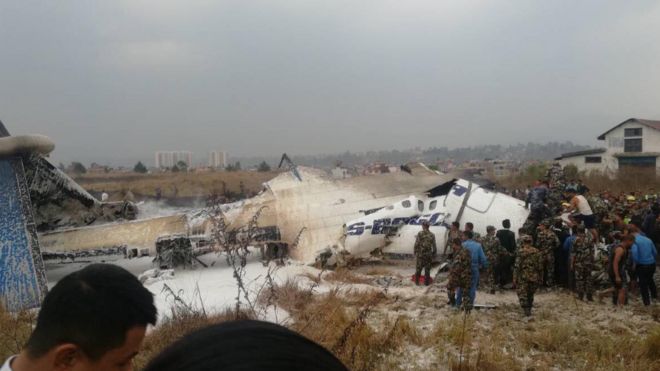 US-Bangla Airlines' Plane Crashes at TIA in Kathmandu, Nepal: 7 People Died Among 67 Passengers
Source: BBC
Of the 67 passengers and 4 crew members, including 33 Nepali nationals, onboard, 14 have reportedly been rescued in addition to the recovery of the badly burnt bodies by the Rescue workers.
According to Tribhuvan International Airport Spokesperson Prem Nath Thakur, 25 injured passengers were rushed to Kathmandu Medical College and Teaching Hospital in Sinamangal but unfortunately, among them, seven were pronounced dead upon arrival.
US Bangla Airways Dash 8 crash lands at TIA, Kathmandu. Tragic. #Aviation pic.twitter.com/EAmS1gpXF9

— Airline Guy (@GuyAirline) March 12, 2018
It's a 78 seater twin turbo prop aircraft. Reports say fatalities likely. pic.twitter.com/1obtfi94PC

— Airline Guy (@GuyAirline) March 12, 2018
Since the airport is closed all passengers r waiting to collect their luggage it's been a long day 3 hrs delay and then the crash. May the families have the strength praying for the departed and hoping more survive than wats being reported ?? pic.twitter.com/lJaovG1xoT

— shradha (@shradhagb) March 12, 2018
The authorities say that the plane was about to land when it crashed into the hanger and caught fire.
Airport official said,
The plane shoot off the run away while it was about to crash into the hanger and immediately caught fire,
All flights in and out of TIA have reportedly been canceled.
This is not the first time TIA has experienced a crash. Back in 1992, a Thai Airways flight from Bangkok suffered a similar incident while trying to land in Kathmandu that killed all the members on board.