Cloris Leachman's Been Acting For Over 70 Years Now: Read About Her Career & Net Worth
---
Even at the age of 91, American actress, Cloris Leachman holds a girlish charm. Cloris Leachman has an estimated net worth of $21 million as of 2018. Giving life to the character Ruth Popper in 1971 film The Last Picture Show, Leachman even won her only Academy Award for the portrayal.
She was previously married to late actor, director, and producer George Englund. However, at present, Leachman is single as she never got married again. But that does not stop her from having fun as she has been spotted grinding and bumping onto men on the dance floor numerous times.
Moving on from her wild personal life, here we are going to share some information about her career and net worth. If you are a massive fan of the actress, make sure to read till the end.
Cloris Leachman Career: Success as an Actress
Cloris has been active in the film industry for the past 76 years; She made her debut back in 1942. However, she did not jump directly into the industry.
In 1946, she competed for the Miss America pageant. Even though she did not win, she gained scholarship as she was one of the top 16 contestants. As the competition ended for her, she joined Actors Studio in NYC and started studying acting. Throughout the years, she appeared on many stage shows and even got the opportunity on TV. But in 1947, she marked her entrance in the entertainment industry.
Cloris Leachman during her Miss America days
Source: MeTV
She portrayed an uncredited character in the movie Carnegie Hall, starring Ezio Pinza and Jascha Heifetz. In the following years, she appeared in TV show Hold It Please as herself but unfortunately, the show was canceled after just three episodes.
The following year, she received her regular role as Effie Perrine in Charlie Wild, Private Detective. She appeared on the show for two seasons and continued making appearances in other TV shows.
On the other hand, she did not make another film appearance until 1955 as Christina Bailey in Kiss Me Deadly, also starring Ralph Meeker and Albert Dekker. In the movie, she also was one of the leading characters.
Watch the trailer for Kiss Me Deadly.
Later, Leachman appeared in many other movies and TV shows. However, it was not until 1971, more than two decades later after making her debut as an actress, that she finally gained her big break as Ruth Popper in The Last Picture Show.
Watch the trailer for The Last Picture Show.
She was not only highly appreciated for the work, but she also won numerous awards including her very first Academy Award, a BAFTA Award, Kansas City Film Critics Circle, National Board of Review, National Society of Film Critics (second place), and a New York Film Critics Circle (second place).
Cloris Leachman wins her first Academy Award
Source: MeTV
Since we are already on the topic of awards, she is the actress with the most Emmy Wins as a performer; she has won eight Primetime Emmy Awards and a Daytime Emmy Award too.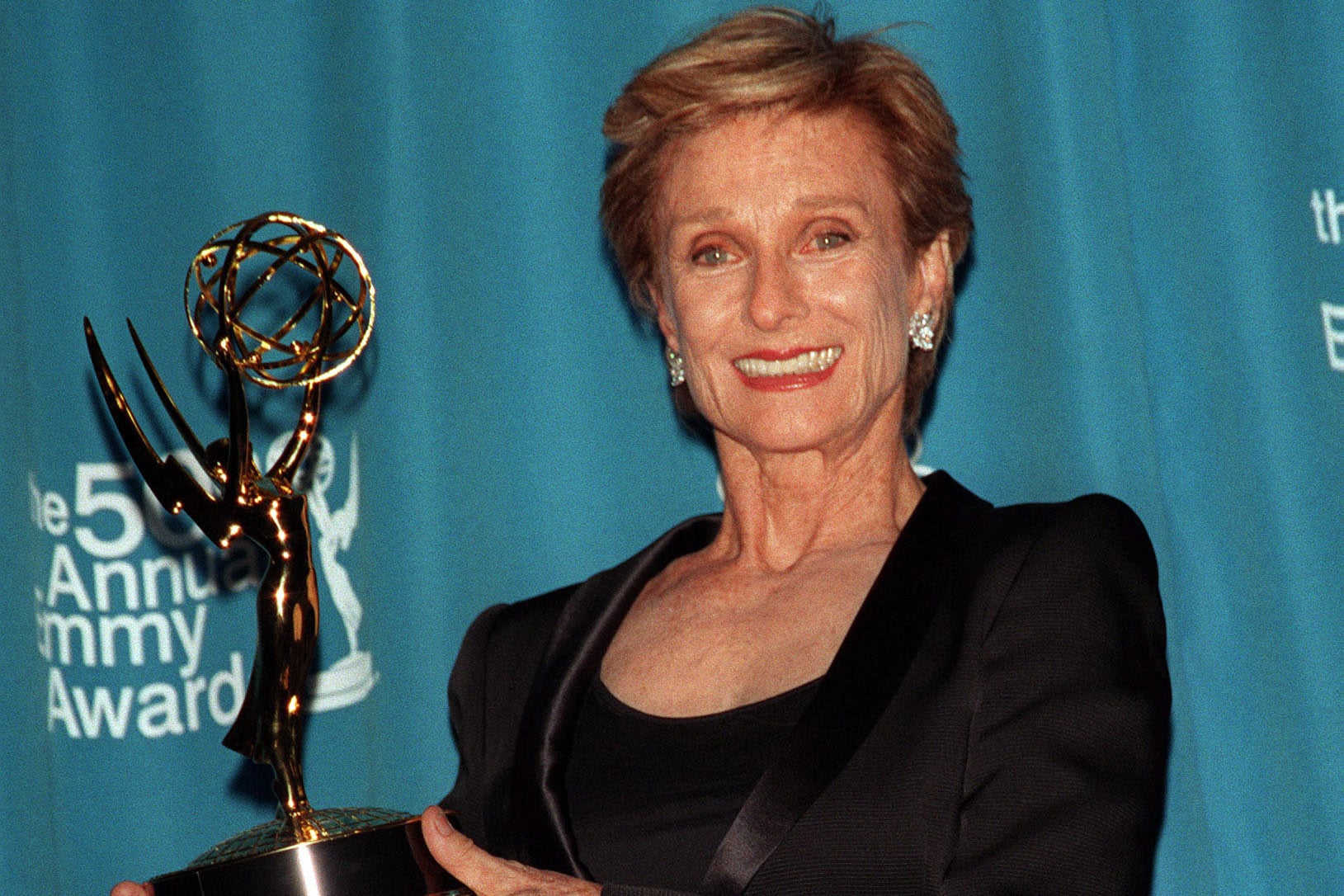 Cloris Leachman at the Emmy Awards
Source: Popsugar
Moving along, some of her other notable works on the big screen are in My Boyfriends' Back, Scary Movie 4, High Anxiety, and many others.
On TV too, her works have been highly respected. She has won awards for her work on TV as well. Some of her most famous appearances on TV shows include as Norma in an episode of Two and a Half Men, also starring Charlie Sheen, Angus T. Jones, and Jon Cryer.
Watch a glimpse of the episode here
Also, let's not forget her appearance in the 7th season of Dancing With the Stars. She is the oldest person to compete on the show and her partner Corky Ballas was also among the professionals.
Take a look at Cloris performing in Dancing With the Stars.
Her most recent work in the entertainment industry including as Zorya Vechernyaya in 2017 film American Gods. However, she has not made any appearances on TV since 2007.
Cloris Leachman net worth and earnings.
As of 2018, Cloris has an estimated net worth of $21 million, and the figures have been constant for some time now.
There is very less information about her salaries and earnings from her career as an actress because she has gotten quite inactive in the industry lately.
However, according to The Number, the actress has appeared in 12 supporting roles to date and altogether, the films have worldwide box office collection of $572.253 million.
Every star has that phase in their life when things do not work out. Same things have happened to Leachman as three films in which she portrayed the leading character made only around $46,0006.
Cloris' latest film appearance.
Nonetheless, she has earned most of the sum through her career and let's find out about the items which she has splurged on.
Cloris Leachman properties.
In 2000, Leachman bought a penthouse condo in LA for $635,000. She, later in 2012, sold the apartment for $988,000.
Likewise, in 2012, after she kept her apartment up in the market, she purchased a Ranch House in Topanga Canyon. She bought the ranch which features four bedrooms, two baths, a family room and a natural environment for $930,000.
Cloris Leachman Topanga Ranch
Source: SuperbHub
While young, Leachman indeed drove around in the coolest looking cars, but as of now, she is not capable of driving. However, during an interview, Julie Bowen shared that she saw Leachman inside a car at the part and the back seat was filled with dogs. She even shared her concern on how she got behind the wheels.
Nonetheless, Leachman is beautiful despite her age. We wish her for her healthy life.