Actress Emma Stone Wins Her First Oscar Award, Ex-Boyfriend Andrew Garfield Gazes Adoringly At Her
---
A British-American actor Andrew Garfield and the star of La La Land Emma Stone first met during screen tests for The Amazing Spider-Man, where they played the role as the couple Peter Parker and Gwen Stacy. But the relationship which was named the most loved-up couple in H-town split in the year 2015 after having four years long relationship.
But, in the Oscar of 2017 when Emma was honored for the best actress there were some reactions that Andrew gave which was not surprising to all the fans and followers. Since the fans and followers want to see them together again. Let's see wat did Emma say after receiving the awards and Andrew's reaction in detail.
Also read: Nina Dobrev rumored to be heartbroken over Austin Stowell and Emma Stone's ever-growing romance
Emma Stone in Oscar
Before we start saying anything on Emma's appearance in the Oscar, you can't miss the speech of Emma Stone after she received the Oscar for the best actress in the musical movie La La Land.
Emma started the speech by thanking her mom and all the people around her. Emma said the movie was for all those creative people who had the door shut for them.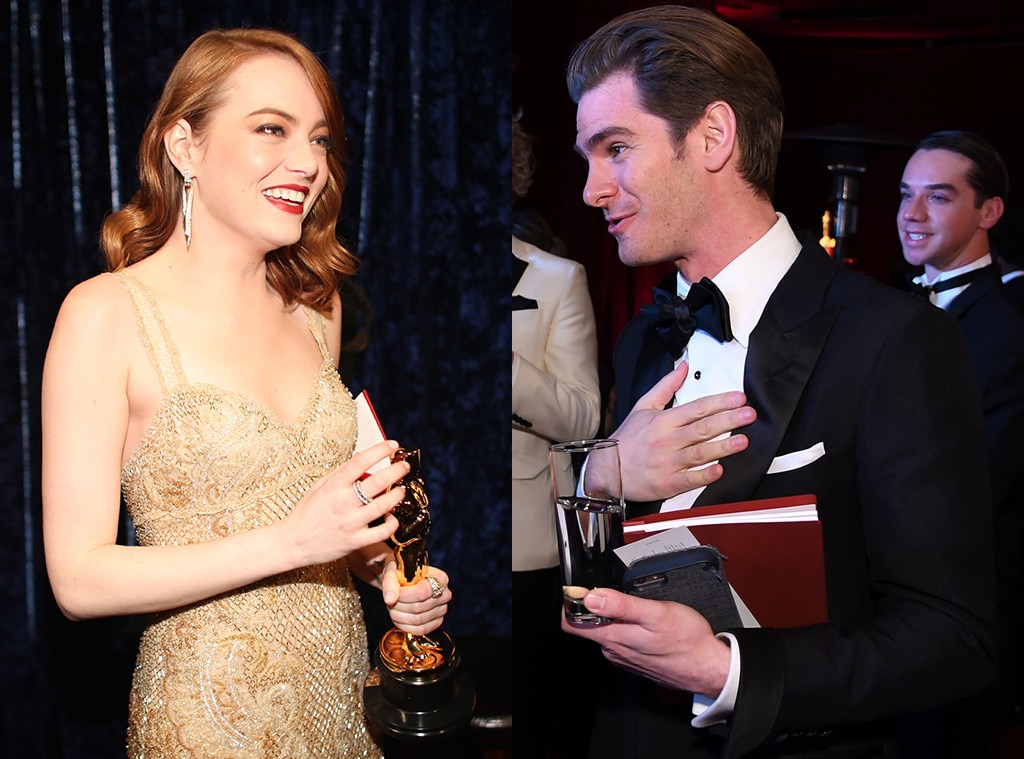 Emma Stone and Andrew Garfield
Source: eonline.com
While Emma was receiving the award, her ex- boyfriend was very proud of her and gave her a standing ovation, along with that Emma also stopped for some time to chat with him. But this is not the first time that Emma's ex-boyfriend supported her after their break-up. Andrew Garfield also gave Emma a standing ovation in the golden global awards too.
Emma Stone and Andrew Garfield
Source: usweekly.com
Andre Garfield and Emma Stone fans started twitting on this, and fans via tweeter flooded by tweets for this perfect couple to get back. Check some of the tweets.
Emma Stone and Andrew Garfield pic.twitter.com/XDXcamkrZB

— FREDDY (@FreddyAmazin) February 27, 2017
Look at Andrew Garfield being so proud of Emma Stone and giving her standing ovation again

#oscars #stonefield pic.twitter.com/Wha04RTiae

— Alice (@reyeverdeen) February 27, 2017
We all need someone to look at us the way andrew garfield looks at emma stone ... ohh they need to get back together pic.twitter.com/4kmwq0FLRf

— Ciel Bleu (@Babka_23) February 27, 2017
IMPORTANT: Andrew Garfield (far left) immediately stood up when Emma Stone won Best Actress. pic.twitter.com/VvxgYyJ5Uu

— Allison C. Rost (@acrostical) February 27, 2017
Andrew Garfield still looks at Emma Stone in awe i want to die pic.twitter.com/L0jXCaHEB7

— nicole (@jbsaIvatores) February 27, 2017
The way Andrew Garfield looked at ex-girlfriend Emma Stone during her Oscars speech is breaking hearts, that is how every girl wants and dreams for their guy or love of their life to be like. If you ask us then, we would say that Andrew is a very sweet guy who still loves Emma a lot even after their break-up.